Before & After SmartGraft FUE Results
by Dr. Alan Bauman, MD, IAHRS, ABHRS, FISHRS
SmartGraft (Vision Medical) is the latest tool in the FUE hair transplant surgeon's armamentarium. Improvements in hair follicle graft harvesting accuracy and precision, as well as a closed system specifically designed to provide the optimum environment for survival for the delicate FUE grafts, brings SmartGraft to the cutting edge of innovation in the field. As one of the most experienced FUE surgeons in the world and inventor of the first commercially-available instrument specifically designed for FUE ("Bauman-MINDEX," circa. 2002), Dr. Bauman has used an enormous variety of FUE devices to help perform Follicular Unit Excision/Extraction.
Why Does Dr. Alan Bauman use SmartGraft for FUE?
"As a full-time ABHRS-certified hair transplant surgeon and FUE pioneer whose transplanted literally millions of FUE grafts, I've seen and used many devices from manual to mechanical to robotic and so forth–each with their own limitations and benefits," says Dr. Bauman. "The innovative advancements that SmartGraft brings to the process of manual mechanical FUE harvesting are impressive. But what is most impressive is the hair growth results we are seeing in our patients from our SmartGraft procedures."
SmartGraft offers a microprocessor-controlled closed system for graft extraction, collection, and storage. Keeping grafts hydrated and chilled during our large (mega) FUE hair transplant procedures is critical, not only for hair follicle survival but also for quicker regrowth and better quality hair fiber production from the transplanted grafts. Of course, the meticulous artistic design and unique control over the angle, orientation, and position of the transplanted grafts is the other critical aspect to achieving superior, natural and undetectable hair regrowth results in our patients. Patients like Brian (see photos below) have been thrilled with the early visible results from their hair transplant procedures, which will continue to improve over the course of the year after their transplant.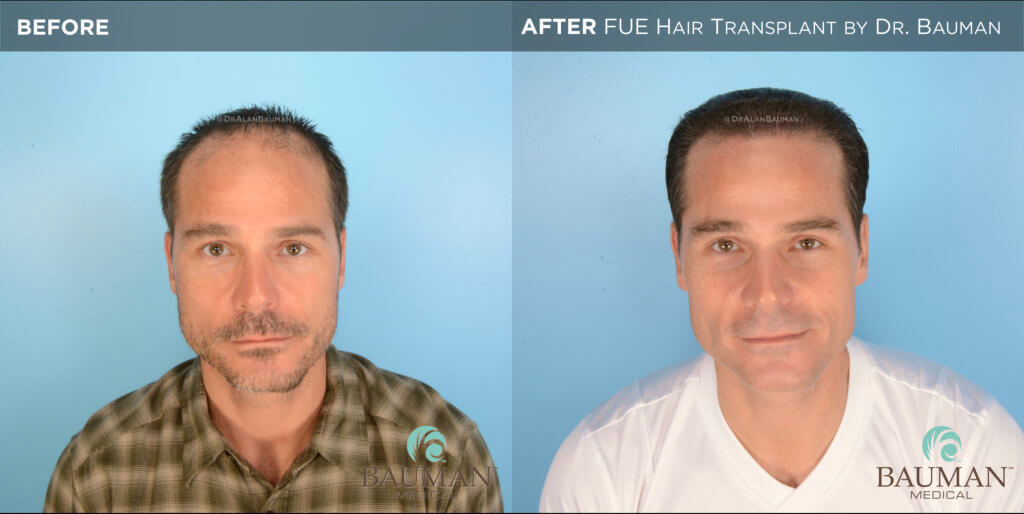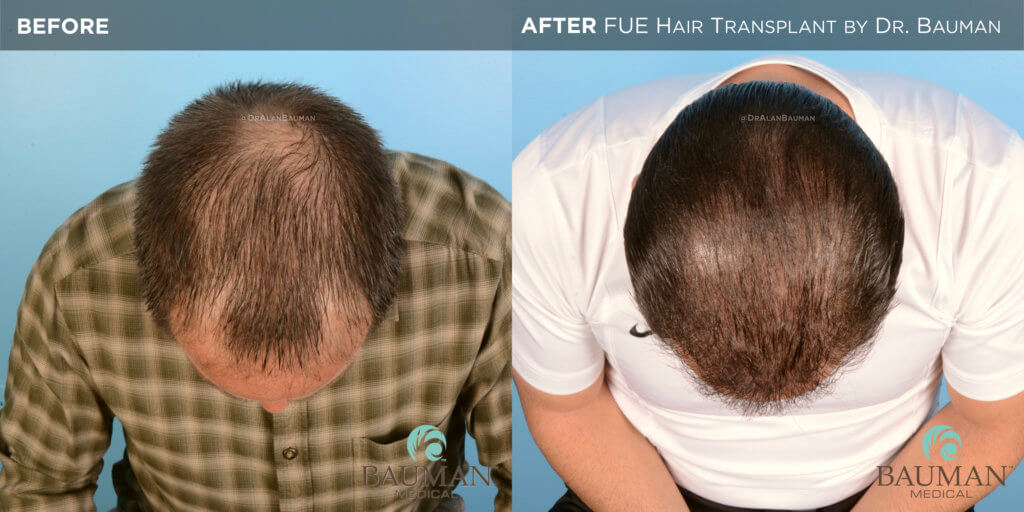 ABOVE: Patient "Brian" Before and 12 Months After SmartGraft FUE Hair Transplantation by Dr. Alan J. Bauman, MD, ABHRS, IAHRS, FISHRS
FUE is a hair transplant technique that allows for follicular unit graft harvesting that does not leave behind a linear scar. See the immediate 24-hour post-op view and the Donor Area appearance with hairstyling after two weeks…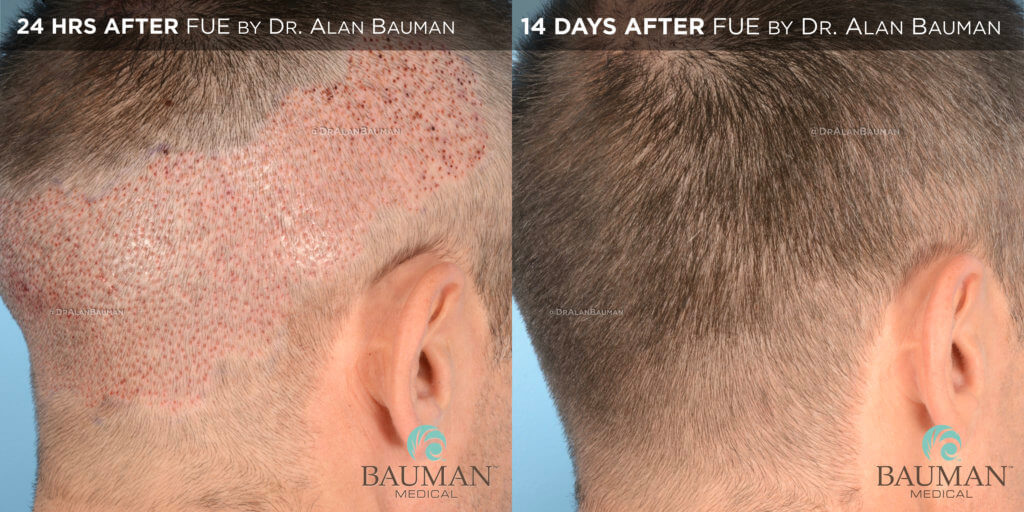 Is SmartGraft FUE hair transplant right for you? Get an expert opinion from Dr. Alan J. Bauman from anywhere in the world!
If you or someone you know has hair loss, hair thinning, baldness, or eyebrow / eyelash concerns, click to start either a long-distance virtual consultation OR an in-person, in-office consultation with Dr. Bauman. You can also Ask Dr. Bauman a Question or simply call Bauman Medical Group  at +1-561-394-0024.