Exosomes for Hair Loss & Hair Restoration?
What are Exosomes?  What role do exosomes have in wound healing from hair transplant procedures and hair regrowth for those with hair loss? Read more below to learn their potential as a hair loss treatment.
"Exosomes" is the new buzzword and rising star in the fields of Regenerative Medicine, stem cell research, as well as traditional medicine and pharmacology because they are the latest generation of naturally bioactive stem cell-based products for patient treatment.
For many years, exosomes were considered responsible only for the transportation of cellular waste out of a cell–not a very glamorous role! More recently, however, they have been recognized for their critical role in intracellular communication in health and disease, with now more than 14,000 scientific articles appearing in the clinical literature within the past decade. Because of their potential, biotech companies focused on exosome therapeutics and diagnostics have received hundreds of millions of dollars of investments just within the past few years and the exosome field is projected to be a three billion dollar a year industry by the end of this decade.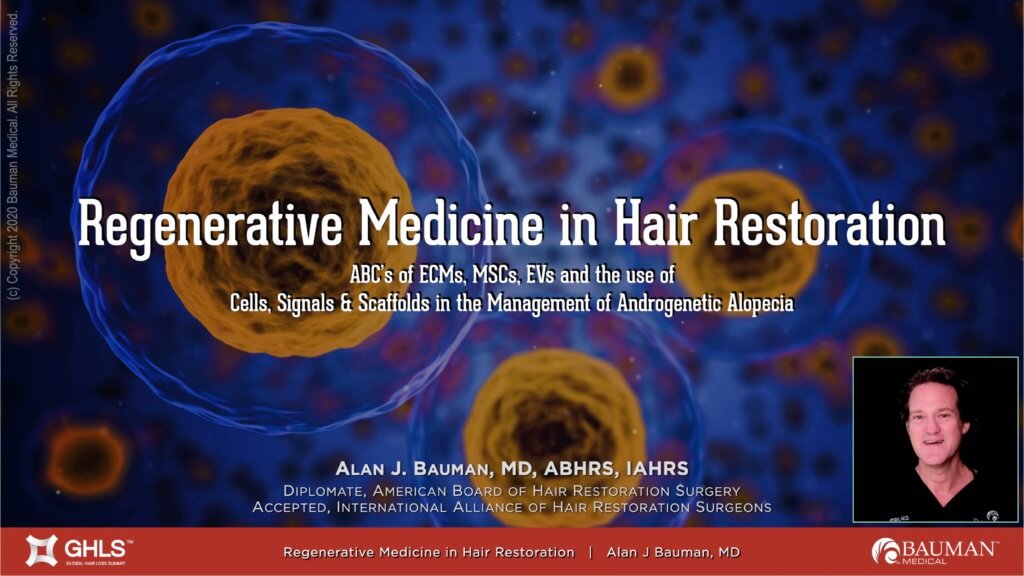 Dr. Alan J Bauman MD ABHRS presented on "Regenerative Medicine in Hair Restoration" at the 2020 Global Hair Loss Summit as a Founding Faculty Member.
Exosomes, Regenerative Medicine and Bauman Medical
At Bauman Medical, Dr. Bauman has had a unique interest in Regenerative Medicine for nearly 20 years and has been an active member of the A4M American Academy of Anti Aging and Regenerative Medicine since 1998.  As a faculty member of their Stem Cell Therapy Fellowship and recent A4M World Congresses, he's presented on the use of Regenerative Medicine in hair restoration on numerous occasions. Most recently, he presented on Regenerative Medicine and Hair Restoration (including exosomes and other modalities) at the 2020 Global Hair Loss Summit as a Founding Faculty Member. As a full-time hair transplant surgeon, Dr. Bauman has treated over 30,000 hair loss patients since the 1990s and has been performing effective Regenerative Medicine treatments for hair loss, like PRP Platelet Rich Plasma with ECM Extracellular Matrix, since the mid-2000's totaling well over 15 years and over 8,000 regenerative medicine treatments for hair regrowth thus far. Each and every day he consults with patients and performs PRP therapy successfully, pioneered the breakthrough PDOgro™ (polydioxanone threads) procedure for hair regrowth, and has been an early-adopter of adipose-derived stem cell therapies, growth-factor, and other "biosignal" treatments, etc., and has helped patients track their results from these treatments. As a pioneer and top expert in hair loss, hair restoration, and regenerative medicine, Dr. Alan Bauman is leading the way and doing the same due diligence and research on exosomes.
Theoretically, exosomes might be applied as a comfortable out-patient procedure (much like PRP Platelet Rich Plasma, but without the blood draw) with no recovery or downtime or in combination with hair transplantation. Exosomes might also be utilized topically to accelerate healing by helping the body repair and reconstruct skin tissue after a procedure. New research is becoming available each and every month as new data on exosomes appears in per reviewed clinical literature.
Are Exosomes Right for Your Hair Loss Situation?
If you think you may be a candidate for regenerative hair restoration therapy, a consultation is required–which can be completed in-office or virtually. Schedule your Hair Loss Consultation with Dr. Bauman at https://www.baumanmedical.com/schedule-consultation.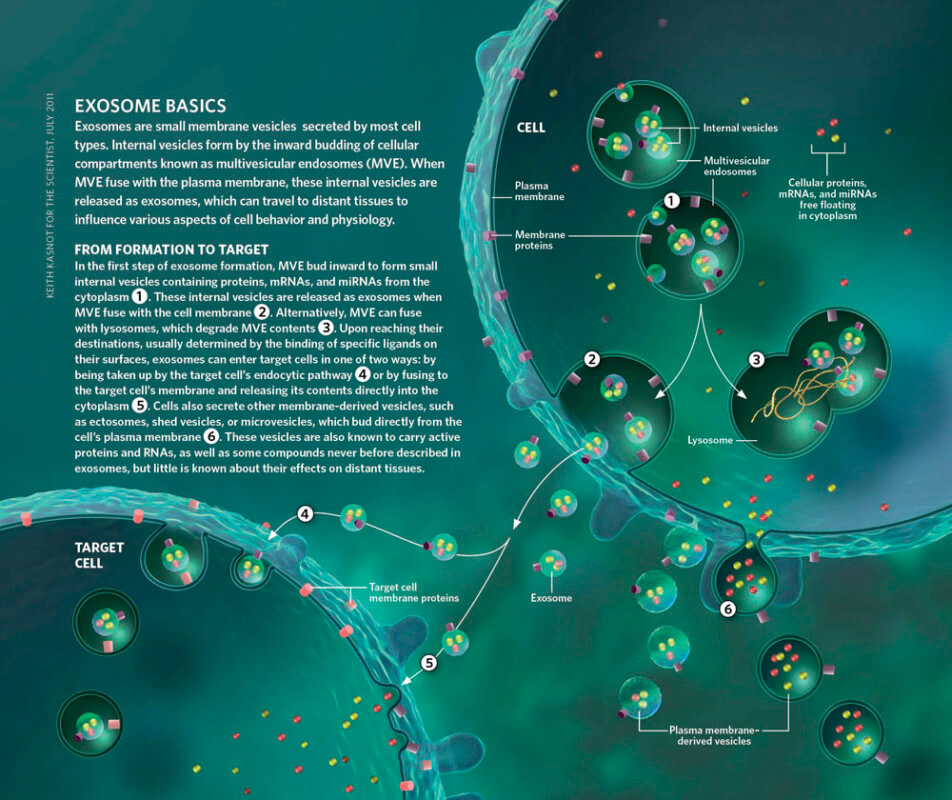 'Exosome Basics' by Keith Kasnot | For The Scientist
What are Exosomes?
Many times smaller than a cell, exosomes are extracellular vesicles or EVs, tiny packets (~50-100nm) of biochemical information that cells use to communicate with each other locally and over long distances within the body. They are an exciting and promising new area of research impacting many areas of traditional and Regenerative Medicine, including cancer, stroke, osteoarthritis, age management, aging/damaged skin, and many other fields, including hair restoration. Research into exosomes is attracting literally billions of dollars of investment because of the diagnostic and therapeutic potential of this technology. Exosomes can be found in nearly all body fluids like urine, breast milk, amniotic fluid, saliva, and blood but they also can be produced and collected from cultured mesenchymal stem cells (MSCs) in a lab. Their tiny size–literally 1/1000th the size of a normal cell–makes them very challenging to identify, quantify, separate, and purify for evaluation and therapeutic use.
What do Exosomes Contain?
Exosomes contain cargoes of growth factors, proteins, lipids, nucleic acids, cytokines, miRNA (microRNA), and more, which together act as chemical "instructions" or messages to other cells that literally alter the function of the targeted cells that receive this information. These cellular instructions have been found to have a powerful biologic effect, and there are numerous scientific articles and research that support their regenerative and healing capacity in a variety of areas of medicine including orthopedics, cardiology, dermatology, dentistry/oral maxillofacial surgery, and other fields. Exosomes have been found to contain over 1000+ growth factors and biosignals like FGF, PDGF, VEGF, and many others that have been shown to be critical for promoting and accelerating healing, tissue regeneration, as well as improving hair follicle function.
In addition, exosomes have the added potential of being a highly effective drug carrier due to their multiple adhesive surface proteins, which can provide delivery of various therapeutic agents to target cells, which is why they've attracted the attention (and financial investment) from the pharmaceutical industry.
Exosome Warning:
The origin of exosomes (i.e., the types of MSCs mesenchymal stem cells or mesenchymal signaling cells that release them), under what conditions they are produced and how they are collected, quantified/counted, sterilized, packaged, transported, etc.–not to mention how and where they are applied–can make an enormous difference in exosome safety, efficacy, and biologic effect. Patients should be aware that NOT all exosomes are created equal. In many cases, exosomes are being utilized ineffectively and there have been reports of complications from exosomes being used in an unsafe manner.  What we do know is that exosomes hold incredible scientific and medical potential for the diagnosis and treatment of a variety of conditions, but there are significant nuances in terms of treatments that require additional research.
Platelets, Exosomes, and Stem Cell Therapy
In the body, the natural process of repair and regeneration after an injury is typically initiated and orchestrated by blood platelets and Mesenchymal Stem Cells or MSCs. For more than a decade, physicians seeking to enhance the body's capability to regenerate and repair more effectively using Stem Cell Therapy has primarily been centered around harvesting, concentrating, and re-applying platelets in the form of Platelet-Rich Plasma (PRP), MSCs, or both, into wounds, injuries, and areas of weakened cellular function. This process often includes the use of autologous platelets from the patient's serum concentrated into PRP and combining it with MSCs derived from their bone marrow, adipose tissue, or other sources. What we know now is that in addition to the chemical messages including growth factors and cytokines released from activated platelets, MSC-released exosomes have also been discovered to be crucial for the regulation of the repair process–including cell migration, proliferation, differentiation, as well as extracellular matrix synthesis. [1,2,3] Exosomes released from the MSCs contain powerful biologic messages or instructions for repair to occur in the target tissue.
It has been shown that exosomes can mediate regenerative outcomes in injury and disease states that recapitulate observed bioactivity of stem cell populations without the cells–essentially providing a less-invasive "cell-free" treatment option for those seeking the benefits of Stem Cell Therapy. Some examples include the use of MSC-derived exosomes for reducing heart muscle injury after a heart attack[4], enhancing joint cartilage repair in osteoarthritis[5], treatment of stroke[6], kidney disease[7], and other degenerative conditions, including hair loss caused by androgenetic alopecia (hereditary male and female pattern hair loss).
Exosomes or EVs from different types of cells have been shown to improve vascularization as well as aid in the treatment and detection of various diseases. Stem cell EVs are able to control inflammation, accelerate and stimulate cell migration and proliferation, mediate wound healing and scar tissue production, increase angiogenesis, and trigger skin rejuvenation.
To find out if you are a good candidate for hair regrowth using regenerative hair therapies, please schedule your Virtual or In-Person Consultation with Dr. Alan Bauman today.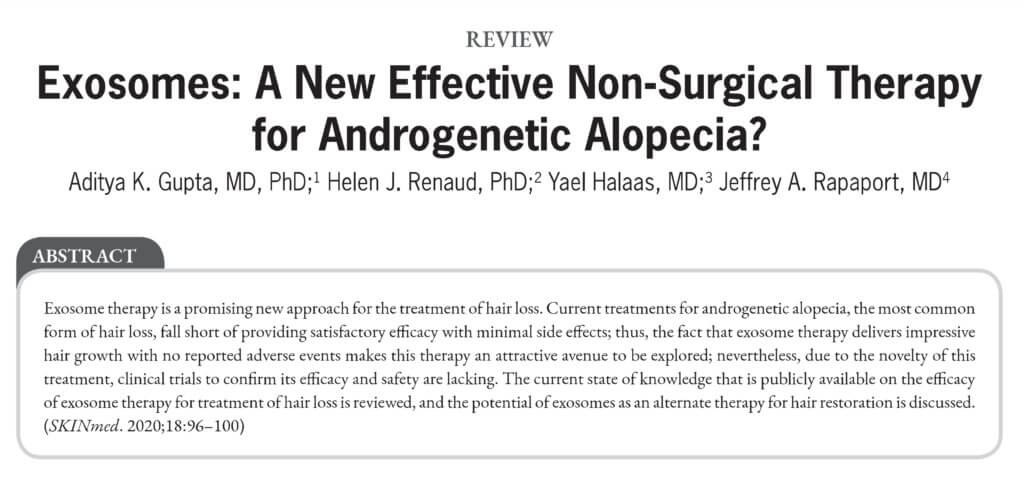 Regenerative Medicine in Hair Loss:
Cell Therapy / Stem Cell Therapy, PRP, Extracellular Matrix, and Exosomes
An undeniable trend in medical research since the 1990s has been away from a traditional pharmaceutical approach toward the concept of Regenerative Medicine–a way to restore normal function to that which has been damaged by disease, injured by trauma, or worn by time. Spearheaded by advances in tissue engineering and molecular biology–especially in the areas of human genes, proteins, and cells–many of the scientific breakthroughs found initially in the laboratories have now made their way "to the bedside" of patients in clinics around the world.
Specifically, in the field of hair loss, for example, advances in our understanding of the chronobiology or the internal biologic "clock" which regulates cyclical hair follicle function–and therefore hair fiber production, dovetailed with a clearer understanding of how to leverage the body's own cellular repair pathways, have opened the door to treatments and procedures that have been proven to safely and effectively enhance hair growth without relying upon traditional pharmaceutical interventions.
Cells, Signals, & Scaffolds: The Triad of Regenerative Medicine
In the wake of patient demand, physicians from many fields are now seeking and learning Regenerative Medicine techniques to help their patients. Using the tried-and-true "troika" or triad of Cells, Signals & Scaffolds, which form the basis of regenerative medicine, doctors are now providing these treatments "at the bedside" in their clinics. Unfortunately, many physicians are still struggling to achieve powerful or long-lasting results, especially if they are not adhering to certain concepts brought to light in published research and through clinical practice at leading-edge clinics.
This is especially true in the instance of PRP platelet-rich plasma for hair regrowth and the two important concepts of platelet concentration and scaffolds (biologic or synthetic). At Bauman Medical, in providing over 7,000 PRP treatments over more than a decade, using a bedside hematology lab testing machine to quantify platelets and other cells as well as performing our own internal investigative research of a variety of "scaffold" or extracellular matrix materials applied at the time of the procedure and scientifically tracking hair growth results over time, we have been able to significantly improve the power, strength, and duration of a single "lunchtime" application of PRP.
In addition, from our consistent participation at large medical conferences over the past 20 years, such as the World Stem Cell Summit and the American Academy of Anti-Aging's World Congress for Anti-Aging, Regenerative and Aesthetic Medicine, and smaller specialized Regenerative Medicine conferences like Boston BioLife, we have learned to safely and effectively apply these cutting edge modalities like stem cell therapy such as MSCs from adipose or fat tissue, platelet-rich plasma, and now exosomes, to help our patients heal and recover faster and more comfortably from hair transplant surgery as well as improve their hair growth.
Some examples of Regenerative Medicine technology currently being investigated in the field of Hair Restoration:
Platelet Rich Plasma (PRP) – dual-spin, high monocyte, high platelet
Platelet Rich Fibrin (PRF)
Porcine Bladder Extracellular Matrix (ACell)
Human Placental Allograft
Bone Marrow MSC-Derived Exosomes
Wharton's Jelly – Human Umbilical Cord Allograft
Amniotic Fluid Exosomes
Polydioxanone (PDO) Synthetic Scaffold Matrix Threads
Adipose-Derived MSCs – "Nanofat"
Adipose-Derived MSC Conditioned Media
IPSCs Induced Pluripotential Stem Cells – a promising area of "hair cloning" research
Explore other Regenerative Medicine treatments for hair loss at Bauman Medical.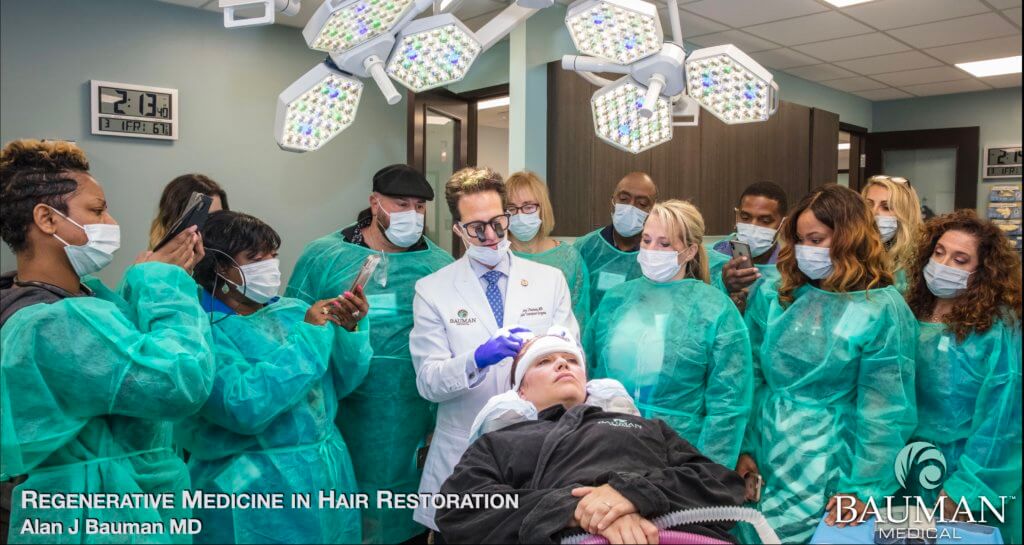 Top Hair Restoration Physician Alan J Bauman MD IAHRS ABHRS has shared his advanced techniques in preparation and application of effective Regenerative Medicine procedures for hair loss and hair restoration such as PRP Platelet Rich Plasma, Adipose-Derived Stem Cell Therapy, and more, with thousands of licensed professionals from around the world through his participation in medical conferences as well as his HairCoach Certification program.
Can Exosomes Be Useful for Hair Follicle Regeneration and Rejuvenation?
What if the hair regrowth effects observed from Stem Cell Therapy or Cell Therapy using adipose (fat) tissue[8], adipose-derived mesenchymal stem cells AD-MSCs, or Platelet-Rich Plasma PRP could be obtained without the invasive harvesting of adipose via liposuction or a blood sample? New research supports the use of exosomes as a viable treatment strategy for those with hair thinning[9], hair loss, wound healing, as well as the treatment of skin disorders.
In recent research, exosomes from human dermal papilla cells[10,11,12] in the root of the hair follicle and also from activated dermal fibroblasts[13] have been shown to promote hair growth. In other studies, conditioned media from the careful incubation of stem cells in the laboratory have been shown to have a powerful effect on hair growth.
To find out if you are a good candidate for regenerative medicine for hair restoration, please schedule your Virtual or In-Person Consultation with Dr. Alan Bauman today.
Regenerative Medicine for Hair Loss FAQs
What is involved with a Regenerative Medicine hair growth treatment?
A regenerative medicine treatment (PRP, PDOgro, etc.) is performed comfortably as a stand-alone, "lunchtime" procedure using local anesthesia/Pro-Nox so you will not feel the scalp treatment. Your scalp will remain numb for a few hours, but you may return to regular activities of daily life immediately, resuming athletic activity, hair care (shampooing), and styling the next day. Regenerative treatments can also be used in conjunction with hair transplantation to address thinning in the non-transplanted hair as well as accelerate the healing of transplanted grafts.
When will I see results from a Regenerative Medicine hair growth treatment for hair loss?
From our observations at Bauman Medical, hair growth results from regenerative medicine treatments become measurable in about three to six months and visibly apparent in six to nine months. However, some patients report even faster results. Tracking measurements with HairCheck tell us how well the treatment is working in each area and when you should repeat the treatment.
How much of a hair growth result will I see from exosome therapy, and how long will it last?
As with ANY hair regrowth therapy or procedure, results may vary. The power, performance, and duration of the measurable and visible results from regenerative medicine therapy for hair growth depend on many variables, including age, genetics, risk factors, degree of hair loss, hair quality (color, curl, diameter, density), as well as the use of adjuvant therapies like pharmaceuticals, laser therapy, nutraceuticals, etc.
I have extensive hair loss, will regenerative medicine work for me?
Early treatment is always the best treatment. If hair follicles are dead, gone, or beyond repair, it's unlikely that regenerative medicine will have a substantial effect other than to protect and enhance the hair follicles that can be rejuvenated. To determine what areas of hair loss and hair thinning are likely to respond, a detailed evaluation with an experienced certified and credentialed Hair Restoration Physician is recommended.
Who is NOT a candidate for regenerative medicine treatment for hair loss?
While there are no absolute contraindications to regenerative medicine therapy known at this time, patients with severe medical issues, including cancer, immune conditions, poorly controlled diabetes, etc., including smokers, should consult with their physician before proceeding with this treatment.
To find out if you are a good candidate for regenerative medicine therapy for hair regrowth, please schedule your Virtual or In-Person Consultation with Dr. Alan Bauman today.
If you or someone you know has hair loss, hair thinning, baldness, or eyebrow / eyelash concerns, click to start either a long-distance virtual consultation OR an in-person, in-office consultation with Dr. Bauman. You can also Ask Dr. Bauman a Question or simply call Bauman Medical Group  at +1-561-394-0024.
REFERENCES
1) Toh WS, Foldager CB, Pei M, Hui JHP. Advances in mesenchymal stem cell-based strategies for cartilage repair and regeneration. Stem Cell Rev Rep. 2014;10(5):686–96.
2) da Silva ML, Fontes AM, Covas DT, Caplan AI. Mechanisms involved in the therapeutic properties of mesenchymal stem cells. Cytokine Growth Factor Rev. 2009;20(5–6):419–27.
3) Toh WS, Lai RC, Hui JHP, Lim SK. MSC exosome as a cell-free MSC therapy for cartilage regeneration: implications for osteoarthritis treatment. Semin Cell Dev Biol. 2017;67:56-64.
4) Lai RC, Arslan F, Lee MM, Sze NSK, Choo A, Chen TS, Salto-Tellez M, Timmers L, Lee CN, El Oakley RM. Exosome secreted by MSC reduces myocardial ischemia/reperfusion injury. Stem Cell Res. 2010;4(3):214–22.
5) Mancuso P, Raman S, Glynn A, Barry F, Murphy JM. Mesenchymal stem cell therapy for osteoarthritis: the critical role of the cell secretome. Front Bioeng Biotechnol. 2019;7:9.
6) Xin H, Li Y, Chopp M. Exosomes/miRNAs as mediating cell-based therapy of stroke. Front Cell Neurosci. 2014;8:377.
7) Burger D, Viñas JL, Akbari S, Dehak H, Knoll W, Gutsol A, Carter A, Touyz RM, Allan DS, Burns KD. Human endothelial colony-forming cells protect against acute kidney injury: role of exosomes. Am J Pathol. 2015;185(8):2309–23.
8) Kruglikov IL, Zhang Z, Scherer PE. The Role of Immature and Mature Adipocytes in Hair Cycling. Trends Endocrinol Metab. 2019;30(2):93-105. doi:10.1016/j.tem.2018.11.004
9) Carrasco E, Soto-Heredero G, Mittelbrunn M. The Role of Extracellular Vesicles in Cutaneous Remodeling and Hair Follicle Dynamics. Int J Mol Sci. 2019;20(11):2758. Published 2019 Jun 5. doi:10.3390/ijms20112758
10) Kwack MH, Seo CH, Gangadaran P, et al. Exosomes derived from human dermal papilla cells promote hair growth in cultured human hair follicles and augment the hair-inductive capacity of cultured dermal papilla spheres. Exp Dermatol. 2019;28(7):854-857. doi:10.1111/exd.13927
11) Yan H, Gao Y, Ding Q, et al. Exosomal Micro RNAs Derived from Dermal Papilla Cells Mediate Hair Follicle Stem Cell Proliferation and Differentiation. Int J Biol Sci. 2019;15(7):1368-1382. Published 2019 May 20. doi:10.7150/ijbs.33233
12) Zhou L, Wang H, Jing J, Yu L, Wu X, Lu Z. Regulation of hair follicle development by exosomes derived from dermal papilla cells. Biochem Biophys Res Commun. 2018;500(2):325-332. doi:10.1016/j.bbrc.2018.04.067
13) le Riche A, Aberdam E, Marchand L, et al. Extracellular Vesicles from Activated Dermal Fibroblasts Stimulate Hair Follicle Growth Through Dermal Papilla-Secreted Norrin. Stem Cells. 2019;37(9):1166-1175. doi:10.1002/stem.3043