Meet Dr. Alan J. Bauman, MD, ABHRS, IAHRS, FISHRS,
Founder, CEO & Medical Director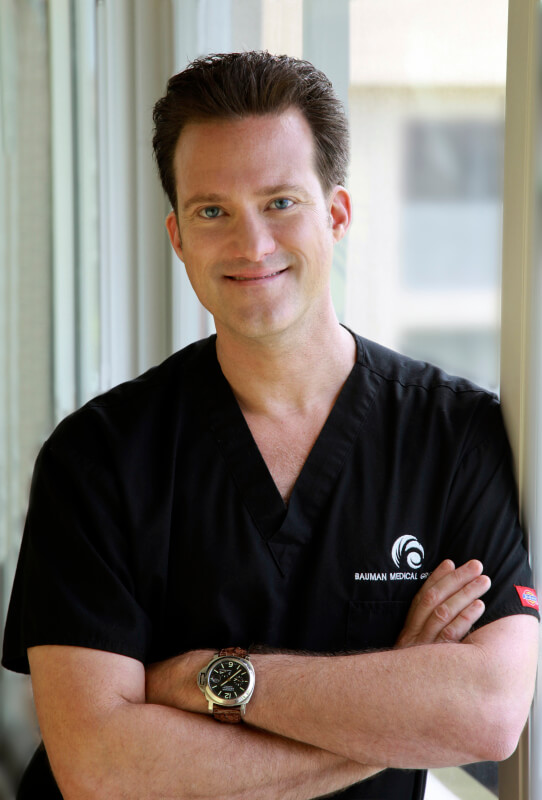 Alan J. Bauman, MD, ABHRS, IAHRS, FISHRS is a full-time hair transplant surgeon who founded his medical practice, Bauman Medical, in Boca Raton, FL in 1997 and has treated nearly 30,000 patients and performed over 10,000 hair transplant procedures to date. His compassionate, patient-centered philosophy and individualized artistic approach to protecting, enhancing, and restoring the appearance and health of the hair and scalp is what sets him apart from non-specialists and other practitioners. Dr. Bauman moved to Boca Raton with his wife Karen after he received his M.D. degree from New York Medical College, surgical residency training at Mt. Sinai Medical Center and Beth Israel Medical Center in Manhattan, and hair transplant Fellowship training in New York.

Dr. Bauman is one of only approximately 200 physicians worldwide to achieve certification from the esteemed American and International Board of Hair Restoration Surgery (ABHRS), be an accepted member of the elite International Alliance of Hair Restoration Surgeons (IAHRS), and also recommended by the American Hair Loss Association. In addition, Dr. Bauman has achieved the coveted Fellow status within the International Society of Hair Restoration Surgery (FISHRS) and is a frequently invited faculty member at numerous international scientific meetings, live surgery workshops, and major beauty industry events.

Dr. Bauman is the first-ever hair transplant surgeon to be formally accepted as an Intercoiffure Industry Partner. He is also an Advisory Board Member for the World Trichology Society and an active Trustee of the Greater Boca Raton Chamber of Commerce and he credits part of his early and ongoing success thanks to his involvement in local and national professional networks. He is also the author of numerous articles and textbook chapters on the science of hair care and hair transplantation, including eyelash transplant surgery, and has been extensively featured in the world's leading mass media and numerous podcasts as a top-tier medical hair loss expert and successful early-adopter and pioneer of some of the most advanced technologies in the effective treatment of hair loss. Dr. Bauman's international reputation and his exceptional team at Bauman Medical attracts patients from all corners of the globe for accurate hair loss diagnosis, the latest and most effective hair restoration treatments and procedures, and "the ultimate hair restoration experience."

Dr. Bauman has been voted "America's #1 Top Hair Restoration Physician" for five years running and awarded "Hair Restoration Surgeon of the Decade" by Aesthetic Everything. He was recently named a "Top 5 Transformative CEO" and identified as one of "Ten CEOs Transforming Healthcare in America" in Forbes. Year after year he is listed in Ape to Gentleman's "Top 25 Hair Transplant Clinics in the World." His accessible and interactive presence on social media has garnered millions of video views on YouTube and thousands of subscribers, connections, and followers on the most popular platforms. A recent Live Hair Transplant Surgery broadcast directly from the procedure room in his Boca Raton office gained over 100,000 simultaneous views from more than 20 countries. Dr. Bauman also has been a member of the highly respected Pantene Hair Research Institute, a global network of leading hair expert physicians, scientists and researchers focused on the advancement of hair science, technologies, and products.

As a local business leader and philanthropist, he is the Founder of the award-winning 501(c)(3) nonprofit Bauman Philanthropic Foundation which has helped numerous less fortunate hair loss sufferers receive pro-bono hair restoration treatments and procedures. Dr. Bauman is also the volunteer Medical Director and board member for the Veteran support nonprofit GreyTeam.org based in Boca Raton which helps our precious military heroes successfully transition back to civilian life with a focus on mental and physical health, wellness, fitness, and mindfulness.

In addition to serving as the CEO of Bauman Medical and teaching and consulting internationally, Dr. Bauman personally treats patients at his Bauman Medical Hair Transplant and Hair Loss Treatment Center in beautiful Boca Raton, Florida.