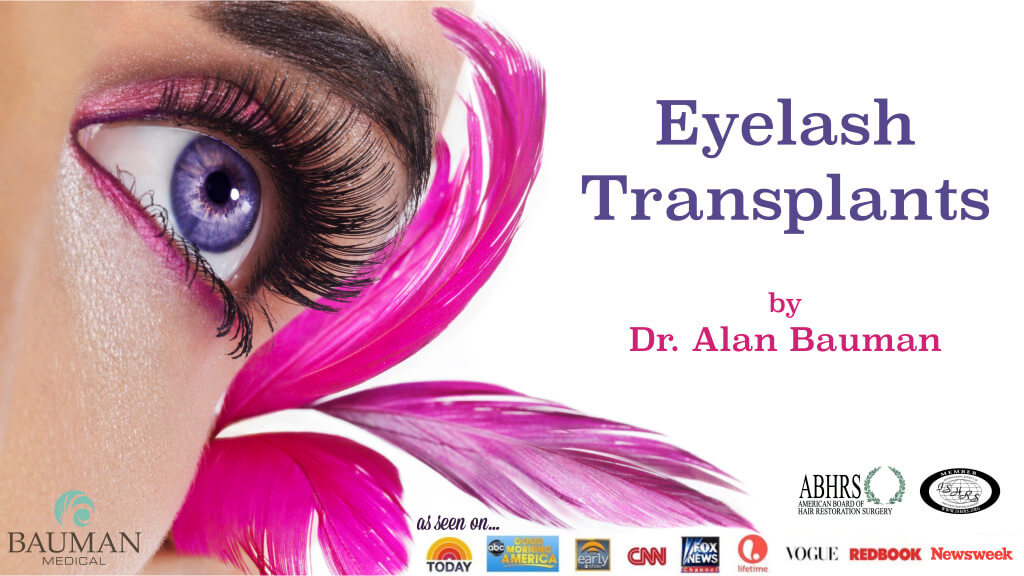 Dr. Alan Bauman's EYELASH TRANSPLANTS
Long, luscious eyelashes enhance the youth and beauty of the eye and provide aesthetic symmetry to the face, but did you know they also serve an important protective function for the eye?  Eyelashes are the primary way potentially damaging dust motes and debris are kept away from the delicate surface of the eye.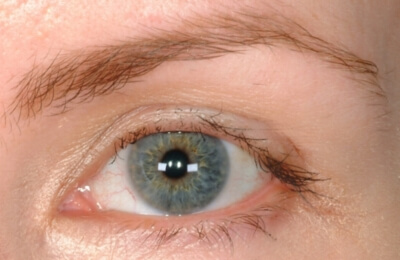 Do you have weak, damaged, missing sparse or short lashes?
If you have experienced a loss of your lashes through injury, trauma, overuse of eyelash extensions, hair pulling, or you simply want longer thicker more dense living and growing lashes without mascara, an Eyelash Transplant procedure may be for you!
To see if you are a candidate for this type of procedure, please fill out a consultation request form to discuss your situation with eyelash transplant pioneer, Dr. Alan J. Bauman.
What is an Eyelash Transplant?
Unlike false lashes or eyelash extensions, eyelash transplantation is a safe, effective way to permanently restore living and growing lashes to your eyelid. In a comfortable walk-in/walk-out out-patient procedure, eyelash transplantation redistributes live hair follicles from the back of the scalp into the eyelid in just a few hours with life-changing results*!
NOTE:  Transplanted lashes grow LONG and will therefore need to be routinely groomed–trimmed, curled etc.  Since 1999, Dr. Bauman's Eyelash Transplant procedures have been featured on ABC's Good Morning America, CNN, Access Hollywood, EXTRA!, FOX News and other news programs.  He was the only North American faculty member at the first ever International Society of Hair Restoration Surgery Live Regional Workshop on Eyelash Transplantation held in Los Angeles on October 23, 2006. The groundbreaking event was attended by dozens of physicians and medical professionals from around the world and several news organizations while Dr. Bauman lectured and performed live surgery. Demand for eyelash transplants have skyrocketed since this procedure has been proven to be safe and effective when performed by highly skilled, properly trained surgeons who are committed to providing ALL aspects of care during and after eyelash transplant procedures.
Eyelash Transplant for Weak, Damaged or Missing Lashes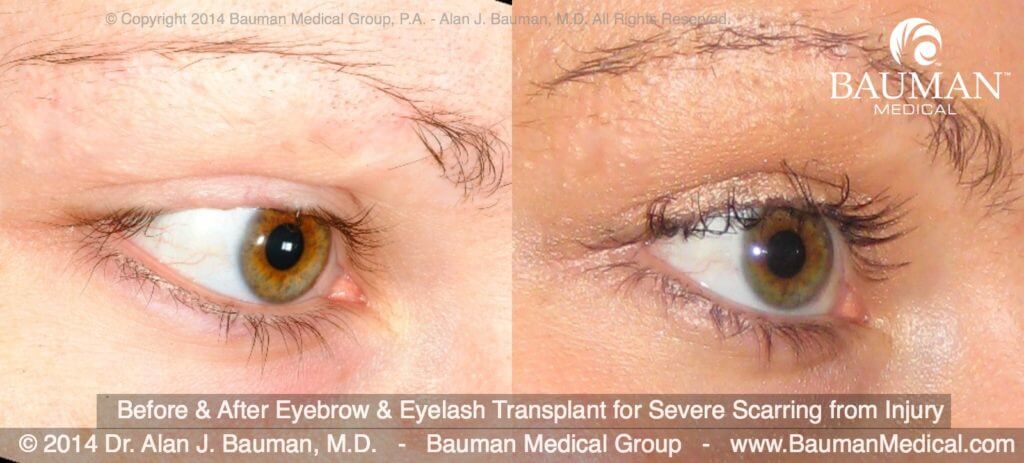 [Above: Eyelash and Eyebrow Transplantation for Severe Eye-Area Scarring from Injury]
Eyelash Loss from Accident, Injury, Cancer Treatments or Eyelid Surgery
Permanent eyelash loss or "eyelash gap" can occur when eyelash follicles and/or surrounding eyelid skin is damaged or scarred from an injury, accident, burn, surgery or even cancer treatments such as radiation or chemotherapy. "Eyelash gap" is a common side-effect from stye surgery of the eyelid.  Often eyelash loss patients complain of dust and debris in their eye causing irritation, as well as a non-symmetrical or uneven look of the eye area.  False eyelashes can be difficult and irritating to use as an eyelash replacement option.  As long as the eyelid is healthy and functions well, eyelash transplantation can be performed to permanently restore the beauty, form and important function of the eyelashes. See the video below of Dr. Bauman performing eyelash transplantation for eyelash repair of injury to the eyelid area for a car accident survivor.