In this video, Dr. Alan J. Bauman explains why PDOgro is one of the best, new hair restoration treatments available today. Dr. Bauman explains what PDOgro is, how it works, who's a candidate, what kind of results you can expect, and what it's like to experience the PDOgro treatment.
Watch Dr. Bauman conduct the PDOgro procedure in this video:
PDOgro™ Polydioxanone Thread Procedure For Hair Regrowth
Hair Restoration Physician Dr. Alan J. Bauman is first to use PDO Polydioxanone Threads PDOgro™ Procedure for Hair Regrowth in the U.S.
PDOgro™ Procedure using Polydioxanone Threads for Hair Regrowth – PDO is a known absorbable FDA-cleared synthetic suture and surgical scaffold material that stimulates endogenous collagen production, elastin, hyaluronic acid as well as activates fibroblasts. PDO (polydioxanone) threads have been used in aesthetic medicine for years for rejuvenation of skin, skin tightening, skin lifting, and wrinkle reduction. Hair regrowth in patients with hair loss from androgenetic alopecia has been observed in patients who had PDO threads inserted into their scalps. In this video you see ABHRS-certified hair restoration surgeon, Dr. Alan Bauman, performing the final step of his proprietary PDOgro™ process using MasterThreads in the thinning crown area of a hair loss patient "C.T."  Continued research will help determine how long the results of MasterThreads last and which candidates are likely to have the best hair regrowth effects. Non-surgical application of PDO threads into the scalp is a relatively safe and comfortable out-patient procedure with no downtime or aftercare. The PDOgro procedure using MasterThreads for hair regrowth may help prevent or reduce the need for hair transplantation. They may also be used for stopping, slowing, or reversing hair loss in conjunction with other treatments such as minoxidil, finasteride, low-level laser therapy, PRP platelet-rich plasma, and other cell therapy treatments. Dr. Bauman recommends that HairCheck hair regrowth measurements be performed every three months (90 days) to track the improvements in hair growth from treatment and to help determine when the next PDOgro thread treatment for hair regrowth is indicated.
To learn more about PDO threads from the manufacturer, click here.
PDOgro™ w/ MasterThreads: Before & After Results Photos
Clinical trials are now underway at Bauman Medical to determine how long the hair growth improvements with PDOgro threads will last as a stand-alone treatment, as well as with the addition of PRP at the time of insertion. In these patients below, the results were already beginning to become visible to the naked eye around 12 weeks (3 months). Female patient "M.M." had PDOgro threads inserted at the hairline, right, and left temple area. Female patient "C.T." had PDOgro threads inserted in the crown/vertex area. Male patient R.H. had PDOgro performed live by Dr. Alan Bauman at the prestigious South Beach Symposium for Aesthetic Dermatology in Miami in 2019. His results are seen at just three months post-treatment.  Stay tuned for more updates soon!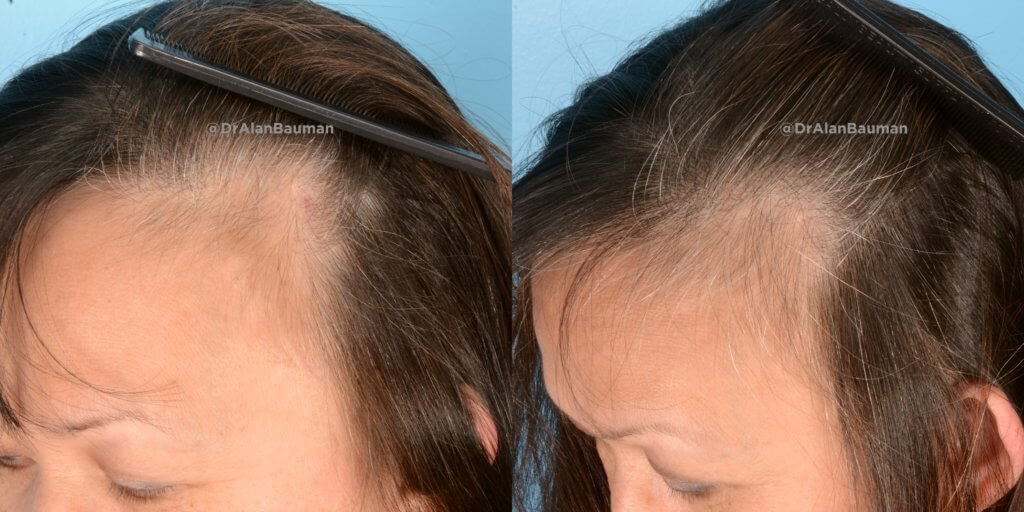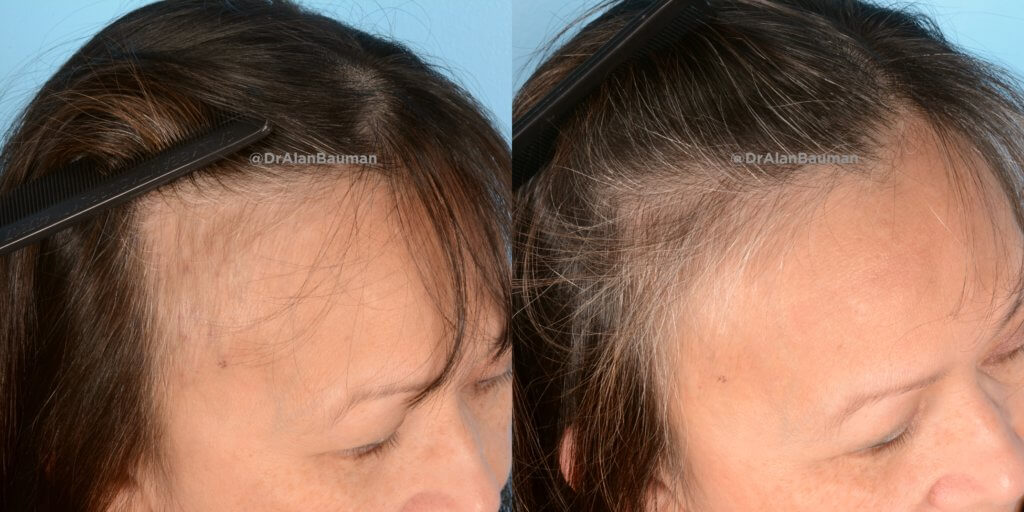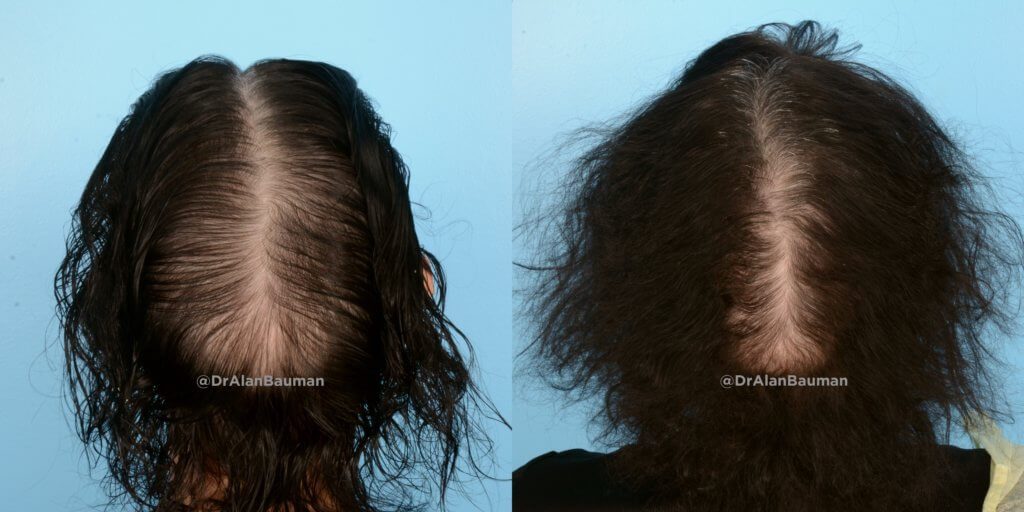 PDOgro™ for Male Pattern Hair Loss: Androgenetic Alopecia:
Find out if you're a candidate for PDOgro™ by scheduling a consultation with Dr. Alan Bauman.
Explore other Regenerative Medicine treatments for hair loss at Bauman Medical.
If you or someone you know has hair loss, hair thinning, baldness, or eyebrow / eyelash concerns, click to start either a long-distance virtual consultation OR an in-person, in-office consultation with Dr. Bauman. You can also Ask Dr. Bauman a Question or simply call Bauman Medical Group  at +1-561-394-0024.