VirtualPRP™ Home Hair System from Bauman Medical
What is VirtualPRP™?
VirtualPRP™ is a powerful at-home protocol designed specifically by renowned Hair Restoration Surgeon and hair loss expert, Dr. Alan J. Bauman, MD. Virtual PRP can be used as an at-home stop-gap alternative to in-office PRP Platelet-Rich Plasma treatment. VirtualPRP is ideal for patients who are unable to visit the office for their scheduled or recommended in-office PRP treatment for regrowth. VirtualPRP and its components can also be used as a non-chemical, drug-free and side-effect-free adjunct to in-office PRP Platelet Rich Plasma treatments.
What kind of technology is recommended in the VirtualPRP at-home treatment protocol?
Dr. Bauman's at-home VirtualPRP protocol includes a combination of breakthrough technologies such as bone marrow stem cell-derived growth factors and cytokines, a powerful polybotanical topical solution, an FDA-cleared low-level laser therapy device for hair regrowth, as well as stem cell support nutraceuticals.
The use of bone marrow stem cell-derived growth factors and cytokines, as well as powerful polybotanicals (AnteAGE-MD Home Hair System), are key components of Dr. Bauman's VirtualPRP protocol. In 2019, Dr. Bauman initiated an in-house pilot study of the AnteAGE-MD's technology and its effect on hair regrowth and presented some of his results at international medical conferences, including the South Beach Clinical and Aesthetic Dermatology Symposium and the Annual Scientific Congress of the American Academy of Anti-Aging and Regenerative Medicine. See some Before and After Results from Dr. Bauman's AnteAGE-MD Pilot Study.
Where can I buy VirtualPRP Home Kit including the AnteAGE-MD Home Hair System?
Dr. Bauman's VirtualPRP Home Kit including the AnteAGE-MD Home Hair System is available from the Bauman eStore along with the recommended stem cell support nutraceuticals and FDA-cleared low-level laser therapy devices for hair regrowth.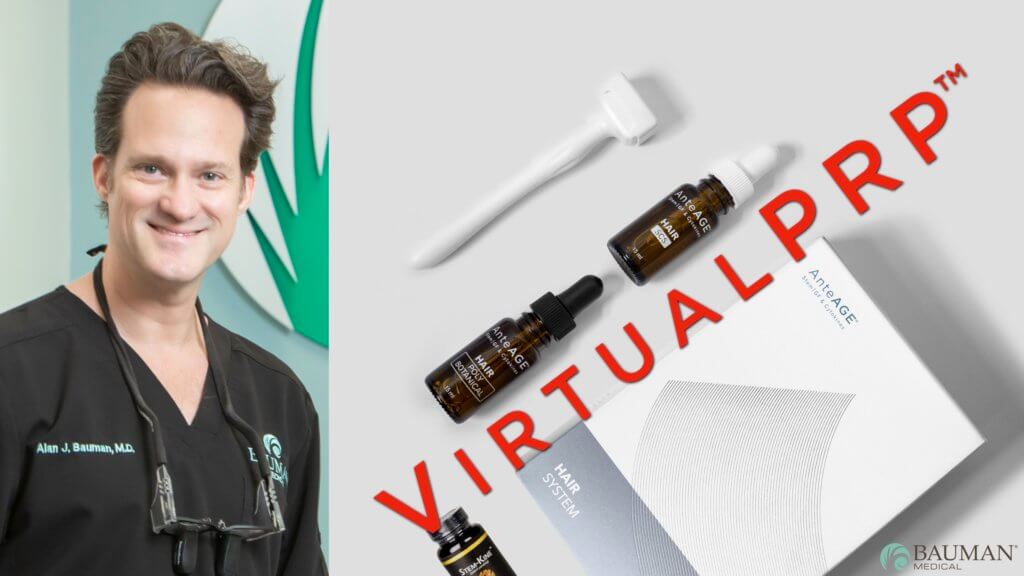 What is the AnteAGE-MD Home Hair System?
The AnteAGE-MD Home Hair System uses a dual system of stem cell-derived growth factors and cytokines (AnteAGE Hair SCS) in addition to powerful plant-derived biosignals (AnteAGE Hair PolyBotanical) to support healthy hair growth by encouraging longer, thicker and healthier hair production at a cellular level. The AnteAGE Hair SCS utilizes stem cell growth factors and cytokines to "wake up" dormant stem cells within the hair follicle and encourage longer periods of active growth. The AnteAGE Hair PolyBotanical is an extract of plant-derived biosignals identified in peer-reviewed scientific journals linked to hair follicle function and to enhance hair growth.
Each AnteAGE-MD Home Hair System includes the following components:
15mL AnteAGE-MD Hair SCS Stem Cell Stimulator – Growth Factors + Cytokines
15mL AnteAGE-MD Hair PolyBotanical – 24 botanical extracts and more.
0.2mm Micro Dermal Stamp
What are Growth Factors + Cytokines?
Growth Factors and Cytokines are the chemical messages and signals that cells use in the body to communicate. For example, when your body's stem cells are orchestrating tissue regeneration and repair after an injury, they release growth factors and cytokines to tell other cells what to do and when to do it. Stem cells within the skin use hundreds of different growth factors to manage skin healing and create nearly flawless regeneration naturally. When you have a PRP Platelet-Rich Plasma or other cell therapy treatment to treat an injury, rejuvenate aging skin, or stimulate hair regrowth, the growth factors and cytokines release from platelets are considered the primary mechanism responsible for those physiologic effects. Research has shown that these certain growth factors are responsible for communication within the hair follicle like a natural biological clock, regulating the natural alternating phases of hair production and resting/degeneration, as each and every healthy hair follicle cycles on and off repeatedly over time. Hair thinning and hair loss occurs when the natural healthy growth cycle of hair follicles becomes disrupted, resulting in shedding as well as progressively thinner, weaker, wispier hair over time.
How do Growth Factors and Cytokines Affect Hair Growth?
The complicated cellular "language" of growth factors, cytokines, and other intracellular messages is an area of intense scientific research. It is theorized that the positive benefits of treatments like PRP and other types of cell therapy for hair growth can be traced to the actions of certain growth factors and cytokines at the cellular level. Research suggests that in cases where follicles have become weakened or disrupted by risk factors such as age, heredity, hormones, lifestyle, poor nutrition, stress, illness, medications, inflammation, poor scalp health, physical or chemical trauma, etc., certain growth factors and cytokines can help keep the follicle producing good quality hair. These growth factors and cytokines act like a chemical "switch," telling the hair follicle to switch on and stay on, producing a longer, thicker, healthier hair. In this way, stem cell therapy, PRP Platelet Rich Plasma, and other regenerative medicine procedures for hair regrowth typically involve the use of cells from the body and the chemical messages they release in order to improve hair follicle function.
Can you receive the hair growth benefits of Stem Cell Therapy WITHOUT the cells?
Recent research on how stem cells communicate with their surroundings has focused on what these cells release into their environment to trigger tissue regeneration and repair. This cellular communication hinges upon tiny chemical signals called growth factors and cytokines which can exert a powerful effect on nearby cells and mini-organs like hair follicles. Today, patients can benefit from cell therapy without the invasiveness and risks of traditional stem cell therapy or other regenerative medicine procedures, which typically require the harvesting and processing of fat, bone marrow, or blood, etc. and subsequent injections, by utilizing the revolutionary AnteAGE MD Hair System. The AnteAGE-MD Hair System provides the many benefits of cell therapy in a comfortable and quick in-office procedure or in the comfort of your own home, but without the cells!

Where do AnteAGE MD Growth Factors + Cytokines Come From?
AnteAGE treatments for skin and hair are the result of decades of clinical research in stem cell biology, and specifically, the use of bone marrow-derived mesenchymal stem cells (BM-MSCs) to enhance wound healing. In the laboratory, the scientists and researchers at AnteAGE utilize stem cells that have been ethically sourced from the bone marrow of young, healthy, pre-screened adult donors. These cells are meticulously cultured within a controlled environment that fosters the production of the specific biosignals that are known to positively affect hair follicle function and wound healing. In the lab, specialized techniques are used to influence bone marrow-derived mesenchymal stem cell cultures to release growth factors and cytokines specifically to support healthy hair growth–e.g., the WNT-1a pathway–to which bioidentical growth factors and cytokines are added, each with a proven role in healthy hair follicle function. Stem Cell Conditioned Media (SCCM) is the liquid or gel used to support the growth of cells in a laboratory that contains and collects the powerful mixture of growth factors, metabolites and extracellular matrix proteins secreted by the cultured cells. Cellular material is removed from SCCM and this media is carefully processed into AnteAGE products inside their cGMP-certified facility, located in the US. AnteAGE is the first product of its kind to utilize these very special and powerful WNT1 Stem Cytokines.
AnteAGE stem cell growth factors and cytokines are carefully curated to contain the ideal ratio of beneficial growth factors and cytokines while avoiding those that may be pro-inflammatory or have detrimental effects. AnteAGE products are 100% cruelty, cell, paraben, pathogen-free, and made in the USA.
How to use VirtualPRP™ at Home
How to Use AnteAGE-MD Home Hair System
For optimal results, AnteAGE-MD Hair SCS solution and Hair PolyBotanical should be used separately, on alternating days. Most patients prefer evening application before bed, but treatments may be done in the morning or at any convenient time during the day. If you are also using a topical prescription medication on the scalp, it's advisable to apply that treatment first and let it dry before applying AnteAGE-MD Home Hair System.
AnteAGE Hair SCS and Hair PolyBotanical should be applied on alternate days to the entire treatment area on the scalp. Keep in mind the treatment areas should include areas of thinning as well as areas that are at risk–this typically means from the frontal hairline and temples all the way through to the vertex or crown area. AnteAGE may be applied to a completely dry scalp or recently washed and towel-dried scalp.
Before beginning, disinfect the dermal stamp with alcohol or other sanitizer and place it within reach. Begin with a full dropper of AnteAGE Hair SCS. Apply SCS over the entire treatment area by starting either on the left or right side, parting the hair with a comb front to back, applying small drops of SCS directly onto the scalp along the entire part you created. Then, moving on, making another part and applying the treatment in a similar fashion, moving across the scalp one adjacent section at a time. Depending on the size of your scalp, three to five separate part lines should suffice.
Once the entire scalp has been treated with a thin layer of AnteAGE Hair SCS, start again from one side and begin to part the hair again front to back, and apply the dermal stamp along the entire part line several times and then proceed to another part line, working across the entire scalp section by section. Apply the stamp in an up and down motion perpendicularly to the scalp and use a slight rocking motion side to side when in contact with the scalp to increase penetration of the Hair SCS solution. Remember to make several passes over each parted area with the dermal stamp. After dermal stamping, apply another layer of the Hair SCS solution, massage into the scalp with fingertips, and allow it to dry. Disinfect the dermal stamp before storing it.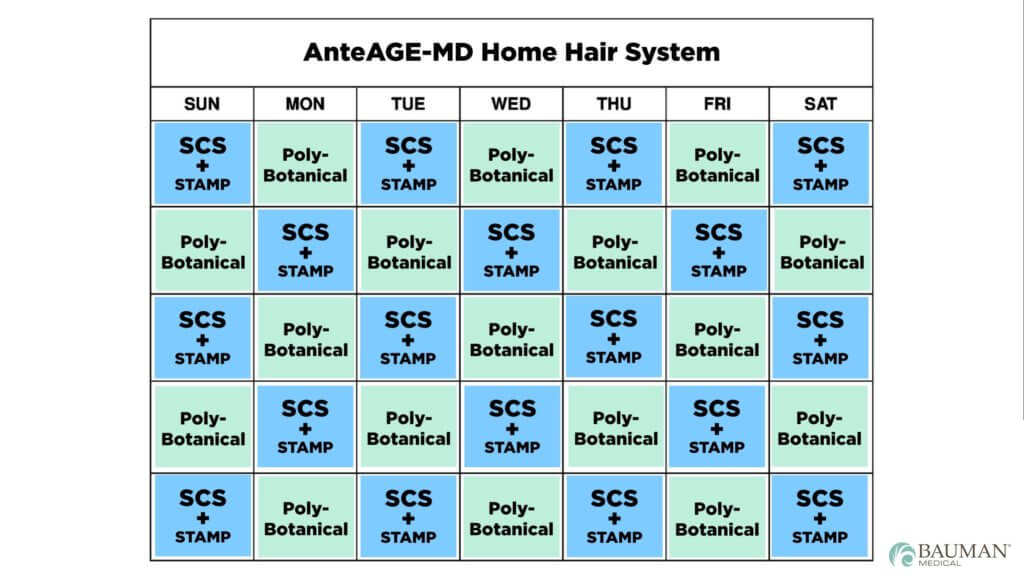 The following day, apply the AnteAGE Hair PolyBotanical to the treatment areas in the same manner (parting each zone, applying it directly to the entire treatment area, massage with fingertips and let dry). DO NOT use the dermal stamp with the PolyBotanical. Continue alternating which product you apply daily, using the system every day or as directed. You may style your hair immediately afterward, but avoid exposure to excessive moisture, e.g., showering, swimming, exercise, etc., for at least two hours after each application to allow for proper absorption.
Immediately after AnteAGE-MD Hair SCS or PolyBotanical application is an excellent time to apply low-level laser therapy to the scalp (e.g., Bauman TURBO LaserCap), as well as take your evening dose of Stem-Kine and other recommended nutritional supplements, nutraceuticals (e.g., BaumanMD SuperBiotin, Nutrafol, Viviscal Professional, etc.), or oral medications for hair regrowth.

Dr. Bauman's 'VirtualPRP' Protocol
The following therapies are some of the recommended adjuncts to the AnteAGE-MD Home Hair System to complete the VirtualPRP protocol:
Stem-Kine – Stem Cell Support Nutritional Supplement*. Take two capsules twice a day, or as directed.
Low-Level Laser Therapy – Bauman "Turbo" LaserCap for hair growth, or similar device.
Nutrafol – nutritional supplementation for hair for men & women
BaumanMD – SuperBiotin
BaumanMD – DHT-Control shampoo and conditioner kit
What are the Possible Side Effects of VirtualPRP Home Kit & AnteAGE-MD Home Hair System?
The good news is that ALL components of Dr. Bauman's VirtualPRP protocol and the AnteAGE-MD system are drug-free and therefore devoid of the common side effects associated with pharmaceutical treatments for hair regrowth. All components are also cell-free and pathogen-free. There is no blood draw (phlebotomy) required and no injections of local anesthesia or injections associated with the application of AnteAGE-MD growth factor + cytokine or the polybotanical topical treatments. The 0.2mm dermal stamp is included to increase the penetration of the Stem Cell Stimulator SCS topical solution but when properly sanitized before and after use should pose little risk as this depth does not cause bleeding or deep injury to the scalp. A small percentage of patients do notice that their scalp appears slightly pink after application of the dermal stamp, and may be mildly sore or tender to the touch the next day. If this happens to you, we recommend that you decrease the pressure used during the dermal stamp process.
The recommended low laser light therapy devices like the Bauman TURBO LaserCap are, of course, 100% non-chemical, non-invasive, drug-free and side-effect-free, FDA-cleared for hair regrowth.
Follow-up
We care about your progress with VirtualPRP and other treatments and we want to see you achieve your hair restoration goals. For this reason, we encourage follow-up appointments virtually or in-person every 90 days to track your progress and results.
Products, Questions, and Support
Visit our eStore at https://shop.baumanmedical.com to order or reorder the VirtualPRP components such as the AnteAGE-MD Home Hair System and learn about additional hair health and hair regrowth products that are available.
https://shop.baumanmedical.com/products/virtual-prp-home-kit
For follow-up scheduling, questions and support, please contact Bauman Medical: https://www.baumanmedical.com/contact
If you or someone you know has hair loss, hair thinning, baldness, or eyebrow / eyelash concerns, click to start either a long-distance virtual consultation OR an in-person, in-office consultation with Dr. Bauman. You can also Ask Dr. Bauman a Question or simply call Bauman Medical Group  at +1-561-394-0024.
*This statement has not been evaluated by the FDA. This product is not intended to treat, cure or prevent any disease.
SELECTED BIBLIOGRAPHY
Analyses of regenerative wave patterns in adult hair follicle populations reveal macro-environmental regulation of stem cell activity. Int J Dev Biol. 2009; 53(5-6): 857–868.
Signaling Involved in Hair Follicle Morphogenesis and Development.
Int J Mol Sci. 2014 Jan; 15(1): 1647–1670.
An integral program for tissue renewal and regeneration: Wnt signaling and stem cell control.
Science 03 Oct 2014: Vol. 346, Issue 6205.
Modulating hair follicle size with Wnt10b/DKK1 during hair regeneration. Exp Dermatol. 2014 Jun;23(6):407-13.
Distinct functions for Wnt/β-catenin in hair follicle stem cell proliferation and survival and interfollicular epidermal homeostasis. Cell Stem Cell. 2013 Dec 5; 13(6): 720–733.
Wnt signals are required for the initiation of hair follicle development. Dev Cell. 2002 May;2(5):643-53.
Wnt Signaling in Hair Follicle Development. Asian Journal of Beauty and Cosmetology. 2017; 15. 242-246.
Artepillin C and Other Herbal PAK1-blockers: Effects on Hair Cell Proliferation and Related PAK1-dependent Biological Function in Cell Culture. Phytother Res. 2016 Jan;30(1):120-7.
Herbal therapeutics that block the oncogenic kinase PAK1: a practical approach towards PAK1-dependent diseases and longevity. Phytother Res. 2014 May;28(5):656-72.
Hair Growth Promoting and Anticancer Effects of p21-activated kinase 1 (PAK1) Inhibitors Isolated from Different Parts of Alpinia zerumbet. Molecules 2017,22,13.
JAK/STAT Signaling. MedChem Express.
Growth Factors, Cytokines and Microneedling for Hair Regrowth: A Pilot Study. South Beach Clinical and Aesthetic Symposium – Hair Restoration Track. AJ Bauman. Loews Hotel, Miami Beach FL, 2020 Feb(8).
Adenosine stimulates growth of dermal papilla and lengthens the anagen phase by increasing the cysteine level via fibroblast growth factors 2 and 7 in an organ culture of mouse vibrissae hair follicles. Int J Mol Med. 2012 Feb;29(2):195-201.
Mechanism of action of minoxidil in the treatment of androgenetic alopecia is likely mediated by mitochondrial adenosine triphosphate synthase-induced stem cell differentiation. J Biol Regul Homeost Agents. 2017 Oct-Dec;31(4):1049-1053.
Adenosine increases anagen hair growth and thick hairs in Japanese women with female pattern hair loss: a pilot, double-blind, randomized, placebo-controlled trial. J Dermatol. 2008 Dec;35(12):763-7.
Stem Cell Metabolism in Cancer and Healthy Tissues: Pyruvate in the Limelight. Front. Pharmacol., 04 January 2018.
Lactate dehydrogenase activity drives hair follicle stem cell activation. Nature Cell Biology 14 August 2017.
Differential effects of caffeine on hair shaft elongation, matrix and outer root sheath keratinocyte proliferation, and transforming growth factor-β2/insulin-like growth factor-1-mediated regulation of the hair cycle in male and female human hair follicles in vitro. Br J Dermatol. 2014 Nov;171(5):1031-43.
Baicalin, a flavonoid, affects the activity of human dermal papilla cells and promotes anagen induction in mice. Naunyn Schmiedebergs Arch Pharmacol. 2015 May;388(5):583-6.
In silico prediction of prostaglandin D2 synthase inhibitors from herbal constituents for the treatment of hair loss. J Ethnopharmacol. 2015 Dec 4;175:470-80.
Prevention and treatment of alopecia areata with quercetin in the C3H/HeJ mouse model. Cell Stress Chaperones. 2012 Mar; 17(2): 267–274.
Prostaglandin D2 inhibits hair growth and is elevated in bald scalp of men with androgenetic alopecia. Sci Transl Med. 2012 Mar 21;4(126):126ra34.
L-carnitine-L-tartrate promotes human hair growth in vitro. Exp Dermatol. 2007 Nov;16(11):936-45.
Effects of Tocotrienol Supplementation on Hair Growth in Human Volunteers. Trop Life Sci Res. 2010 Dec; 21(2): 91–99.
Herbal Extracts Induce Dermal Papilla Cell Proliferation of Human Hair Follicles. Ann Dermatol. 2015 Dec;27(6):667-75.