Erivedge and seems to be one of the more common side effects of this chemotherapy drug.
Is vismodegib hair loss permanent?
All of the details of hair loss due to Erivedge vismodegib are not known. Hair usually starts to regrow after the treatment is completed, but could take months or longer to fully regrow. Accounts of incomplete or partial hair regrowth have been reported.
What can be done about temporary hair loss or alopecia with Erivedge?
If vismodegib is causing temporary alopecia or hair loss, the use of a 3D-Printed Cranial Prosthesis or non-surgical medical-grade hair replacement system may be an excellent option. A CNC hair prosthesis functions beyond a typical medical wig or hair replacement system.
What should I do if I have hair loss related to Erivedge?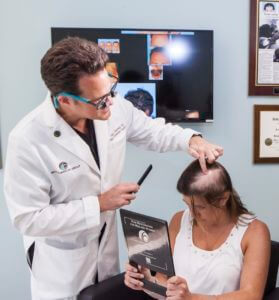 First, notify your prescribing doctor immediately of any side effects with Erivedge.
If hair loss side effects occur, seek out a qualified, credentialed (ABHRS, FISHRS, IAHRS) and experienced Hair Restoration Physician. Seek out an MD who has the ability to scientifically evaluate, measure and monitor your hair loss and hair regrowth and has access to the best treatments available. Bottom line, ask an expert. You may ask Dr. Alan Bauman a question about Erivedge hair loss and receive information about what to do if you experience hair loss with Erivedge vismodegib.
What kind of treatments will help hair regrowth after Erivedge vismodegib?
As long as hair follicles remain viable and not permanently damaged, treatments such as laser therapy (LaserCap 224 or CapillusRX), PRP Platelet Rich Plasma, Topical Formula 82M Minoxidil as well as nutritionals/supplements for hair support (Viviscal Pro, Nutrafol) may be good options. If some hair follicles are irreversibly damaged in small areas, FUE hair transplantation with SmartGraft, NeoGraft or ARTAS robotic-system may be required to restore coverage. If large numbers of hair follicles over a large area of scalp are damaged and do not respond to therapy, non-surgical hair replacement with CNC 3D-printed hair prosthesis may be an option.
If you or someone you know has hair loss, hair thinning, baldness, or eyebrow / eyelash concerns, click to start either a long-distance virtual consultation OR an in-person, in-office consultation with Dr. Bauman. You can also Ask Dr. Bauman a Question or simply call Bauman Medical Group toll-free 844-GET-HAIR or +1-561-394-0024.