Stem Cells & Beyond:
Regenerative Medicine in Hair Restoration
Once only fodder for science fiction, the use of medical treatments and technology to restore health by replacing, repairing, or rejuvenating injured, damaged, or missing cells, organs, tissues, and other body components has truly become a reality in recent years. Regenerative Medicine's primary goal is to help the body heal itself and restore both form and function. Recent breakthroughs in the field of Regenerative Medicine provide an enormous opportunity to improve healthspan, lifespan, quality of life, and medical outcomes for humans of all ages.
Research and investment within the field of Regenerative Medicine are ongoing, with resources pouring in from private and public sectors and in cooperation with private and public companies, universities, research scientists, and clinicians from across the globe. While much of the exciting research on stem cells and stem cell therapy is proceeding in laboratories worldwide, many innovations in the field of Regenerative Medicine discovered during laboratory "benchwork" have recently been translated or adapted for the benefit of patients at the bedside.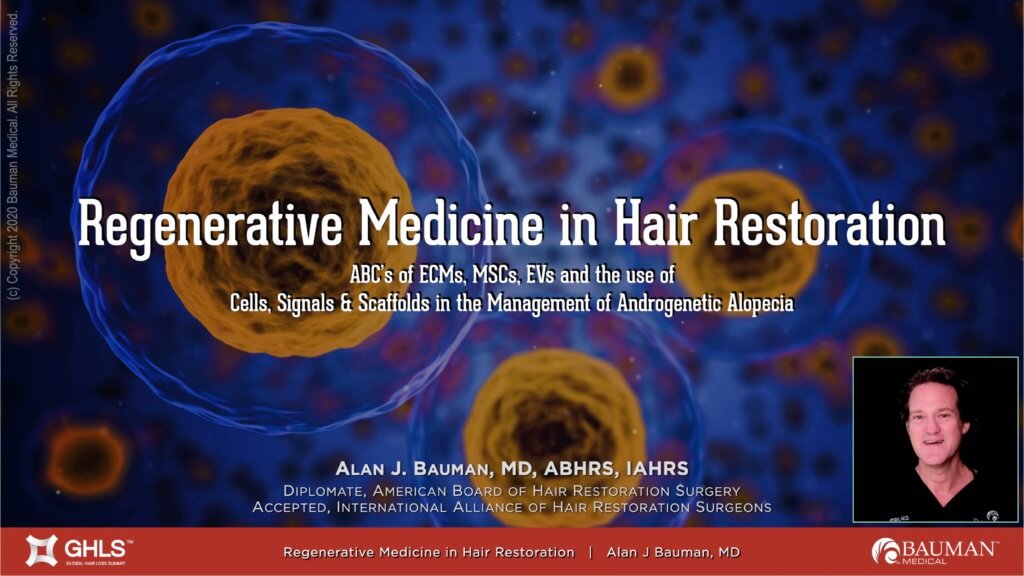 ABOVE: Recently, Dr. Bauman was invited to present "Regenerative Medicine in Hair Restoration: ABCs of ECMs, MSCs, EVs and the use of Cells, Signals & Scaffolds in the Management of Androgenetic Alopecia (Hereditary Hair Loss)" to his international colleagues as an invited Founding Faculty Member of the Global Hair Loss Summit 2020 #GHLS2020.
As a trained surgeon, Dr. Bauman has always had a keen interest in Regenerative Medicine technology in Hair Restoration and has been a pioneer and early-adopter of many of these technological advances. His leadership has been demonstrated by his invitations and participation in hundreds of multidisciplinary medical conferences [A4M, AAMG, Boston Biolife, WSCS, etc.] outside of his core specialty over more than twenty years, and visiting with physicians and PhDs in their research laboratories from coast to coast. With his innate curiosity and drive for innovation and improvements, Dr. Bauman continues to bring the latest knowledge and breakthroughs from medical and scientific research to benefit his hair loss and hair restoration patients at Bauman Medical. Dr. Bauman is also a proud member of the American Academy of Regenerative Medicine.
"Theories, research, and applications of Regenerative Medicine rely primarily on the powerful troika of "Cells, Signals, and Scaffolds." If you don't understand the delicate and sophisticated interaction of this mirepoix, you cannot leverage the full benefit of Regenerative Medicine." –Alan J Bauman MD
What Regenerative Medicine technologies can help Bauman Medical patients in Hair Loss and Hair Restoration?
You can click through to learn more about each Regenerative Medicine treatment modality for hair loss/hair regrowth, or schedule a consultation with Dr. Bauman for a complete evaluation and personalized treatment plan based on your goals:
Low-Level Laser Therapy or Red Light Therapy – The use of specific wavelengths of laser light as a signal or trigger for modulating biological functions in living organisms as a treatment has been around for decades and even researched by NASA. Dr. Bauman has been using laser therapy for hair regrowth as a non-drug treatment option and as a wound healing accelerator for hair transplant patients since 1999 and was recently featured on the national TV show The Doctors discussing how laser therapy can help hair loss patients. As a pioneer in low-level laser therapy for hair growth, he has helped design and scientifically study many of the latest effective at-home red-light devices, most recently the Bauman TURBO LaserCap.
PRP Platelet Rich Plasma with ECM Extracellular Matrix for Hair Growth – The use of your own blood platelets and the powerful growth factors they release, along with a human allograft biologic scaffold to stimulate hair regrowth. You can expect 10-14 months of results with a single "lunch-break" treatment. PRP can also be used to accelerate recovery and hair growth in conjunction with hair transplant procedures.
PDOgro™ – The addition of Polydioxanone PDO threads as a synthetic scaffold to enhance and prolong the effects of our standard PRP+ECM procedure. PDOgro is Dr. Bauman's proprietary protocol, researched and developed over many years at Bauman Medical and now demonstrated and taught to physicians worldwide at major medical conferences.
VirtualPRP – A regimen of topically-applied stem cell-derived growth factors and biosignals that can be applied as an at-home treatment, along with microneedling, laser therapy, and stem cell nutraceuticals, specifically designed for those unable to visit Bauman Medical in Florida at this time.
Adipose-Derived NanoFat Stem Cell Therapy – Your own adipose (fat) tissue harvested during an in-office mini-liposuction procedure is prepared under the FDA guidance and HCT/P regulations of minimal manipulation and homologous use and applied into the scalp to improve hair growth.
Exosome Therapy – Often referred to as "Stem Cell Therapy Without the Cells," exosome therapy uses the tiny exosomes derived from MSCs Mesenchymal Stem Cells in a laboratory which are collected, separated, purified, and concentrated under strict FDA regulations for human allografts and delivered to clinicians for in-office use. Exosome therapy for hair regrowth is an exciting new injectable "lunch-break" procedure performed comfortably in the office.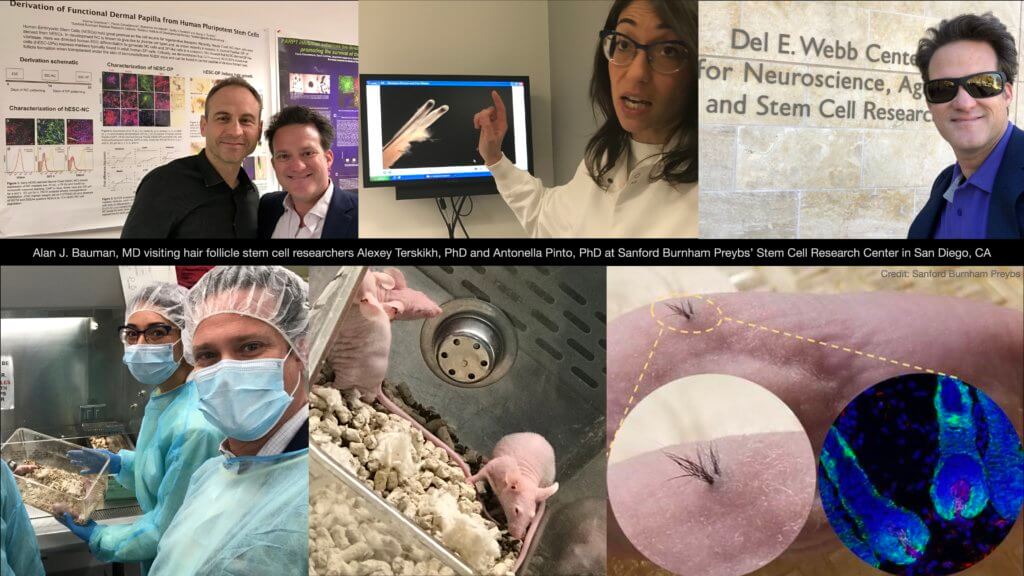 ABOVE: Alan J. Bauman M.D. visiting hair follicle stem cell researchers Alexey Terskikh, Ph.D. and Antonella Pinto Ph.D. at Sanford Burnham Preybs' Stem Cell Research Center in San Diego, CA. [credits: Sanford Burnham, Alan J Bauman MD]
What is the future of Regenerative Medicine in Hair Restoration?
Q: When is hair cloning going to be available for hair loss patients?  While we cannot offer hair cloning or hair multiplication to our hair loss patients yet, there is significant research in hair follicle neogenesis occurring here in the US and around the world. Dr. Bauman had the opportunity to visit with colleague Dr. Alexey Terskih in his laboratory in San Diego, where exciting research on the use of IPSCs Induced Pluripotential Stem Cells to create Dermal Papilla cells and hair follicle neogenesis is ongoing. Dr. Terskikh is optimistic that his research, now backed by Allergan and others, will lead us to a way to eventually produce an unlimited supply of hair follicles for those with hair loss. Stay tuned!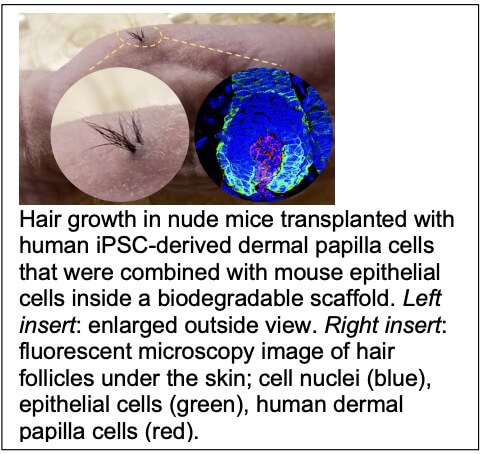 ABOVE: Hair growth in nude mice transplanted with human iPSC-derived dermal papilla cells that were combined with mouse epithelial cells inside a biodegradable scaffold. Left insert: enlarged outside view. Right insert: fluorescent microscopy image of hair follicles under the skin; cell nuclei (blue), epithelial cells (green), human dermal papilla cells (red). [credit: Sanford Burnham]
Stay up to date on the latest Regenerative Medicine treatments for hair regrowth. Subscribe to Dr. Bauman's eNewsletter Here.
Are you a candidate for today's Regenerative Medicine treatments for hair loss and hair restoration? Request a consult with Dr. Bauman today to find out.
If you or someone you know has hair loss, hair thinning, baldness, or eyebrow / eyelash concerns, click to start either a long-distance virtual consultation OR an in-person, in-office consultation with Dr. Bauman. You can also Ask Dr. Bauman a Question or simply call Bauman Medical Group  at +1-561-394-0024.