Over the past 25 years we've treated over 33,000 patients here at Bauman Medical and one of the most common questions that patients ask is "What Kind of Shampoos and Conditioners should I use for my hair?"
BaumanMD Boost and Soothe are new products developed specifically for scalp health and hair growth based on our research, on patient feedback, and based on what we found our patients need most for their scalp health and hair growth. These unique shampoos and conditioners are designed to protect, restore, and regrow your hair by reducing DHT levels, soothing inflammation, nourishing follicles, and more!
In this video, Dr. Alan J. Bauman describes what's in the Boost and Soothe shampoos and conditioners, and how they will help your hair look good and feel great!
Go here to claim your own supply of BaumanMD Boost and Soothe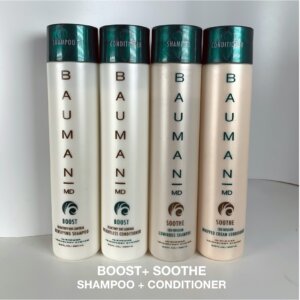 If you or someone you know has hair loss, hair thinning, baldness, or eyebrow / eyelash concerns, click to start either a long-distance virtual consultation OR an in-person, in-office consultation with Dr. Bauman. You can also Ask Dr. Bauman a Question or simply call Bauman Medical Group  at +1-561-394-0024.