Eyebrow Transplantation
Eyebrow Transplantation can be used to restore living and growing eyebrows.
What causes eyebrow loss?
What happened to my eyebrows?  Eyebrow loss can occur in both men and women, and is most commonly due to injury/trauma resulting in scars, hormone imbalance, over-plucking/over-tweezing, heredity, and-or aging.  Eyebrow can occur slowly over time or happen quickly. Eyebrow pencils, 'permanent' makeup tattoos and microblading offer only two-dimensional eyebrow restoration and are not permanent, so many patients with thinning or lost eyebrows seek an eyebrow transplant.
Why restore your eyebrows?
Eyebrows provide the natural symmetrical aesthetic frame to the upper face and eye area. Eyebrows are used for communication, especially emotional expression. Years ago, eyebrow "trends" were thinner. Today, the fashion trend is thicker, fuller eyebrows.  If you have an eyebrow scar, this can disrupt the natural aesthetic symmetry of the face. Eyebrow transplantation offers an adjunctive and permanent restoration of a living and growing eyebrow using comfortable, modern microsurgical techniques.  For women, aesthetic beauty of the eye area is incomplete without eyebrows. For men, thick full healthy eyebrows are a masculine sign of youth and vitality.
How is an eyebrow transplant performed?
An eyebrow transplantation procedure always starts with a consultation with Dr. Bauman to determine the status of the eyebrow area and establish attainable goals that can be best achieved through an eyebrow transplant.  Careful, meticulous artistic design of the eyebrows are critical to the success of the procedure. Once the design is "set," the eyebrow transplant procedure may proceed.
Under comfortable local anesthesia (using the FDA-approved "Ouchless Needle" and Dr. Bauman's "Ouchless Protocol"), scalp hair follicles are moved one-at-a-time into the eyebrow area. It bears repeating that careful artistic planning and meticulous angulation of each hair is critical to the naturalness of the final result. After several days of healing and crusting, the eyebrow skin returns to normal and the transplanted follicles are dormant. Hair will begin to appear first as stubble, starting approximately 6-12 weeks* later growing longer and more dense as the weeks go by. The final 'result' of an eyebrow transplant takes 8-10 months* to grow in. The transplanted hairs will need to be routinely trimmed. Eyebrow transplants by Dr. Alan Bauman are now be performed with the no-scalpel/no-stitch, no-linear-scar harvesting technique using NeoGraft and ARTAS robotic-assisted FUE for quicker and more comfortable recovery. Depending on the desired degree of coverage some patients typically require one or two procedures. Dr. Alan Bauman has performed eyebrow transplantation as a routine part of his full-time hair restoration practice.
How long does an eyebrow transplant last?
Eyebrow transplantation produces living and growing eyebrows in the transplanted brow area that last as long* as your natural growing hair.
How Long Does an Eyebrow Transplant Take?
An eyebrow transplant procedure typically takes several hours to perform.
What is the downtime from an Eyebrow Transplant?
Eyebrow transplants typically take about 7-10 days to completely heal. Scabbing and crusting in the eyebrow area flake off at that time and the skin returns to normal appearance. Bruising and swelling during that time is rare, and can take several days to resolve. Transplanted hair will begin to grow in the brow at 6-12 weeks* following your procedure.
Is an eyebrow transplant painful?
Thankfully, no. Eyebrow transplants are performed under comfortable local anesthesia using Dr. Bauman's "Ouchless" techniques and equipment.
What Kind of Maintenance Does An Eyebrow Transplant Require?
Eyebrow transplants must be routinely groomed (i.e., trimmed) as the transplanted hairs grow long.
Eyebrow Transplant Before-After Case Study:  Female with eyebrow loss and tattoo makeup; Before, 24-hours and 8-months* after eyebrow transplant procedure by Dr. Bauman. Achieving an aesthetic look to an eyebrow transplant requires delicate attention to the angle, orientation and position of every transplanted hair follicle as well as the overall shape of the eyebrow.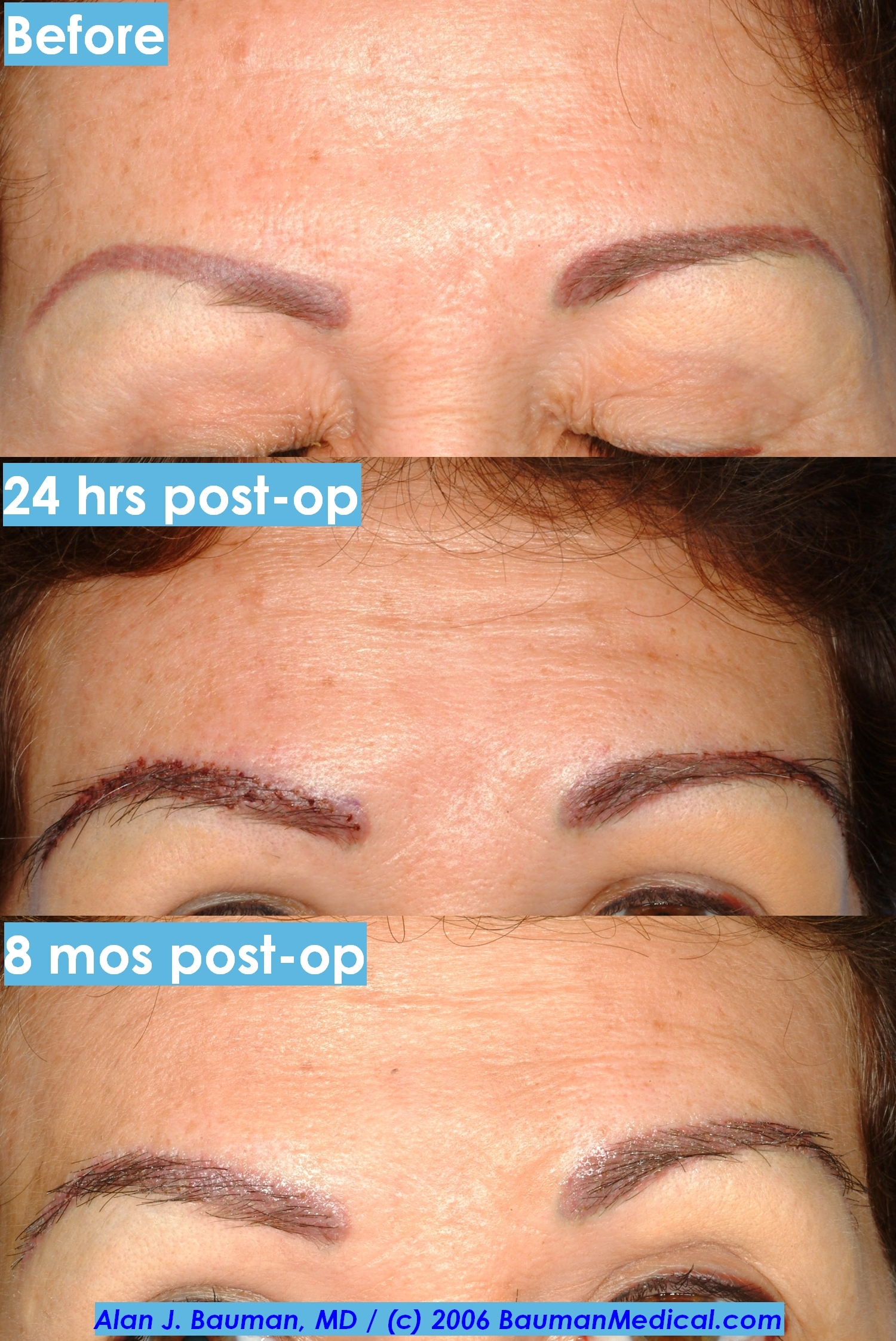 [High Resolution Before-After Eyebrow Transplant Photo — click here]
Am I a Candidate For Eyebrow Transplantation?
The best way to determine if you are a candidate for an eyebrow transplant procedure is to communicate directly with board-certified Hair Restoration Physician, Dr. Alan Bauman. Start your long-distance consultation from anywhere in the world. You can complete the forms online, submit photos via email and discuss your situation with Dr. Bauman by phone, Skype or FaceTime.
As seen on ABC News Miami WPLG-10… Eyebrow Transplants by Dr. Bauman
Eyelash Transplant on WPLG-10 Miami South Florida w/ Dr. Alan Bauman –  Thinning, missing or damaged eyebrows? There are several options for eyebrow restoration. From tinting to tattooing to eyebrow transplantation, WPLG-Florida's Kristi Krueger explores the "true, lasting solution for eyebrow restoration…" Hair Transplantation. Eyebrow transplant before and after photos can be seen which show cosmetic and reconstructive eyebrow transplantation results. Patients with eyebrow damage from trauma or plucking may experience eyebrow loss and seek transplantation or other options. Recently, hair transplant specialist Dr. Alan J. Bauman was featured in a NY Post article which described patients seeking eyebrow transplants to achieve "celebrity eyebrows" through eyebrow transplants. Today, eyebrow transplants can be performed using NeoGraft FUE the no-strip, no-scalpel, no-stitch harvesting process which has minimal discomfort, short downtime and leaves absolutely no linear scar.
Before & After Male Eyebrow Transplant
What happened to the outer ends of my eyebrows?  Not just a phenomenon in women, eyebrow loss is being noticed increasingly in men due to age, heredity and hormone imbalance (e.g., thyroid). Eyebrow transplantation can be used to restore a more natural shape and density to male eyebrows. Loss can occur due to trauma and illness, as well as aging. The photo below shows the result of eyebrow transplantation in a male patient, performed by Dr. Bauman. The patient was concerned about a shortening of the length of his brows (loss of the outer, lateral ends), as well as a loss of density.  Notice the improvement in density as well as the improved shape, especially toward the outer edges of the brows following the transplant procedure.  The photos were taken before and twelve months after a single session of eyebrow transplantation.  
BEFORE & AFTER MALE EYEBROW TRANSPLANT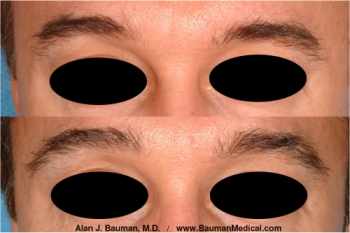 Click here for a high-resolution male eyebrow transplant before-after photo
Here is another example of results from a Male Eyebrow Transplant. This result is seen after six months and will continue to improve over the next few months. Already, you can see the improvement in the density and shape of the brow area. Eyebrow transplantation can now be performed using the minimally-invasive, no-scalpel, no-stitch harvesting approach using NeoGraft and ARTAS robotic-assisted FUE techniques. FUE allows individual follicles or follicular units to be harvested with NO linear scar and with a shorter, more comfortable healing phase.
Dr. Bauman and his surgical team have transplanted millions of follicles using the NeoGraft and ARTAS robotic-assisted FUE procedure for scalp hair, eyebrows and other restorations of living and growing hair over the past 15 years.
See how eyebrow transplantation affects the eyebrow area… a more youthful, aesthetic 'frame' to the eye area is seen with the restoration of the eyebrow.
No-Scalpel/No-Stitch FUE for Eyebrow Transplantation
NeoGraft and ARTAS robotic-assisted FUE techniques have revolutionized hair follicle harvesting by eliminating the "scalpel and stitches" approach in the back of the scalp. FUE allows the harvesting of hair transplant grafts as small as a single hair follicle from the back of the scalp, leaving no linear scar to hide and no stitches to be removed. This less invasive method heals faster and more comfortably than taking a strip of skin from the back of the scalp and has less activity restrictions post-operatively. Dr. Alan Bauman was the first board-certified Hair Restoration Physician to use NeoGraft to perform FUE procedures routinely in North America. He and his team have transplanted literally millions of follicles using this method. Eyebrow transplantation requires artistry and precision to create satisfying results. For each patient, quite a bit of planning is required to design your new eyebrows. Eyebrow transplants can be performed for both men and women because brows often thin with age in both genders.
How to Grow Hair in an Eyebrow Scar
Eyebrow scars can be disfiguring for many people, causing much distress in both men and women who think they cannot grow hair in their scar. While scar tissue does not grow hair on its own, it is not well known that scar tissue can ABSOLUTELY grow hair and support hair follicle growth when hair follicles are carefully transplanted into the area. Areas of scar due to burns, trauma, injury, accidents, cuts, surgery, radiation treatments and other causes can support hair growth with transplantation in most instances.  Sometimes a small "test" FUE hair transplant is performed to assess the health of the scar, if it is suspected that hair growth in the scar is possible.  Once successful, a hair transplant is then performed which implants the living and growing follicles from the back of the scalp into the scar area. Below see some examples of Dr. Bauman's hair transplant results in eyebrow scar tissue in the eyebrow and eyelash area.  If you have a scar in the eyebrow or eyelash area, Dr. Bauman can begin to assess your situation with a Long Distance Consultation.
Before-After Eyebrow Transplant for Eyebrow Scars

How To Make Hair Grow in a Eyebrow Scar
ABOVE: An unfortunate accident left Jonathan with a very noticeable traumatic scar in the left eyebrow.   Due to his active teenage lifestyle, camouflage makeup was not an option, tattoo (permanent) makeup would simply color the skin and wouldn't address the large loss of eyebrow hair.   A single session of transplantation was performed by Dr. Bauman directly into the eyebrow scar using hundreds of single hair follicles harvested from the scalp. It is a common myth that scar tissue does not support hair growth. Hair follicles can be successfully transplanted into scar tissue and result in living and growing hair.  Eyebrow transplantation is performed under comfortable local anesthesia and takes a few hours. Careful, accurate planning and meticulous implantation is required to obtain the correct angle, orientation and position of the transplanted follicles so the resulting growth blends naturally.  The resulting transplanted hair needs to be trimmed every six to eight weeks.   The "after" photos in Jonathan's case were taken 18 months post-operatively.  Similar techniques can be used to cover scars on the scalp from trauma or surgical procedures (like neurosurgery or plastic surgery).  Dr. Bauman is often asked to perform post-plastic surgery hair transplantation to cover scars and hair loss from browlifts and facelifts.  Hair loss in the sideburns, temples, around the ear, on the back of the neck, etc. can also be camouflaged using Dr. Bauman's advanced hair transplantation techniques.
What Is It Like to Undergo an Eyebrow Transplant Procedure?
See all of the steps of Dr. Bauman's eyebrow transplant procedure as we watch Christina (who lost her eyebrows at a very young age) undergo eyebrow transplantation after many years of struggling with eyebrow pencils, permanent makeup and other eyebrow restoration options. This video is a compilation of clips that were originally posted on Dr Alan Bauman's Instagram account with Christina's consent. From Christina's story, to the planning, eyebrow design, eyebrow "ouchless" local anesthesia, eyebrow recipient site-making, follicular unit FUE harvesting, hair follicle graft preparation, counting and sorting, eyebrow follicle graft implantation and her post-op and initial recovery.  Watch Christina's Eyebrow Transplant video below.
If you or someone you know has hair loss, hair thinning, baldness, or eyebrow / eyelash concerns, click to start either a long-distance virtual consultation OR an in-person, in-office consultation with Dr. Bauman. You can also Ask Dr. Bauman a Question or simply call Bauman Medical Group  at +1-561-394-0024.