Anatomy of an Undetectable Hair Transplant
By Dr. Alan J. Bauman
Patients often ask, "What makes a hair transplant undetectable?" and "What factors determine if a transplanted hairline looks natural?"
It is every patient's goal is to have their hair restored in a way that is safe, comfortable but most importantly, undetectable. Thankfully, today, minimally-invasive hair transplant techniques like NeoGraft FUE and ARTAS Robotic System, the use of small grafts called follicular units—as small as a single follicle—along with careful artistic design makes this absolutely possible.
Further evidence of undetectable hair transplants comes from a survey conducted by the International Society of Hair Restoration Surgery (ISHRS), which found that 60% of participants failed to correctly spot a hair transplant.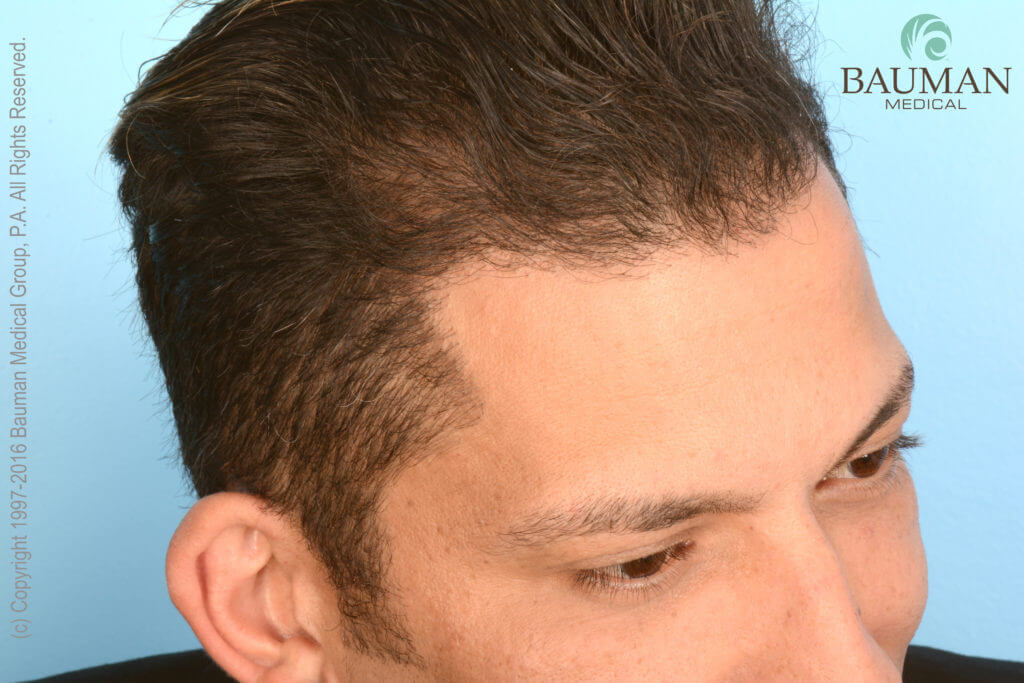 Above: One Year AFTER an artistic hairline transplant by Dr. Alan Bauman.
Whether you are concealing your hair restoration procedure from your clients, co-workers, friends or family, there are a few key components to your 'stealth surgery' that cannot be ignored.
Donor Area
What makes donor hair harvesting during a hair transplant undetectable?  How a surgeon handles your Donor Area, where the grafts are harvested, impacts your recovery time, as well as how well your procedure remains 'hidden' from a casual observer, or even your hairstylist.
FUE, or Follicular Unit Extraction, is a less-invasive method of harvesting hair follicles and "follicular units" individually, eliminating the traditional linear or 'strip' harvest approach to transplantation. This meticulous process has been made more efficient through robotics, semi-automatic devices and well-trained surgical teams. 
The first robotic hair transplant harvesting system, called ARTAS, recently became available and was initially used by some doctors who had difficulty performing FUE manually. Other hand-held surgical devices, like NeoGraft FUE, help doctors to perform a hair transplant surgery with remarkable precision. FUE is an effective surgical option for patients that allows for a quicker, more comfortable recovery, less post-op activity restrictions, as well as avoiding the telltale linear scar associated with traditional linear strip-harvest hair transplants.
Following a FUE harvest, the tiny (~0.8mm) round incisions which are left where follicles were removed contract significantly within one day and, once healed, leave no visible signs of a hair transplant when viewed at a social distance, even with short hair. For large harvests, your surgeon will typically trim a large area at the back of the scalp, however, for women and also for men who have longer hair and want to keep a consistent appearance during the recovery process, you can request a 'stealth shave,' which can be easily hidden with about an inch of hair.
Here is a closer look at how these two advanced FUE transplant techniques defy detection:
NeoGraft FUE: What makes NeoGraft FUE hair transplant difficult to detect? The FDA-approved NeoGraft FUE machine is used to extract individual permanent hair follicles from the donor area at the back of the patient's scalp – which are then implanted into the bald areas of the scalp. This means no scalpels, sutures, or staples for the patient. It also replaces the older "strip harvest" method of hair transplantation, which removes a large strip from the back of the patient's scalp, resulting in a long linear scar. The FUE procedure has been available for several years, but prior to the NeoGraft machine, it was too time-consuming and expensive for most patients to utilize. Now that the process is more automated by NeoGraft, surgeons can perform the "Cadillac" of hair transplants in considerably less time, and at less expense for patients.
ARTAS Robotic System:  How does robotic hair transplants with ARTAS help hair transplant surgeons create undetectable results?  The FDA-cleared ARTAS robot is a state-of-the-art medical device that assists in hair transplant surgery by helping to safely and effectively extract intact hair follicles for transplantation using the FUE technique. The robot's precision allows patients to benefit from an unprecedented level of safety; efficacy and comfort during their hair transplant procedure. The innovative ARTAS robotic FUE system uses advanced digital imaging to map and analyze the hair in natural groupings on the scalp. The system features precision robotics, utilizing stereovision sensors to detect and analyze follicular units—calculating density, exit-angles, orientation and location and proceed with harvesting based on the algorithms programmed by the surgeon.
What key factors in the Recipient Area help determine naturalness of the transplant result?
How does a hair transplant surgeon create an undetectable hairline? A surgeon's meticulous, artistic approach is critical in the hairline or 'Recipient Area' in order to assure that each follicle's angle, orientation and position will deliver a 100% natural and undetectable result when grown in. Careful planning and execution of the feathery, contoured shape and age-appropriate location of the hairline design is important as well as the advanced surgical instruments, lighting and magnification and highly trained staff to help complete the procedure.
Because modern hair transplants utilize Follicular Units, many as small as a single hair follicle, the results can look 100% natural, never "pluggy."
If you or someone you know has hair loss, hair thinning, baldness, or eyebrow / eyelash concerns, click to start either a long-distance virtual consultation OR an in-person, in-office consultation with Dr. Bauman. You can also Ask Dr. Bauman a Question or simply call Bauman Medical Group  at +1-561-394-0024.