Peter Attia MD – Podcast w/ Hair Transplant Surgeon Alan J Bauman MD
Renowned longevity physician, Peter Attia MD, a Stanford, Johns Hopkins and NIH-trained physician, interviews top hair restoration physician, Alan J Bauman MD, in his weekly podcast, "The Drive," which focuses on maximizing lifespan, healthspan, and well-being, optimizing cognitive, physical and emotional health. 
Listen Here 👉🏻  https://peterattiamd.com/alanbauman/
March 4, 2019 – PODCAST – Hair Restoration
#43 – Alan Bauman, M.D.: The science of male and female hair restoration – how to protect, enhance, and restore the appearance and health of the hair and scalp
"When [a patient] looks in the mirror and sees that hairline growing back in and says, 'I would never have thought I would see my hairline again. I never thought I'd cover that bald spot.' I mean, that's the exciting thing that keeps me going every day." —Alan Bauman MD
In this episode, Alan Bauman, MD, ABHRS-certified hair transplantation surgeon, and hair restoration expert, discusses both male and female pattern hair loss, the science behind what drives it, and what that tells us about prevention and restoration. Having treated over 20,000 patients, Alan shares his invaluable insights into what works and what doesn't in terms of the non-surgical treatment options. We also go into great detail about the more invasive approaches like PRP, and of course, hair transplantation, a procedure which Alan has refined over the years into a proprietary method that seems to produce unbelievable results. Additionally, Alan provides tips for maintaining scalp health, which is vital for hair growth, as well as the importance of choosing a hair specialist who has the tools, expertise, and patience to develop a compassionate and encompassing approach to hair restoration.
We discuss:
Alan's unique path, and how he became interested in hair transplantation [7:15];
The prevalence of hair loss, types of hair loss, and the different patterns in men vs. women [15:45];
The role of genetics in hair loss, and when does it start [19:00];
Female hair loss: the role of hormones, pregnancy-related hair loss, and what it means to have thinning and shedding [22:30];
Primary drivers of male hair loss, finasteride as a treatment, and the potential side effects [26:15];
Common treatments – Proscar, Propecia, Rogaine, and more – how they all came about and what you need to know [29:45];
Primary drivers of female hair loss, potential treatments, and the different types of hair follicles [33:15];
What are some of the unproven/snake oil methods of hair treatments being pushed to the public? [37:15];
Preventative steps to take if you're worried about future hair loss [42:00];
Medications that may negatively affect hair quality [45:30];
The importance of seeing a hair specialist [47:15];
Impact of scalp health and inflammation on hair growth, how to pick and apply shampoo and conditioner, and how to avoid and treat hair breakage [50:15];
Treatment options – finasteride, minoxidil, laser caps – how they work and what you need to know [57:15];
PRP treatment: How it works, details of the procedure, and Alan's proprietary protocol [1:11:45];
The hair transplant procedure [1:29:30];
Risks involved with a hair transplant procedure [1:44:00];
Is a donor hair susceptible to the forces of the implant site that caused the hair loss? Can a hair follicle grow anywhere on the body? [1:47:45];
Age appropriate procedures, how far the field has come, and why Alan loves his work [1:51:45]; and
More.
Listen Here 👉🏻  https://peterattiamd.com/alanbauman/
Who is Peter Attia, MD?
[From PetterAttiaMD.com]
Peter is the founder of Attia Medical, a medical practice with offices in San Diego and New York City, focusing on the applied science of longevity. The practice applies nutritional biochemistry, exercise physiology, sleep physiology, techniques to increase distress tolerance, lipidology, pharmacology, and four-system endocrinology to increase lifespan (delaying the onset of chronic disease), while simultaneously improving healthspan (quality of life).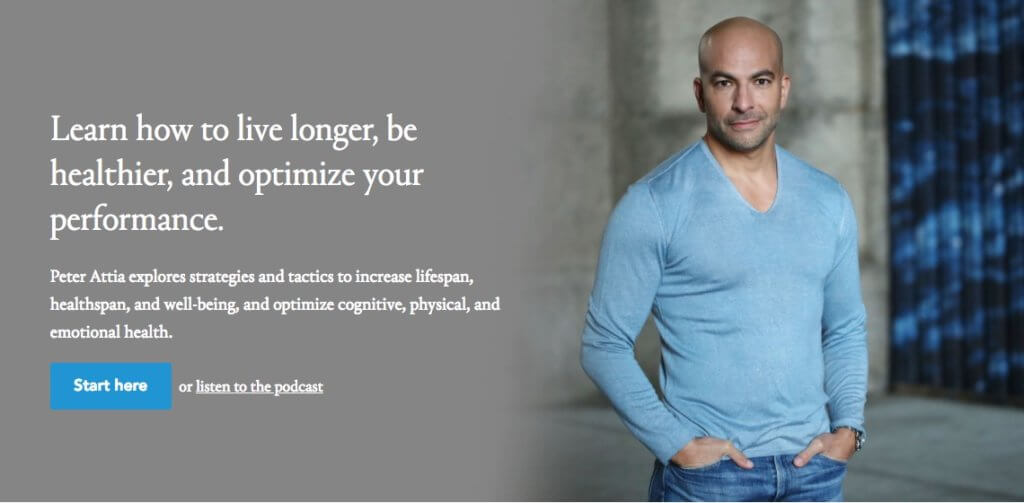 Peter trained for five years at the Johns Hopkins Hospital in general surgery, where he was the recipient of several prestigious awards, including resident of the year, and the author of a comprehensive review of general surgery. He also spent two years at NIH as a surgical oncology fellow at the National Cancer Institute where his research focused on immune-based therapies for melanoma. He has since been mentored by some of the most experienced and innovative lipidologists, endocrinologists, gynecologists, sleep physiologists, and longevity scientists in the United States and Canada.
Peter earned his M.D. from Stanford University and holds a B.Sc. in mechanical engineering and applied mathematics. He is licensed in California (A96452) and New York (281406-1).
Listen Here 👉🏻  https://peterattiamd.com/alanbauman/
If you or someone you know has hair loss, hair thinning, baldness, or eyebrow / eyelash concerns, click to start either a long-distance virtual consultation OR an in-person, in-office consultation with Dr. Bauman. You can also Ask Dr. Bauman a Question or simply call Bauman Medical Group  at +1-561-394-0024.