Hair Restoration Expert Dr. Alan J. Bauman First In USA To Use PDOgro™ Procedure for Hair Regrowth
Dr. Bauman debuted his PDOgro™ research and results using PDO threads for hair regrowth in men and women and demonstrated scalp PDO thread insertion techniques for hair loss during a live interactive Hair Restoration session at the esteemed South Beach Symposium for Clinical and Aesthetic Dermatology in Miami, Florida on February 9th, 2019.
Boca Raton, FL — Internationally recognized Hair Restoration Physician and new treatment pioneer Alan J. Bauman, MD is the first to perform PDOgro™, a PDO Thread Insertion procedure for hair regrowth, in the United States. PDO (polydioxanone) is a well-known slowly absorbing synthetic surgical suture material that stimulates collagen production, elastin, hyaluronic acid as well as activates fibroblasts while it dissolves. FDA-cleared PDO Polydioxanone Monofilament Thread sutures have been used safely in surgery for decades and, in recent years, have trended in aesthetic medicine for skin rejuvenation including tightening, lifting, and wrinkle reduction. Dr. Bauman is the first in the U.S. to research and use PDO threads for Hair Regrowth.
Dr. Bauman's proprietary PDOgro™ is a virtually painless "lunchtime" procedure that works to stimulate hair regrowth through the release of growth factors and increased blood flow in the treatment area. During initial pilot studies at Bauman Medical, initial improvements from the procedure were noted in as little as three months and continued through six months and beyond. The PDOgro™ process is performed under painless local anesthesia by aseptically inserting PDO Polydioxanone Monofilament Thread MasterThreads (MasterThreadsUSA, NY) into the scalp in the thinning areas to stimulate hair regrowth by rejuvenating weakened follicles. The material slowly and safely dissolves over a period of months. The breakthrough outpatient non-surgical treatment requires no recovery, no downtime, no aftercare, and no activity restrictions.
"Finding a new use for a product like PDO that already has such a long track record of safety in millions of patients worldwide is exciting," said Dr. Bauman. "We are thrilled to share the results we've achieved with this new technology with our colleagues in the medical community as well as those who are suffering from debilitating hair loss and those who want thicker healthier hair."
Dr. Bauman also mentioned that the research supports its use for stopping, slowing or reversing hair loss and that PDOgro™ can be used as a stand-alone hair growth treatment or in conjunction with FDA-approved medications, low-level laser therapy, as well as other procedures including PRP, other cell therapy treatments and hair transplantation.
Founder of The American Hair Loss Association, best selling author, and syndicated radio talk show Spencer Kobren remarked, "Dr. Alan Bauman is known for his patient-centered approach, artistic hair transplant results, as well as his passion for pioneering new technology in the field of Hair Restoration. A therapy like PDOgro™, that potentially reduces the need for hair transplants, can truly be a game-changer."
For the first time in North America, Dr. Bauman presented his ongoing PDOgro™ research using Polydioxanone Monofilament Threads, including before/after results, and performed his PDOgro™ technique on a live patient at the 17th Annual SBS South Beach Symposium for Clinical and Aesthetic Dermatology in Miami, Florida. Dr. Bauman was amongst the renowned faculty invited to participate in the highly acclaimed SBS Hair Restoration Track held at #SBS2019 at Loews Miami Beach on February 9th, 2019.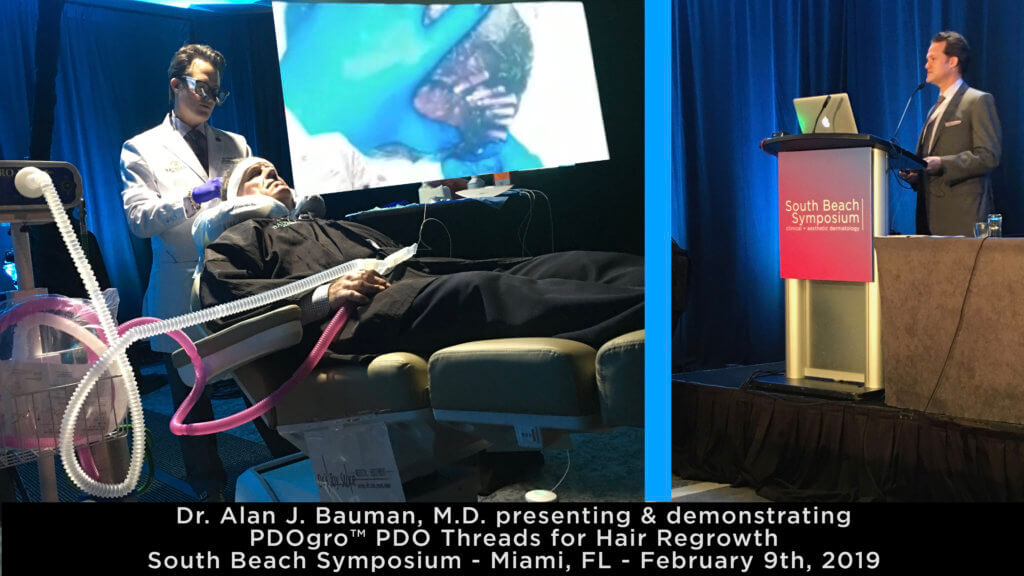 In addition to the PDOgro™ procedure, Dr. Bauman also demonstrated his PRP Platelet Rich Plasma techniques for hair growth on a live patient. His didactic presentations from the podium included information on the technical, artistic and aesthetic nuances of no-linear-scar hair transplantation using ARTAS robotic-assisted FUE, SmartGraft, and NeoGraft devices as well as a review of the latest scientific data on the accurate measurement and physiologic effects of platelet and monocyte concentrations in PRP Platelet Rich Plasma treatments with ECM Extracellular Matrix for hair regrowth.
ABOUT DR. ALAN J. BAUMAN
Alan J. Bauman, M.D. is the founder and CEO of Bauman Medical Hair Transplant and Treatment Center in downtown Boca Raton, FL. Spanning nearly 12,000 square feet, his clinic is the world's largest and most comprehensive stand-alone treatment center dedicated exclusively to hair loss. Dr. Bauman has been a full-time hair transplant surgeon since 1997 and has treated nearly 20,000 patients, performed over 8,000 hair transplant procedures and administered nearly 5,000 PRP Platelet Rich plasma treatments for hair regrowth.
Dr. Bauman received his M.D. degree from New York Medical College and surgical residency training at Mt. Sinai Medical Center and Beth Israel Medical Center in New York. He is one of approximately 200 hair transplant surgeons worldwide to achieve board certification from the esteemed American Board of Hair Restoration Surgery (ABHRS). He is an accepted founding member of the International Alliance of Hair Restoration Surgeons (IAHRS), a Fellow of the International Society of Hair Restoration Surgery (FISHRS), recommended by the American Hair Loss Association (AHLA), a recent member of the Pantene Hair Research Institute and a frequently invited faculty member at numerous international medical conferences. In addition to lecturing and consulting internationally, Dr. Bauman sees patients personally and performs hair transplant procedures at his clinic in Boca Raton, Florida.
Dr. Bauman has been voted "#1 Top Hair Restoration Surgeon" in North America by Aesthetic Everything year after year, and he was recently named one of "10 CEOs Transforming Healthcare in America" as well as a "Top 5 Transformative CEO" in Forbes. Dr. Bauman has appeared in print, radio, and television as a medical expert, new treatment pioneer, and early-adopter of the most advanced technologies in the treatment of hair loss. Appearances, interviews, and profiles include the Today Show, The Early Show, Good Morning America, Extra, Access Hollywood, FNC and Dateline NBC among other TV appearances. Newspaper and Magazine articles and feature stories include The New York Times, Newsweek, Cosmo, Vogue, Allure, O – The Oprah Magazine, and Men's Health, among others.
ABOUT BAUMAN MEDICAL
Bauman Medical was founded in 1997 with a single mission… to improve the physical appearance and in doing so the mental health of its patients through optimum hair health and hair restoration. Dr. Bauman and the entire team at Bauman Medical Hair Transplant and Treatment Center in Boca Raton, Florida, take great pride in providing advanced procedures and treatments, accurate information and, most importantly, a professional yet personalized patient-centric approach.
Bauman Medical specializes in treating men and women from Florida and beyond for many types of hair loss, including male pattern hair loss, sideburn and beard transplantation, female pattern hair loss, traumatic scars from burns or injury, eyebrow loss, eyelash loss, alopecia, and chemotherapy hair loss.
Bauman Medical offers in-office and virtual consultations with Dr. Bauman from anywhere in the world.
To learn more about Dr. Bauman and Bauman Medical, or to find out if you are a candidate for PDOgro or other treatments, visit them online at https://www.pdogro.com to ask a question or request a consultation today.
For all media inquiries, please contact danna@canpublicity.com
_____________________
#pdo #pdogro #pdohair #pdogrow #masterthreads #masterthreadsUSA #hairloss #baldness #hairlift #research #hairregrowth #hair #SBS2019 #southbeachsymposium #dralanbauman #baumanmedical #hairrestoration #hairtransplant #demonstration #live #livesurgery #aestheticmedicine #meded #spencerkobren #iahrs #abhrs #surgery #florida #miami #southbeach #bocaraton #prp #FUE
If you or someone you know has hair loss, hair thinning, baldness, or eyebrow / eyelash concerns, click to start either a long-distance virtual consultation OR an in-person, in-office consultation with Dr. Bauman. You can also Ask Dr. Bauman a Question or simply call Bauman Medical Group  at +1-561-394-0024.