SPECIAL CASES…
Eyelash Transplantation, Eyebrow Transplantation,
Beard Transplants, Post-Plastic Surgery Hair Transplants,
Scars and More…
At Bauman Medical Group, many patients seek hair restoration treatments for "cosmetic enhancement," however, some of our most rewarding professional opportunities have been treating both children and adults who have suffered with a birth defect or survived physical injuries or traumas (including those caused by fire or accident). In these cases, we have utilized non-invasive therapies and/or surgical hair transplant techniques to restore hair into their hairline or face. We have successfully performed eyebrow, eyelash, sideburn, mustache and beard facial hair restorations. This is especially useful in order to camouflage scarring and restore a patient's natural appearance where they would normally have hair.On this page, you will find some brief info on the topics below. More detailed info can be found by following the links in the various sections.
Eyebrow Transplantation
Scar Coverage
Post-Plastic-Surgery Hair Transplantation
Facial Hair Transplantation (beard/moustache)
Beard and Mustache Hair Transplantation
Beard / Facial Hair Restoration
In addition to eyebrows, eyelashes and sideburns, Dr. Bauman also performs other 'facial hair' restorations, including beard, sideburn and mustache transplants. The procedure is performed painlessly under local anesthesia and takes several hours. Hair follicles from the scalp are typically harvested using the NeoGraft FUE method which leaves no linear scar in the donor area. The use of artistically-placed follicular units into a beard (or other facial hair) area can restore or enhance areas of facial hair which are lacking. The photo shows a 'goatee' reconstruction using follicular-unit transplantation methods. The 24 hour post-op redness/scabbing is where the resulting growth will occur. Cosmetic healing takes about one week and hair growth starts in about four months. Dr. Bauman pays particular attention to the angle, orientation and position of each individual graft to achieve an aesthetically-pleasing result that looks 100% natural. Hair transplanted into the beard or mustache areas will need to be trimmed routinely, as the hair continues to live and grow naturally in the new location.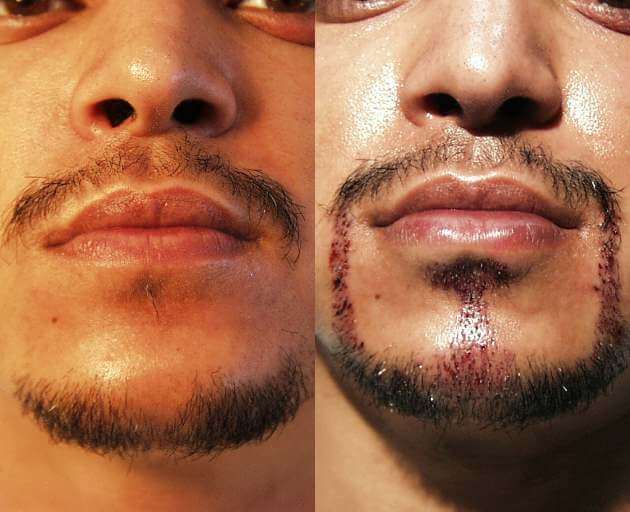 Above: "Before" and 24hrs "*After"  beard/moustache transplantation by Dr. Bauman on a patient with "gaps" in his "goatee."
Dr. Bauman was recently interviewed on the Howard Stern Show on SiriusXM Channel 100 regarding his technique for beard hair transplants (and other hair transplant procedures).
EYEBROW TRANSPLANTATION
Eyebrow Transplantation (310 single-hair grafts)
AFTER*
An unfortunate accident left Jonathan with a very noticeable traumatic scar in the left eyebrow.   Due to his active teenage lifestyle, camouflage makeup was not an option and permanent makeup (tattooing) would simply color the skin and wouldn't address the large loss of eyebrow hair. A single session of transplantation was performed by Dr. Bauman directly into the eyebrow scar using hundreds of single hair follicles harvested from the scalp.
It is a common myth that scar tissue does not support hair growth.   Hair follicles can be successfully transplanted into scar tissue and result in living and growing hair.  Eyebrow transplantation is performed under comfortable local anesthesia and takes a few hours.   Careful, accurate planning and meticulous implantation is required to obtain the correct angle, orientation and position of the transplanted follicles so the resulting growth blends naturally.  The resulting transplanted hair needs to be trimmed every six to eight weeks.   The "after*" photos in Jonathan's case were taken 18 months post-operatively.
Click here for more eyebrow transplant photos.
Similar techniques can be used to cover scars on the scalp from trauma or surgical procedures (like neurosurgery or plastic surgery). Dr. Bauman is often asked to perform post-plastic surgery hair transplantation to cover scars and hair loss from browlifts and facelifts. Hair loss in the sideburns, temples, around the ear, on the back of the neck, etc. can be covered using Dr. Bauman's advanced hair transplantation techniques.
EYELASH TRANSPLANT INFORMATION
Eyelash Transplant: 6 weeks post-op
Eyelash Transplantation Information
Purpose:
Eyelash transplantation can be used to replace eyelashes that have been damaged by trauma, or to enhance existing eyelashes that are otherwise short and/or sparse.   The use of the single-follicle hair transplantation technique enables new, living and growing eyelashes to be permanently restored to the eyelid using microsurgery.
Procedure:
Using comfortable, computerized local anesthesia (The Wand®), the procedure is completed in less than two hours in the office/out-patient setting.  Hair follicles from the back of the scalp ('donor area') are harvested and then implanted into the eyelid. Absorbable stitches are used to seal the donor area, which remains undetectable both during and after the healing process.   Usually 24 to 40 or more lashes can be placed per eyelid during a session. The implanted follicles (like the seeds of a plant) will grow and produce hair permanently. The newly growing lashes will possess the same characteristics as scalp hair. The lashes will need to be routinely trimmed and curled. An 'eyelash perm' is recommended for those patients with straighter hair.
Medication for pain relief is provided as well as medication to reduce swelling.   It is recommended that the patient have transportation to and from the office. Several hours after the procedure, some mild discomfort may be experienced in the donor area, as well as the eyelid.   Patients are instructed in the gentle post-op care and cleansing of the eyelid and lashes.   Some mild swelling and/or bruising in the eyelid area may last about 10 days. The absorbable stitches may take up to one month to dissolve completely. It is recommended that eye makeup (including mascara) be kept to an absolute minimum during the immediate post-op healing period (1 week). Some patients may require an additional session of eyelash transplantation to reach their restoration goal.
Eyelash transplantation, trichotillomania (hair-pulling) and trauma:
Eyelash transplantation CAN be used to restore eyelashes damaged by trauma, 'over-plucking,' or even the hair pulling disease, trichotillomania. However, patients with untreated trichotillomaniacannot undergo eyelash transplantation. If the trichotillomania remains untreated or recurs, hair pulling can damage the transplanted lashes.
Eyelash transplantation and alopecia totalis/universalis:
Patients with alopecia totalis or alopecia universalis are NOT candidates for eyelash transplantation.
Eyelash Transplants Restore Eyelashes for Trauma Patient
Boca Raton, FL–Surgeon uses eyelash transplants to restore woman's eyelashes lost in severe car accident.  Click below for full story….
READ MORE
EYELASH TRANSPLANT BEFORE/AFTER* PHOTOS
Before and one-year after eyelash transplantation of 20 lashes per upper lid.   Please note the transplanted lashes can be trimmed to desired length and curled. Please note: "After*" photos are shown with mascara on the pre-existing and transplanted lashes.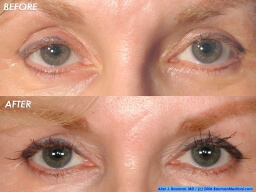 [Please note, this patient has let these transplanted lashes grow quite long and they could probably benefit from a little trim.  Also, the use of mascara (seen above) can make the lashes 'stick' together.  Remember that your transplanted lashes will need to be routinely trimmed (and, perhaps, curled) to the length that you prefer.  –Dr. B.]
More Eyelash Transplant Photos: Click Here
READ MORE
SCAR COVERAGE USING HAIR TRANSPLANTATION
From: Ryan Ochoa
BEFORE/AFTER*
Sent: Wednesday, July 14, 2004 6:11 PM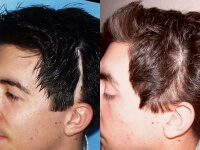 To: Dr. Alan Bauman
Subject: Follow upDr. B,When I started looking into scar hair replacement, I wasn't sure whether it was even possible. I searched many different on-line resources but there was no definitive answer as to whether this procedure was in existence.After countless hours of searching I ran into Dr. Alan Bauman's hair restoration site and started looking at his credentials and accomplishments. It seemed that if anyone was able to at least lead me in the right direction it would be him. I authored an e-mail explaining my situation and my expectations concerning hair restoration over a large scar in my head and inquired who I should speak to. He informed me that it might be possible to accomplish the results I desired considering that there was not much damage below the skin and nerve areas. He asked for pictures and more detailed information and I gladly provided the information as requested.To read Ryan's letter in its entirety, click here…
PLASTIC SURGERY
HAIR LOSS
After procedures such as browlifts and facelifts, patients often experience hairline distortions or hair loss that is unexpected.   Dr. Bauman has unique expertise in correcting hairline recessions (from browlifts, for example) and covering scars where hair no longer grows.   Hair transplantation can be used to implant living and growing follicles into scar tissue or other skin where hair is needed.The 'wind-swept' look after facelift procedures can be minimized by carefully transplanting a new sideburn.   In the example below, hair transplantation was used to create a new sideburn and hide the facelift scar left in front of the ear.
BEFORE                                            AFTER*
Sideburn Reconstruction / Scar Camouflage after facelift
A recent article by Dr. Bauman, appearing in PSP Magazine, explains the common hair loss issues related to plastic surgery procedures (like facelifts and browlifts). The article, while geared primarily toward physicians, can also help patients understand how plastic surgery can affect their hair and what can be done to prevent and/or treat plastic surgery-related hair loss problems.   Read the article by clicking the "Read More" link below.
READ MORE
Can Medications Stimulate Eyelash Growth?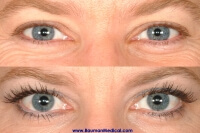 The Wall Street Journal reported that "Eyelash Growth Medications" are causing a "flutter." For years, it has been reported in the scientific literature that the use of prostaglandin analogues for glaucoma often resulted in a quirky side-effect: enhanced eyelash growth. Today, we now have the first FDA-approved medication for eyelash growth: LATISSE(tm) from Allergan.Dr. Bauman was one of the first physicians nationwide to receive prescription Latisse for direct dispensing–before most physicians and all pharmacies. For more information the use of Latisse for increasing the length, darkness and thickness of eyelashes, contact Email Dr. Bauman.
LATISSE: Before and Afte*r…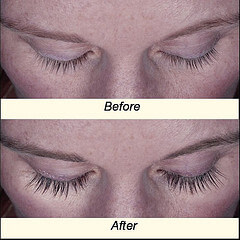 Oftentimes, lashes enhanced with these treatments will need to be trimmed (especially if they are hitting one's sunglasses or reading glasses) and occasionally curled, tinted or permed. Side effects of these treatments remain few and far between, but can include eye irritation, darkening of the skin of the lid occur in less than 4% of patients. Dr. Bauman recommends visiting with a board-certified hair restoration physician before starting any hair growth treatment regimen and cautions against the use of these treatments for women who are pregnant or nursing.   For more information on FDA-approved Latisse for eyelash growth or medical eyelash trimming, tinting or perming, call +1-561-394-0024 or email Email Dr. Bauman.
**please note that the dispensing of any prescription medication requires a consultation.READ MORE
FDA-Approved Latisse(TM) grows lashes
While lecturing on Cosmetic and Reconstructive Eyelash Transplantation in Phoenix, AZ at the American Academy of Cosmetic Surgery's Annual Meeting, Dr. Bauman was interviewed by the local ABC station regarding the latest advancement in non-invasive eyelash growth treatments–the new FDA-approved eyelash drug, Latisse. Watch the video of the interview below and please email Email Dr. Bauman to receive more information on Latisse.