Hair Loss Myths Misconceptions
HAIR LOSS IN WOMEN HAIR LOSS IN WOMEN
Nearly 50% of Dr. Bauman's patients are women with hair loss concerns.

One of the fastest growing areas of Dr. Bauman's hair restoration practice is the treatment of women with hair loss. In fact, today nearly 50% of all patients are women. Women commonly present with one or more of the following hair loss problems…
Overall loss of hair volume
Loss of coverage in the frontal area (behind the hairline)
Loss of coverage in the crown or vertex area
Recession of the frontal hairline (high forehead)
Recession of the hairline in the temples
Eyebrow Loss (thin or sparse eyebrows)
Eyelash Loss (thin, short or sparse eyelashes)
Excessive Shedding
Hair Loss after Plastic Surgery or trauma (accidents)
loss of coverage or density
hairline/sideburn distortion
visible scars
Hair Loss from hair extensions or braiding
And more…
The good news is that these conditions can be addressed with modern medical hair restoration treatments and/or procedures. In general, Dr. Bauman takes a "multi-therapy" approach to hair loss in women. After a complete and thorough evaluation, including genetic testing, if necessary, recommendations regarding treatment options can be made regarding what various treatments can do to protect, enhance and restore living and growing hair. Treatments may include FDA-approved medical therapy, non-chemical/non-invasive low level laser therapy, nutritional modification, and hair transplantation. Gaining a complete understanding of what each treatment option provides is of utmost importance. The success of any hair restoration regimen hinges on appropriate expectations of each part of the prescribed treatment program. If you are suffering from these hair loss conditions and would like a preliminary evaluation (either in-person or via email & photos), please fill out a Consultation Request Form or email Dr. Bauman directly.
Dr. Alan Bauman featured in O – The Oprah Magazine Minimize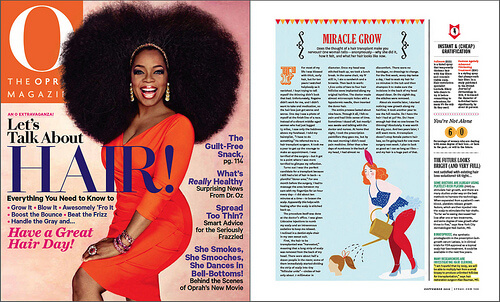 Oprah Magazine September 2013 – Hair Loss / Hair Regrowth / Dr. Alan Bauman
There is no bigger "big-wig" than Oprah… and if you doubt that, all you need to do is check the cover of the Sep '13 issue of "O" where you'll find Oprah wearing a 3.5lb wig she calls "Wild Thang." Timed perfectly to appear in Mid-August, which is the AAD's 13th Annual National Hair Loss Awareness Month, Oprah covers everything you need to know about hair… and hair loss. On p152, there's a discussion about the significant psychological impact of hair loss and how it makes one feel, "What we could once bend (or straighten or color) to our will feels suddenly, terrifyingly beyond our control."
During my interview with the folks at "O" a few months back, we discussed medical treatments, surgical options, cosmetic 'quick fixes' as well as the future of hair loss treatments.
In the final article, a comprehensive discussion of the modern medical treatments for the most common type of hair loss: chronic, genetic, hereditary female pattern hair loss was included. "Three Good Bets" recommended are topical minoxidil, anti-androgen pharmaceuticals, and hair transplantation. At Bauman Medical Group, we've been prescribing these therapies and more for many years.
As far as Minoxidil goes, we recommend the prescription "Formula 82M" as an alternative to the more common over-the-counter Rogaine and generic formulations. Formula 82M is more powerful than the OTC minoxidil because is has a synergy of potent hair growth ingredients and penetrating agents in a proprietary formula. It also has far fewer side-effects than the over-the-counter versions resulting in superior hair growth, but also leaving hair manageable and scalp healthy without the gooey, sticky feeling.
Prescription anti-androgens like finasteride (Propecia) and spironolactone (Aldactone) can be prescribed off-label to postmenopausal women who have been tested for "high androgen sensitivity" using a quick, reliable genetic test. Done in minutes with a cheek-swab, the Androgen Sensitivity test can predict whether a woman is likely to respond to anti-androgen treatments, like Propecia, before she starts therapy. We believe that diagnostic and routine measurements with the HairCheck cross-sectional hair bundle trichometer is a critical step in managing the hair loss process and monitoring regrowth–in order to verify how well the treatment is working.
And, of course, hair transplantation is the most long-lasting solution to replace dead hair follicles with your own living and growing hair from the back of the scalp. Although we were excited to see the first-person account of the female hair transplant patient in Oprah's Magazine (p.153), we were disappointed to learn that she had the old-style linear harvesting (strip removal with stitches or staples in the back of the scalp) as opposed to the newer, less invasive FUE (Follicular Unit Extraction) or "NeoGraft FUE" style of hair transplantation—which does not leave a linear scar. At Bauman Medical Group, our prominent female patients, like Anushka of Anushka Spa and Salon of Palm Beach, have had great public success with their NeoGraft FUE hair transplants.
"Instant (Cheap) Gratification"
On p.153, according to Oprah, "instant gratification" can be found by using the Pantene AgeDefy Hair Thickening Treatment which is a styling spray used at the roots. AgeDefy Hair Thickening Treatment thickens existing hair-strand diameters by up to 10%, giving a feeling of up to 6500 more hairs. At Bauman Medical Group, we performed the blinded clinical trial for Pantene's AgeDefy product last year on over 100 women and found that over 90% were extremely satisfied with the results of the product, allowing them to have more styling options and more coverage of the scalp.
"The Future Looks Bright (And Very Full)"
PRP or Platelet Rich Plasma is already being used to stimulate hair growth using a process which derives the treatment from your own blood. We have many local South Florida patients and others from around the globe coming to Boca Raton for the latest non-invasive hair growth treatment utilizing your own platelet-derived growth factors. A "lunch-time" procedure, PRP takes less than one hour in the office and may be combined with Extracellular Matrix products like ACell/Matristem and followed by the MicroPen microneedling device, similar to a facial-rejuvenation process made famous by Kim Kardashian when she had her "Vampire Facelift." At Bauman Medical Group, we've had some exciting results in both hereditary hair loss and other alopecia patients using "Vampire" PRP, some of whom were featured on a recent news story with NBC WPTV Palm Beach. We are also prescribing Latisse (bimatoprost) off-label for scalp hair regrowth as another topical treatment alternative to minoxidil. As I mentioned on p.153, hopefully by 2025 we will be able to multiply hair from a small biopsy to produce unlimited follicles for transplantation.
On the cover, Oprah wants everyone to "Have a Great Hair Day!" and with all the excellent hair loss information in this month's magazine, I'm sure many more people will do so!
For more information about the latest preventative and restorative treatments for hair loss prescribed by Dr. Alan J. Bauman, M.D., please visit baumanmedical.com
Genetic Hair Loss Test Predicts Female Finasteride Response Minimize
BOCA RATON, FL – A new simple genetic test could help tens of millions of female hair loss suffers determine whether or not finasteride (brand name: Propecia) may be an effective treatment for them to regain lost hair.
Although finasteride remains the primary FDA-approved treatment for male pattern hair loss, doctors have been reluctant to prescribe it 'off-label' for women with hereditary hair loss (androgenetic alopecia or AGA) due to the risk of potential birth defects in sons of women of childbearing age and conflicting studies regarding its effectiveness. However, anecdotal reports in the medical literature of the successful treatment of women with finasteride have spurred scientists to develop a new test to help doctors more accurately select female patients who might respond to the treatment.
Read More about Androgen-Sensitivity, genetic hair loss testing and finasteride response in women
Female Hair Thinning, Transplants, Laser Therapy
Support Network for Women with Hair Loss… Minimize
Support for women with hair loss can be found at:
https://womenshairlosssupport.ning.com/
Be as public or as private as you like. Browse information on women's thinning hair, get support, give support…
ESPECIALLY FOR WOMEN ESPECIALLY FOR WOMEN
The word about women and hair loss is getting out…
Hair loss used to be a closely guarded secret between a woman and her hair stylist. But, the truth is that millions of women suffer from thinning hair and hair loss as early as young adults, or as a natural consequence of hormone changes that typically begin at the onset of menopause.
Fortunately, today, more and more women are seeking solutions to stimulate hair growth and improve the quality of their hair density. At Bauman Medical Group, we have a large female clientele. Our women patients have responded quite remarkably to Dr. Bauman's Multi-Therapy Approach to hair restoration.
After a personal consultation and medical evaluation with Dr. Bauman, he will prescribe a treatment program which may include Nutritional counseling, Medical therapy, Low Level Laser therapy and/or Surgical Hair Restoration.

Restoring your own living and growing hair (without camouflage, wigs or cover-ups) is possible. To learn more whether you are a candidate for hair restoration, we invite you to contact Bauman Medical Group at: 1-877-BAUMAN-9 toll free, or 561-394-0024, or simply send us an email.
NY TIMES STORY ON FEMALE HAIR LOSS NY TIMES STORY ON FEMALE HAIR LOSS
Dr. Bauman's female hair restoration patient, Joan Denton, was featured in a NY Times article on 9/22/2005 which described the treatments, procedures and results of a sophisticated hair restoration regimen. Find out how her hair has now started "growing up a storm…" Watch the news video of Joan's Female Hair Transplant Results.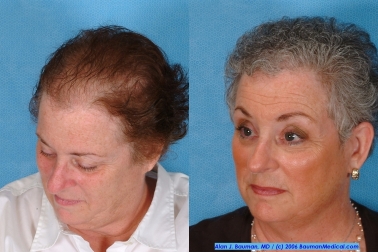 READ MORE
KRISTINE'S STORY KRISTINE'S STORY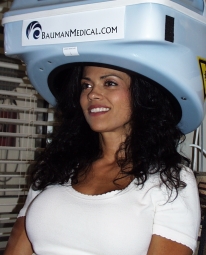 "Before my initial visit to Bauman Medical Group, I was told by my primary physician, dermatologist, and internist that there was nothing they could do to help my hair loss problem. I tried everything to control my hair loss, nothing worked… until I started the low-level laser treatments.
Within a few weeks I noticed a change in my hair's texture and general appearance. My results continued to improve with each treatment. Before the end of my initial five-week program, I noticed new hair growth. Having completed 6 months of treatment, I feel like my hair loss has greatly decreased, and my hair has become more dense and full."
Kristine G.
READ MORE
KNOW THE FACTS ABOUT FEMALE PATTERN HAIR LOSS KNOW THE FACTS ABOUT FEMALE PATTERN HAIR LOSS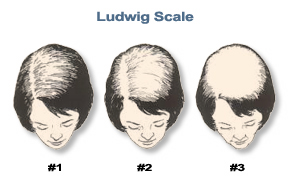 Click here
HAIR LOSS & PLASTIC SURGERY HAIR LOSS & PLASTIC SURGERY Minimize
After procedures such as browlifts and facelifts, patients often experience hairline distortions or hair loss that is unexpected. Dr. Bauman has unique expertise in correcting hairline recessions (from browlifts, for example) and covering scars where hair no longer grows. Hair transplantation can be used to implant living and growing follicles into scar tissue or other skin where hair is needed.
The 'wind-swept' look after facelift procedures can be minimized by carefully transplanting a new sideburn. In the example below, hair transplantation was used to create a new sideburn and hide the facelift scar left in front of the ear.
BEFORE                                                              AFTER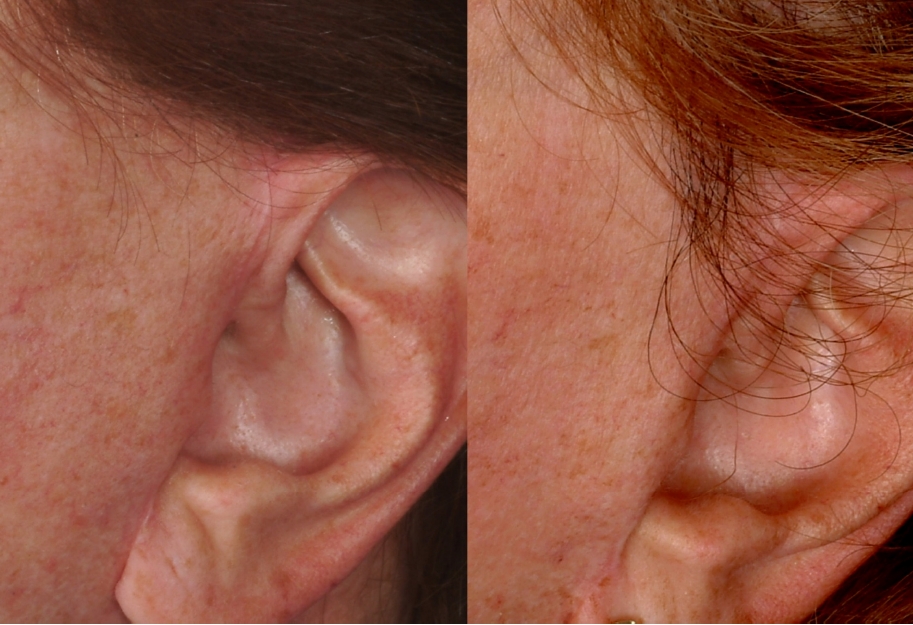 Sideburn Reconstruction / Scar Camouflage after facelift
A recent article by Dr. Bauman, appearing in PSP Magazine, explains the common hair loss issues related to plastic surgery procedures (like facelifts and browlifts). The article, while geared primarily toward physicians, can also help patients understand how plastic surgery can affect their hair and what can be done to prevent and/or treat plastic surgery-related hair loss problems. Read the article by clicking the "Read More" link below.
READ MORE
ABC News: Womens Hair Loss and other Videos Minimize
For more videos from Dr. Bauman on hair loss in women, female hair transplant procedures and other treatments, please visit: Female Hair Loss Playlist on YouTube
EYELASH TRANSPLANT INFORMATION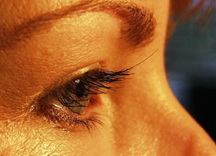 Eyelash Transplant: 6 weeks post-op
Eyelash Transplantation Information
Purpose:
Eyelash transplantation can be used to replace eyelashes that have been damaged by trauma, or to enhance existing eyelashes that are otherwise short and/or sparse. The use of the single-follicle hair transplantation technique enables new, living and growing eyelashes to be restored to the eyelid using microsurgery.
Procedure:
Using comfortable, computerized local anesthesia (The Wand®), the procedure is completed in less than two hours in the office/out-patient setting. Hair follicles from the back of the scalp ('donor area') are harvested and then implanted into the eyelid. Absorbable stitches are used to seal the donor area, which remains undetectable both during and after the healing process. Usually 24 to 40 or more lashes can be placed per eyelid during a session. The implanted follicles (like the seeds of a plant) will grow and produce hair continuously. The newly growing lashes will possess the same characteristics as scalp hair. The lashes will need to be routinely trimmed and curled. An 'eyelash perm' is recommended for those patients with straighter hair.
Medication for pain relief is provided as well as medication to reduce swelling. It is recommended that the patient have transportation to and from the office. Several hours after the procedure, some mild discomfort may be experienced in the donor area, as well as the eyelid. Patients are instructed in the gentle post-op care and cleansing of the eyelid and lashes. Some mild swelling and/or bruising in the eyelid area may last about 10 days. The absorbable stitches may take up to one month to dissolve completely. It is recommended that eye makeup (including mascara) be kept to an absolute minimum during the immediate post-op healing period (1 week). Some patients may require an additional session of eyelash transplantation to reach their restoration goal.
Eyelash transplantation, trichotillomania (hair-pulling) and trauma:
Eyelash transplantation CAN be used to restore eyelashes damaged by trauma, 'over-plucking,' or even the hair pulling disease, trichotillomania. However, patients with untreated trichotillomania cannot undergo eyelash transplantation. If the trichotillomania remains untreated or recurs, hair pulling can damage the transplanted lashes.
Eyelash transplantation and alopecia totalis/universalis:
Patients with alopecia totalis or alopecia universalis are NOT candidates for eyelash transplantation.
READ MORE
It's Here! FDA Approves LATISSE for Eyelash Growth Minimize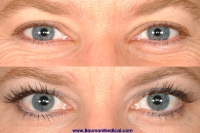 Bauman patient, Lauren, has used an 'eyelash conditioner' for several months.The Wall Street Journal reported that "Eyelash Growth Medications" are causing a "flutter." For years, it has been reported in the scientific literature that the use of prostaglandin analogues for glaucoma often resulted in a quirky side-effect: enhanced eyelash growth. Today, we now have the first FDA-approved medication for eyelash growth: LATISSE(tm) from Allergan.
Dr. Bauman was one of the first physicians nationwide to receive prescription Latisse for direct dispensing–before most physicians and all pharmacies. For more information the use of Latisse for increasing the length, darkness and thickness of eyelashes, contact Email Dr. Bauman.
LATISSE: Before and After…
Before and After Photo of Latisse patientOftentimes, lashes enhanced with these treatments will need to be trimmed (especially if they are hitting one's sunglasses or reading glasses) and occasionally curled, tinted or permed. Side effects of these treatments remain few and far between, but can include eye irritation, darkening of the skin of the lid occur in less than 4% of patients. Dr. Bauman recommends visiting with a board-certified hair restoration physician before starting any hair growth treatment regimen and cautions against the use of these treatments for women who are pregnant or nursing. For more information on FDA-approved Latisse for eyelash growth or medical eyelash trimming, tinting or perming, call +1-561-394-0024 or email Email Dr. Bauman.
**please note that the dispensing of any prescription medication requires a consultation.