No-Scalpel/No-Stitch "FUE" Transplants w/ NeoGraft…
No Strip Scar FUE/NeoGraft Hair Transplant on Rachael Ray
NeoGraft enhances the speed, efficiency and quality of FUE (no strip scar) hair transplant procedures.
The mechanical device, guided by the surgeon's hand, allows the individual extraction of hair follicles without the need of of a scalpel or stitches and leaves no linear scar.  Recently, YouTube celeb, Kevin 'Nalts' Nalty had his surgery with NeoGraft broadcast live on the internet. Videos of his procedure can be found at www.hairofnalts.com
See some Neograft before and after photos.



View a Slideshow of Dr. Bauman's Hair Transplant Results



First "Ouchless" Hair Transplant at BMG
August 3, 2011
First "Ouchless" Hair Transplant Performed at Bauman Medical Group

Internationally Renowned Hair Transplant Surgeon, Dr. Alan Bauman, Adopts Revolutionary FDA-Approved Pain-Eliminating Technology, the BellaNovus "Ouchless Needle," for Hair Transplant ProceduresBoca Raton, Florida–A recently FDA-approved device originally created to eliminate pain associated with the use of needles and syringes for common dermal fillers and neurotoxin injections such as Botox®, Dysport®, Juvederm,® and Restylane® has now been adopted for use by Dr. Alan J. Bauman, the nation's leading hair transplant surgeon, for use in his hair transplant procedures. "The Ouchless™ Needle is the final ingredient in modern hair transplantation surgery that will serve to completely eliminate patient concerns about the issue of pain associated with the hair transplantation process," says Dr. Alan J. Bauman.The Ouchless™ Needle (BellaNovus) is a disposable syringe-attachable dispenser that delivers a precise stream of the numbing vapocoolant to the skin just ahead of the tip of the needle before the skin is pierced. The vapocoolant spray immediately refrigerates the skin, thereby reducing the feeling of needle penetration and making the injection significantly more comfortable. This new medical technological device works to instantly reduce the pain associated with having injections and, according to clinical trials, minimizes post-injection numbness, swelling and bruising thereby providing patients a far superior treatment experience.If you are interested in learning more about the Ouchless™ Needle for Hair Transplant, please email 
Email Dr. Bauman
 or start your 
Virtual Consultation
 today.



SURGICAL HAIR RESTORATION OPTIONS
Surgical Hair Restoration / Hair Transplantation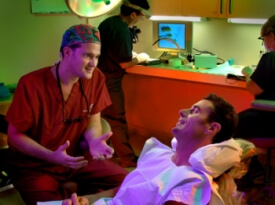 If a surgical procedure is advised, you will be in the hands of an exceptionally caring and well-qualified surgeon. Dr. Bauman offers his patients the demonstrated skills, knowledge, experience and keen artistic eye to yield the best medical and aesthetic result—one hair follicle at a time.
In general terms, hair transplantation is the redistribution of 'unchanging' follicles from the back of the scalp (donor area) into the thinning or the balding areas (recipient area).   It is a safe, effective procedure performed under comfortable, computerized local anesthesia (The Wand).Today, unlike old-style "hair-plug" transplants, follicular-unit micrografting allows coverage of the scalp and the creation of a natural, living and growing hairline for every single patient.    Dr. Bauman uses a combination of microsurgical techniques and an artistic eye to carefully determine the angle, orientation and position of each invididual transplanted hair in order to achive results that truly "defy detection."     We encourage you to browse Dr. Bauman's portfolio of "Patient Profiles" to see close-up photos of hairline results he has created.  For more detailed information regarding Dr. Bauman's hair transplant procedures, read the article about Dr. Bauman in the 
M.D. News
.   Dr. Bauman's hair restoration procedures (and adjunctive treatments) were featured on 
NBC's Dateline
, which independently verified and clarified the effectiveness and natrualness of the Dr. Bauman's hair transplantation techniques.   You can track the progress of the Dateline NBC's "Follicle Five" at 
www.folliclefive.com
.   Dr. Bauman's procedures have also been featured on CNN, FOX News as well as in The New York Times, Newsweek, and 
Men's Health Magazine
.   The latest news videos have been uploaded to 
www.youtube.com/baumanmedical
, but they are also available at the 
Bauman Medical Newsroom
.



SURGICAL HAIR RESTORATION TECHNOLOGIES
Video-Microscopic Dissection for Follicular Unit Transplantation
As part of Dr. Bauman's commitment to his patients, he has developed and invested in the latest technologies required to consistently achieve the high level of surgical precision at which he and the Bauman Medical Group surgical team work each day.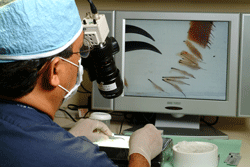 In this photo, a Surgical Technician at Bauman Medical Group is dissecting individual hair follicles and follicular units under one of Bauman Medical Group's powerful new digital video microscopes. Improved visualization of the follicles in the harvested donor tissue is now possible.
A 'quantum leap' in ergonomics and magnification, the videoscopes mean a more efficient dissection process, a better quality and quantity of grafts, and therefore, better results for every patient.


Trichophytic Donor Closure – Jan 2006
New "Trichophytic" Donor Closure Technique Reduces Scar Visibility…Boca Raton, FL–The new "Trichophytic Donor Closure" technique allows for improved camouflage of a linear donor scar.    Before the trichophytic (aka "tricho") closures, a patient could expect their donor scar to be 0-2mm in width.   Normally, the surrounding hair would easily cover the scar.   For some patients with very short hairstyles or buzzcuts, the resulting donor scar could sometimes be visible.   The trichophytic closure is a type of 'overlapping' technique which results in hair growing directly through the donor scar.    This can dramatically improve coverage of the donor scar in those with short hair.
Dr. Bauman uses the trichophytic donor closure technique as a routine part of all of his linear donor harvests.  For patients with short hair, this offers an acceptable alternative to FUE (Follicular Unit Extraction), which is typically a less efficient (and oftentimes more expensive) way to harvest hair from the donor.   Dr. Bauman believes that there is still a role for FUE, but that the benefits of a trichophytic closure make FUE a somewhat less attractive option for some patients.
The trichophytic donor closure can be used on patients who have had previous procedures and are looking for improvement in the camouflage of their donor scar, as well as patients who are undergoing hair transplantation for the first time.
For more information on trichophytic or 'tricho' donor closure techniques, email 
Email Dr. Bauman
 or call 1-561-394-0024



What is "FUE?" Follicular Unit Extraction

Follicular Unit Micrografting (Linear Harvest) & Follicular Unit Extraction (FUE)
Dr. Bauman specializes in advanced surgical hair restoration techniques, including refined Follicular Unit Micrografting, using a linear-harvest, as well as minimally-invasive Follicular Unit Extraction (FUE). Each procedure has its individual benefits which can be discussed during your consultation. Unlike other physicians which promote or specialize in only one technique, Dr. Bauman is proficient in a variety of methods of transplantation in order to achieve the best results for each and every patient.

In the photo at left, Dr. Bauman is demonstrating to hair restoration surgeons from around the world how he performs the Follicular Unit Extraction (FUE) procedure at the International Society of Hair Restoration Surgery (ISHRS) Live Surgery Workshop in 2003. In March of 2004, Dr. Bauman lectured on and demonstrated his FUE technique and his customized FUE instruments at the ISHRS Live Surgery Workshop. In August of 2004, lectured on FUE at the Annual Meeting of the ISHRS in Vancouver, Canada and was asked to sit on a Q&A panel of several FUE surgeons from around the world. He also lectured and sat on a similar "FUE Panel" of surgeons at the 2006 ISHRS conference in San Diego.
With the latest instrumentation, doctors performing Follicular Unit Extraction (FUE), can transplant individual hairs without harvesting hair from a "donor strip." Since no scalpels or stitches are used, healing is quick and comfortable. The FUE procedure is ideal for patients who have short hair, an active lifestyle, and don't want to have a linear donor scar. FUE procedures are more labor intensive and typically yield fewer grafts in a single session than traditional 'linear' micrografting techniques. View a news story about 
FUE/Follicular Unit Extraction
.
Proficient at both FUE and traditional 'linear' techniques, Dr. Bauman can guide you as to which procedure would best suit your needs. Regardless of the harvesting method, Dr. Bauman continues to use his artistic skill to recreate a natural hairline for each and every patient.



NeoGraft FUE Before and After Results
There are plenty of 
before and after
 photos of Dr. Alan Bauman's hair transplant patients located 
here
. Since 2002, Dr. Alan Bauman has performed manual FUE techniques to harvest hair for his patients, however the NeoGraft device makes this process much more efficient, allowing more hair to be harvested and implanted with each hair transplant session. While some inexperienced doctors and their teams have difficulty producing good results with 
NeoGraft FUE
, Dr. Bauman has refined his techniques to provide maximum growth from his procedures and exceptionally natural hairlines. See for yourself! Less invasive NeoGraft FUE allows the harvesting of hair follicles without leaving a linear scar and with less discomfort during the healing process. NeoGraft patients may return to most athletic activity within three days… Don't try that with stitches or staples in your scalp! Take a look at a slideshow of 
before and after results of the NeoGraft FUE
 hair transplant by visiting 
NeoGraft Results Slideshow
.



PRP Autologel Platelet Rich Plasma & Hair Transplants
AutoloGel™ PRP Enhances Healing After Hair TransplantationToday, more and more doctors performing hair transplantation are using AutoloGel PRP to help wounds heal faster and reduce the cosmetic downtime from a hair transplant procedure. AutoloGel is used to accelerate the body's recovery mechanisms and create an optimal environment for wound healing to occur comfortably and quickly.
Studies show wounds need three elements to heal naturally and quickly:
1)Moisture
2)Nutrients
3)Cellular Growth Factors and Proteins
Once you hair transplant procedure has been completed, Dr. Alan Bauman and his surgical team will apply AutoloGel PRP immediately after transplantation to stimulate the natural healing process. AutoloGel PRP contains an ingredient obtained directly from your blood, called "platelets."
PRP – platelet rich plasma – helps keep the wound moist like a biologic bandage and delivers the body's own growth factors and nutrients. AutoloGel PRP contains activated platelets and promotes natural healing without side effects or risks.
Platelets are crucial to the healing of wounds. In order for a wound to heal naturally, it must have the growth factors provided by platelets. PRP harnesses each person's own natural healing processes, delivering the growth factors and nutrients that help cells grow and new tissue to form. PRP can restore the balance in the wound environment to help hair transplants heal naturally with less redness, less crusting and less swelling.
Dr. Alan J. Bauman and every member of his hair transplant team have successfully completed the Cytomedix™ AutoloGel System Certification Training on the AutoloGel System for Surgical Hair Restoration as of August 24, 2011. Dr. Bauman was one of the first hair transplant surgeons in the world to have his entire surgical team certified to offer AutoloGel PRP wound healing.
AutoloGel PRP reduces scalp scabbing, swelling and redness
A study by RJ Reese, shows that patients receiving AutoloGel PRP after hair transplant had improved healing compared to those who did not receive AutoloGel.
All PRP's are not alike. Only one is FDA-cleared for wound care: AutoloGel PRP. Because the term PRP can be applied to any platelet rich plasma product, it may be misleading. PRP products can vary according to their production process and the end results can be vastly different. There is only one PRP available that is cleared by the U.S. Food and Drug Administration (FDA) for wound care: AutoloGel PRP. Dr. Alan J. Bauman and the surgical team at Bauman Medical Group is proud to offer the only FDA-approved PRP regimen with every single hair transplant procedure performed.
References
Reese RJ, A single-blinded, randomized controlled study of the use of autologous platelet rich plasma (PRP) as a medium to reduce scalp hair transplant adverse events. Hair Transplant Forum Int'l, March/April 2008:pp 51-52.
https://www.autologel.com
https://www.cytomedix.com
https://www.prphairrestoration.com
https://www.baumanmedical.com



Men's Health Magazine
features Dr. Bauman