What Are the Best
Did you know you can lose 50% of your hair without knowing it? "Invisible Baldness" means if you've lost 50% or less of your hair, it can look EXACTLY the same. However, if you lose just a bit more, you could see scalp shining through.
HairCheck – HairCheck is a non-invasive painless way to assists in measuring the amount of hair loss you have experienced and tracks hair regrowth over time so you can know what treatment is working, how much, and where.
HairCam – Did you lose hair density, hair diameter or both? HairCam shows you exactly the quantity and quality of hair in an area of the scalp using high-powered (60-80x) dual-polarized LED magnification.
Hair Regrowth Treatments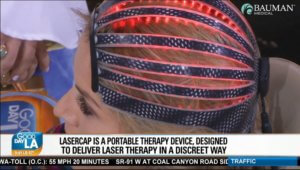 Bluetooth LaserCap MC2 – Did you forget your laser treatment today?  Coming soon! NEW "HairCoach" smartphone app reminds you and tracks your at-home laser (and other) treatments so both you and your doctor can track your compliance. Available in 2019!
Compounded Prescription Topical Treatments
Minoxidil Formula 82M – minoxidil + tretinoin, quick-dry/non-greasy/pg-free
Finasteride Formula 82F – minoxidil + topical finasteride + tretinoin, quick-dry/non-greasy/pg-free
Dutasteride Formula 82D – minoxidil + topical dutasteride + tretinoin, quick-dry/non-greasy/pg-free
FUE Hair Transplantation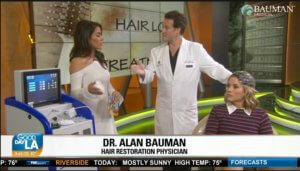 An FUE or Follicular Unit Extraction hair transplantation procedure harvests hair follicles without removing a strip of scalp, leaves no linear scar, and has a shorter less-restricted downtime. FUE can be used to restore a hairline, crown, temples, beard, and more in both men and women. No-shave techniques are available so your procedure can be a secret.
SmartGraft FUE – mechanical, pneumatic extraction of FUE grafts leaving no tell-tale linear scar to hide, SmartGraft stores the grafts in a temperature/moisture controlled environment to protect them after the extraction phase while awaiting implantation
ARTAS Robotic-Assisted FUE – Artificial Intelligence helps the surgeon remove individual FUE grafts from the scalp without a scalpel or stitches.
Eyebrow & Eyelash Transplants – hair follicles from the scalp can be used to restore weak or missing eyebrows or eyelashes (the procedure "comes with scissors" because you have to trim the implanted lashes or brows at least twice a month).
If you or someone you know has hair loss or eyebrow or eyelash concerns, click to start either a long-distance phone consultation OR an in-person, in-office consultation with Dr. Bauman. You can also Ask Dr. Bauman a Question or simply call Bauman Medical Group toll-free 844-GET-HAIR or +1-561-394-0024.