Bauman Medical Newsletter Fall 2006

In this issue…
An Eyelash Transplant Opportunity…
Dr. Bauman Named "Surgeon of the Month"
Hair Technology Update…
seen on Chicago ABC-7 NEWS
"The Stunners"
An "Anchorman" Hair Transplant
More Information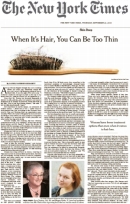 — H E A D L I N E S —
      News and Information on
Hair Loss Awareness Month, then Merck launched a 'stunning' campaign for Male Pattern
Bauman Medical Group
, we take pride in providing the highest quality results and patient care to both men and women who are looking to maintain, enhance or restore their own living and growing hair. Stay tuned for updates concerning our new expansion which is currently under construction.
Sincerely,
Alan J. Bauman, M.D.
Medical Director
Bauman Medical Group, P.A.
Email Dr. Bauman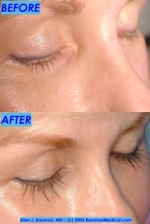 An Eyelash Transplant Opportunity…
for a qualified patient…
Longing for better lashes? Eyelashes damaged by trauma? Eyelash transplantation may be for you! We are happy to tell you about a one-time opportunity that may help you get the longer, thicker lashes you seek. As one of the few doctors worldwide that routinely performs both cosmetic and reconstructive eyelash transplantation, Dr. Bauman has been invited to demonstrate his Eyelash Transplant technique at a Los Angeles Live Workshop for physicians–but we're looking for a qualified patient!
If you (or someone you know) would be interested in receiving an eyelash transplant procedure at no cost, an application must be submitted as soon as possible. At least one patient is scheduled to be selected from those who apply. Download the F-ree Eyelash Transplant Application Form here and fax it back.
To learn more about Eyelash Transplantation and Eyebrow Transplantation, visitbaumanmedical.com and look under "Special Cases: Eyelash Transplantation."
Learn more about Eyelash Transplantation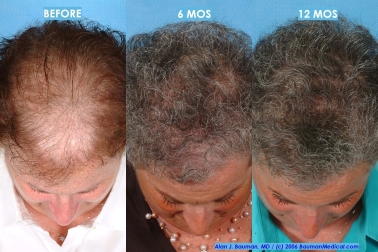 'Multi-Therapy Approach' is aimed at protecting and enhancing existing hair as well as restoring lost density. Last month, Tampa Florida's CNN affiliate, BayNews9 visited with Dr. Bauman and met with both men and women who were undergoing various treatments and procedures.



Joan (photos above-right) has become a role-model for women suffering from hair loss. Last year, when Joan's story of struggle and triumph over hair loss was featured in the New York Times, she received calls from across the country from women who were encouraged by the results of Dr. Bauman's procedures and treatments. Read the full story and/or view Joan's photos. This past Summer, Joan was interviewed in a story on female hair restoration treatments that aired on BayNews9, a CNN affiliate. Watch Joan's Video here.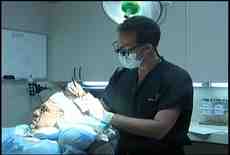 Recent data reveals that hair transplantation is one of the most popular cosmetic procedures for men (Sources:AACS.org, ISHRS.org, plasticsurgery.org). Dr Bauman offers follicular-unit micrografting procedures to restore natural hairlines. To see a hair transplant procedure performed by Dr. Bauman and his team step-by-step, click through to this informative video from BayNews9/CNN health reporter, Dr. Seltzer.
Watch Both Videos from BayNews9
Dr. Bauman Named "Surgeon of the Month"
by the International Society of Hair Restoration Surgery (ISHRS)


An excerpt from the ISHRS journal, Hair Transplant FORUM Int'l…
"Alan Bauman was born and raised in New Jersey. At an early age, Alan was exposed to healthcare through his father's dental practice and his uncle's gastroenterology practice. He was also influenced by his mother, who was interested in art and music, as well as his grandfather, who was an author, inventor and college chemistry professor. From a young age, Alan remembers his own father's struggle with hair loss and eventual hairpiece use…"
read the full article…('Adobe' .pdf reader required)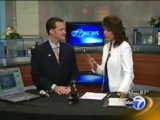 Hair Technology Update…
seen on Chicago ABC-7 NEWS
Folliscope & Erchonia's THL-1 Laser
While visiting Chicago, Dr. Bauman was interviewed by Sylvia Perez of WLS/ABC-7 NEWS Chicago regarding the latest effective hair restoration treatments (like Propecia and Minoxidil) and procedures (follicular-unit micrografting). He demonstrated theFolliscope, an advanced video scalp-microscope, and how it is used to track the results of hair restoration regimen using hair density and hair caliber. During the segment, Dr. Bauman also demonstrated the latest hand-held low-level laser designed specifically for hair, the THL-1 by Erchonia, a world- leader in Low Level Laser Therapy Devices.
Watch the ABC-News Video


"The Stunners"
are creating 'a buzz…'
Meet "The Stunners" — a group of smart, sophisticated and beautiful women who use their talents and charms to turn the tables on male pattern hair loss.
This innovative initiative cleverly explores the issue of male pattern hair loss from an entirely new and different perspective. Through a series of video vignettes, "The Stunners" take a humorous (and thought-provoking) look at the problems associated with hair loss in men. Click to see for yourself atwww.TheStunners.com
Meet The Stunners (video)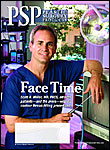 PSP Magazine. For a full version of the article with photos, please visit the link below.
Full story in PSP magazine (with photos)


An "Anchorman" Hair Transplant
Special Assignment: Hair Restoration
Jim Abath (ABC-News, Palm Beach) Reporting…
When WPBF25 Palm Beach news anchor, Jim Abath, was given his "Special Assignment: Hair Restoration," it was more than just 'business,' it was personal! Having previously tried several "lotions and potions" that simply didn't work, Jim sought the advice of Dr. Alan Bauman, Hair Restoration Specialist in Boca Raton, Florida. The three part series reviews common hair loss/hair restoration myths and misconceptions, Dr. Bauman's Multi-Therapy approach to hair restoration, the results several of Dr. Bauman's patients and Jim's personal journey through the hair restoration process–including his own two hair transplant procedures.
VIDEO: VIDEO: Jim's Hair Transplant Procedure (hour-by-hour)
NEW VIDEO: Jim's Hair Transplant Results
New Photos: Jim's Before and After Photos
Helpful Links
Bauman Medical Group main website
Int'l Society of Hair Restoration Surgery (ISHRS.org)
Preliminary Consultation w/ Dr. Bauman via Email
Schedule an In-Person Consultation w/ Dr. Bauman
Read the "Men's Health" Hair Transplant Story
Ask a Question…


Bauman Medical Group:
A unique type of hair restoration practice…
At 
Bauman Medical Group
, you'll find that Dr. Bauman and his dedicated team of medical professionals are passionate about providing personalized care and exceptional results for each and every patient. It is our goal to uphold the highest standards of ethics and professionalism.
If you would like more information regarding the latest treatments used by physicians to medically restore and maintain your own living and growing hair, please contact Dr. Bauman directly…
phone: 561-394-0024 or 1-877-BAUMAN-9 (toll free U.S.)