This post comes from a recent Newsletter from Dr. Bauman that you can subscribe to here. 
Hello, it's Dr. Bauman.
As you may know, Bauman Medical is located in beautiful Boca Raton, Florida.
What you may not know, though, is that Florida is home to more endangered plant species than any other U.S. state, including the rare and beautiful ghost orchid.
But one Florida plant that's definitely not rare is the saw palmetto.
Saw palmetto is a shrub-like palm you see growing in gardens, near beaches and golf courses, along the side of the road — it's everywhere!
In fact, we have lots of it growing naturally around Bauman Medical.
Saw palmetto is a vigorous, robust plant and studies show it provides an array of health benefits, particularly for your hair.
In one study, men with thinning hair were asked to apply saw palmetto directly to their scalps for 4 months.
At the end of this 4 month period, these men were invited back for evaluation. The scientists conducting the study were wowed by the results:
On average, these men increased their hair count by 12 percent simply by applying saw palmetto to their scalps. That's impressive! (1)
Another study found that saw palmetto extract can help block 5-alpha-reductase, an enzyme that converts testosterone to DHT. (2)
Why is that such a big deal? Well, DHT is the molecule responsible for hair loss. DHT can cause an enlarged prostate, too. So anything you can do to reduce or block DHT if you're at risk for these conditions is worth considering.
And because saw palmetto shows such promise in safely blocking DHT production and increasing your hair count, I decided to include it as a key ingredient in my brand new Bauman MD BOOST Shampoo & Conditioner.
>> Go here to learn why this shampoo & conditioner combo is one of the easiest ways to protect and improve your hair.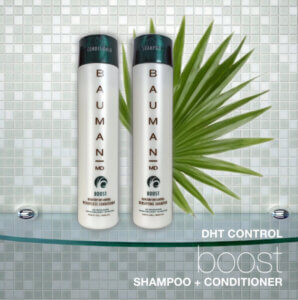 In addition to saw palmetto, Bauman MD BOOST Shampoo & Conditioner also includes green tea extract (epigallocatechin-3-gallate or EGCG) and caffeine — two more natural ingredients that studies show can help combat the effects of DHT. (3)
But that's just for starters.
Because I want to ensure Bauman MD BOOST Shampoo & Conditioner supports and nourishes your hair in multiple ways, it also includes the following all-natural ingredients:
Apiscalp®, a patented ingredient from celery seed designed to reduce dryness, dandruff, and itching.
Sandalore®, a molecular compound that prolongs the anagen phase, the active phase of the hair growth cycle.
Procapil®, a patented blend of three natural bioactive substances: oleanolic acid to reduce levels of hair loss-causing DHT, apigenin–a natural vasodilator, and Biotinyl-GHK–a vitamin-bearing peptide.
Procapil® helps keep your follicles nourished and healthy, which in turn makes your hair thicker and stronger.
It helps optimize how your body uses biotin, a nutrient that acts like the "building block" of healthy hair.
And studies show Procapil® even supports hair anti-aging by stimulating follicle cell metabolism, which can slow down hair loss. (4)
The more you dig into these ingredients, the more science you'll find. What's more, because Bauman MD BOOST Shampoo & Conditioner is formulated with natural ingredients, you don't have to worry about drug-related side effects.
I've developed Bauman MD BOOST Shampoo & Conditioner as an In-Shower Trichology System designed to protect, restore, and regrow your hair by reducing DHT levels, soothing inflammation, nourishing follicles, and more.
I've also spent a great deal of time making sure this shampoo and conditioner combo truly performs: generous lather, lightweight conditioning, and leaving your hair looking and feeling thicker, fuller and healthier.
If you've tried medicated shampoos before, you know how they can dry out your scalp or strip your hair, which damages it. (I know because it's happened to me.)
But your Bauman MD BOOST Shampoo & Conditioner is different.
Because it's lightweight and gentle, it's easy on your scalp.
But because it's formulated with researched-effective all-natural ingredients, it's very effective at promoting shinier, thicker hair thanks to its combination of DHT-blocking natural ingredients.
The ultimate win-win!
And after nearly a year of research and development, I'm thrilled to finally be able to offer Bauman MD BOOST Shampoo & Conditioner to all of my patients.
It's also the shampoo and conditioner (along with our new CBD-infused Bauman MD SOOTHE) that I use myself.
You can try Bauman MD BOOST for yourself — 100% risk free, of course — by tapping or clicking the link below now:
>> Go get your own supply of Bauman MD BOOST Shampoo & Conditioner now (FREE shipping on all domestic orders!)
Sincerely,
Alan J. Bauman, MD
Medical Director of Bauman Medical
Scientific references
1. Ercan Arca, et al. "The Evaluation of Efficacy and Safety of Topical Saw Palmetto and Trichogen Veg Complex for the Treatment of Androgenetic Alopecia in Men." Turkish Journal of Dermatology, 2014 Dec; 8(4):210-215
2. Maria Yusuf Dhariwala, et al. "An overview of herbal alternatives in androgenetic alopecia." J Cosmet Dermatol. 2019 Aug;18(4):966-975.
3. Kwon OS, et. al. "Human hair growth enhancement in vitro by green tea epigallocatechin-3-gallate (EGCG)." Phytomedicine. 2007 Aug;14(7-8):551-5.
4. https://www.baumanmedical.com/wp-content/uploads/2022/03/For_enhanced_anchorage_of_the_hair_Matrikine_and_Phytoregulators_Procapil-Sederma.pdf
If you or someone you know has hair loss, hair thinning, baldness, or eyebrow / eyelash concerns, click to start either a long-distance virtual consultation OR an in-person, in-office consultation with Dr. Bauman. You can also Ask Dr. Bauman a Question or simply call Bauman Medical Group  at +1-561-394-0024.