This post comes from a recent Newsletter from Dr. Bauman that you can subscribe to here. 
Hello, it's Dr. Bauman.
What do your hair health and 3D printing have in common? Well…
As you may know, 3D printing is a fairly recent manufacturing innovation that allows people to print three-dimensional objects from a digital 3D model.
If you can dream it up, it can probably be made with 3D printing: everything from shoes, clothing, and furniture to robots, race cars, and even 3D printed pizzas!
Like 3D printing, your body can also make a wide array of things: cells, tissue, organs, skin, hair, and more.
How? By using stem cells.
Stem cells are located in many places in your body, including within your brain, gut, fat tissue, and in your bone marrow. These amazing cells act like "blank slates".
Stem cells are special because they can turn into many different cell types and are used for repair and regeneration. They help you heal from injury and maintain youthful functions throughout your body.
And, according to many doctors and scientists, healthy stem cells are also critical for healthy hair growth.
Unfortunately, by age 25, your body's ability to produce healthy, young cells begins to decline. In fact, this drop in cell number and vitality is one of the main reasons we age.
But there is a way to flood your body with new stem cells, revitalizing your health, wellness, and regenerative cƒapabilities.
It's called The RECRUITER.
It's based on a patented and proprietary formula. And it's the first and only supplement shown in two separate peer-reviewed clinical trials to DOUBLE the amount of a certain type of circulating stem cells in humans! (1)
>> Go here to learn more and to get your own supply of The RECRUITER (click to shop)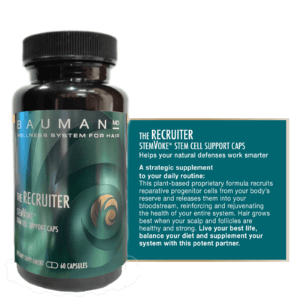 If you're scheduled for a PRP or PRP treatment, or for a Hair Transplant, I recommend ordering a supply of The RECRUITER now.
This formula can help you recover faster because it's been shown to stimulate the release of new stem cells.
These special stem cells, called EPCs (Endothelial Progenitor Cells), are released from the bone marrow and circulate in our bloodstream where they help stimulate circulation, repair damaged blood vessels, create new ones, and more. (2)
In fact, The RECRUITER got its name because it's designed to help your body recruit more of these important EPCs.
The RECRUITER is great for daily use, too, since it's clinically proven to help support youthful levels of EPCs, those beneficial circulating stem cells, which decline after age 25.
It works because The RECRUITER is formulated with a patented blend of nutrients designed to promote the release of stem cells. These nutrients include:
1. Lactobacillus Fermentum
This potent probiotic blend contains patented and patent-pending fermented blends of a probiotic cell wall extract along with astragalus root, goji berry, and green tea.
This proprietary blend nourishes the bone marrow so it can release more stem cells into the bloodstream.
Once these stem cells are in circulation, they can travel to areas of injury within your body and begin the repair process.
These stem cells can also boost energy, improve your head-to-toe health, beautify your skin, and promote stronger, faster hair growth.
As well as having more energy, an improved sense of well-being, healthier-looking skin, and stronger, faster hair growth.
>> Go here to learn more about how EPCs work and what they can do for your hair health.
2. Beta 1,3 Glucan
A natural immune booster, studies show beta glucans can help regulate the immune system, making it stronger and more efficient.
Beta glucans are also crucial for heart health. A recent research study showed that people who ingested more beta glucans had significantly healthier cholesterol.
3. Ellagic Acid
Sourced from pomegranate, one of Nature's most powerful antioxidants, ellagic acid helps reduce oxidative stress. Oxidative stress damages cell tissue, triggers inflammation, and can weaken your hair follicles.
So anything you can do to soothe oxidative stress can be good for your hair.
4. Vitamin D
In addition to that proprietary blend, The RECRUITER contains 500% of the Daily Value for vitamin D.
Why have we included vitamin D?
Because vitamin D is an unsung and often overlooked hero in healthier hair.
One study showed that not having enough vitamin D is a risk factor for developing alopecia areata, an autoimmune condition characterized by severe hair loss. (3)
Another study showed that vitamin D deficiency can make hair loss worse for people who are already genetically predisposed to hair loss. (4, 5)
And another study showed that hair loss in women is linked to vitamin D deficiency. (6)
In other words, if you want thick, healthy hair, then you MUST avoid vitamin D deficiency.
Trouble is, most people are vitamin D deficient.
In fact, research shows that 41.6% of adults in the U.S. are deficient. This number goes up to 69.2% in Hispanics and 82.1% in African-Americans.
Clearly, vitamin D deficiency is a widespread problem. And it can make your hair thin, brittle, and unhealthy.
Because vitamin D deficiency is so common, and because vitamin D is crucial for healthy hair, The RECRUITER contains 2,000 IU of vitamin D3 (a whopping 500% of the daily value) as one of its key ingredients.
Ready to see what The RECRUITER can do for you?
We currently have a limited supply of The RECRUITER in stock. And, like all Bauman Medical nutraceuticals, it's backed by a 100% Satisfaction Money-Back Guarantee.
So you can try it today, risk free.
>> Go here to see how The RECRUITER can support your hair health by DOUBLING your circulating stem cells
Sincerely,
Alan J. Bauman, MD
Medical Director of Bauman Medical
Scientific references
1. Mikirova NA, et. al. Circulating endothelial progenitor cells: a new approach to anti-aging medicine? J Transl Med. 2009 Dec 15;7:106. doi: 10.1186/1479-5876-7-106.
2. Mikirova NA, et. al. Circulating endothelial progenitor cells: a new approach to anti-aging medicine? J Transl Med. 2009 Dec 15;7:106.
3. Mahmud Mahamid, et al. "Association between vitamin d levels and alopecia areata." Isr Med Assoc J. 2014 Jun;16(6):367-70.
4. Aksu Cerman, et al. "Vitamin d deficiency in alopecia areata." Br J Dermatol. 2014 Jun;170(6):1299-304.
5. Banihashemi M, Nahidi Y, Meibodi NT, Jarahi L, Dolatkhah M. Serum Vitamin D3 Level in Patients with Female Pattern Hair Loss. Int J Trichology. 2016 Jul-Sep;8(3):116-20. doi: 10.4103/0974-7753.188965. PMID: 27625563; PMCID: PMC5007917.
6. H. Rasheed, et al. "Serum ferritin and vitamin d in female hair loss: do they play a role?" Skin Pharmacol Physiol. 2013;26(2):101-7.
If you or someone you know has hair loss, hair thinning, baldness, or eyebrow / eyelash concerns, click to start either a long-distance virtual consultation OR an in-person, in-office consultation with Dr. Bauman. You can also Ask Dr. Bauman a Question or simply call Bauman Medical Group  at +1-561-394-0024.