May 2015 – tri-chol-o-gy [trih-kol-uh-jee] – noun – the science dealing with the study of the hair and its diseases. Between the fields of cosmetology/hair styling and the medical specialty of Hair Restoration lies the paramedical field of Trichology. Glossy magazines and shampoo advertisements feature luscious locks that often seem out of reach for the average person, so how can we achieve a "crowning glory" fit for royalty? The goal of a beautiful, full, thick, strong and youthful head of hair is accomplished most easily when both the scalp and hair is at its healthiest. Achieving "maximum performance" from each and every living scalp follicle as well as all the hair fibers is required and that often takes a team approach…that's where a trichologist can help!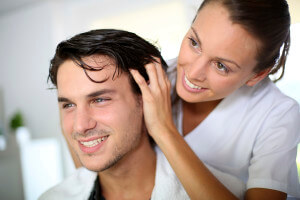 What does it take to achieve the healthiest head of hair possible?
Optimum style using color, cut and curl can only be achieved if you have enough good quality hair to work with. Fragile, brittle, dry or dull hair situations need to be addressed. Depleted density, breakage, shedding, hair fall, receding hairlines and other hair loss can derail the best attempts at styling. And, of course, scalp conditions like oily scalp, dry scalp, flaking and dandruff can make a bad hair day worse.
While some salon treatments may help to conceal underlying problems in the short term, many can exacerbate hair problems over the long haul. What we have learned over nearly two decades of medically treating men and women with hair loss is that the only way to truly achieve your "best head of hair" is through a thorough, comprehensive, holistic and customized approach.
At Bauman Medical Group, we recently launched an exceptionally comprehensive Medical Trichology program to provide patients with comprehensive care for a wide range of common hair problems, such as thinning, breakage, shedding, dry or itchy scalp, etc. It takes more than a cosmetologist or stylist to fix these problems, which is why a trichologist is so important. Trichology is a widely accepted healthcare field in the UK and Europe, but is lesser known here in the U.S. However, a trichologist offers an important option for men and women who struggle with hair and scalp problems, and are seeking diagnosis and treatment. Rather than using guesswork or cosmetic cover-ups, a trichologist performs a full analysis of the scalp and hair, including moisture and pH levels, sebum measurements, microscopic evaluations and hair breakage / hair growth measurements to evaluate problems and begin to design a regimen of treatments to address them. Working closely with a board-certified Hair Restoration Physician like Dr. Alan Bauman, a doctor who specializes in hair loss, an in-house trichology program helps patients' hair and scalp be more healthy—in very much the same way a plastic surgeon may work closely with a trusted aesthetician.
What can Bauman Medical's Trichology Program do for me?
An unhealthy scalp can make growing healthy hair a challenge. Trichology treatments help manage excess sebum, dandruff, toxins and impurities—improving scalp wellness and allowing optimal hair growth from each and every viable follicle. Healthy scalp and healthy follicles produce hair that is thicker, fuller, stronger and shinier!
Is there a connection between Stress and Hair Loss?
Dandruff or flakes are one of the most common scalp conditions. Several scientific studies show a possible connection between itchy, flaky scalp (dandruff) and hair loss. Visible dandruff may be a sign of inflammation at the level of the scalp that can inhibit healthy hair growth. It's very important to evaluate and diagnose your specific type of dandruff condition so it may be managed accordingly. Reducing inflammation at the level of the scalp helps follicles perform at their best.
Are my styling products or styling habits damaging my hair?
If you are experiencing hair thinning, it's common to turn to styling habits like back-combing, extensions or aggressive chemical treatments or damaging products to help camouflage the issue. Certain styling products and habits may be damaging to your hair and scalp. Ask your trichologist what products are recommended based on your specific styling needs and hair/scalp type. Learn how to modify styling habits that could be detrimental to your hair's health so you can maintain a beautiful, healthy head of hair for life, not just look good in the short-term.
What about hair extensions, weaves, coloring, perms, and heated styling tools? Can they cause hair loss?
Yes, chemical over-processing and repeated use of heated tools may cause damage to the protective cuticle of the hair fibers putting your hair at risk for hair loss or hair thinning due to hair breakage.
To avoid dull or damaged hair and scalp, it's important to use high quality, protective conditioners and other trichology products that can fortify your hair and safeguard your scalp from harsh treatments. Weaves, extensions or other artificial hair can pull on your follicles over time causing weakened hair growth or hair loss due to traction alopecia. A trichologist can help you evaluate the risks of these styling options and monitor your scalp and hair for problems.
Who is a good candidate for a Trichology Evaluation?
Men and women with a "symptomatic scalp" (dry, itchy, flaky or oily scalp, excessive hair loss, shedding or hair breakage) should schedule a trichology evaluation. Patients considering or are already using at-home hair regrowth treatments, topical medications, PRP Platelet Rich Plasma therapy or have had a hair transplant procedure should also consider a trichology evaluation to maximize their results.
What does an INITIAL Trichology Evaluation involve?
Trichology evaluations are performed at Bauman Medical's SalonB. During your one-hour one-on-one evaluation, our in-house trichologist will evaluate the condition of your hair and scalp, perform important measurements including scalp hydration, pH and sebum levels as well as HairCheck™ trichometry to scientifically track hair growth and hair breakage over time.
What can I expect to learn upon completing my initial Trichology Evaluation?
At the end of your evaluation, you will receive a detailed report of findings, measurements and microscopic scalp photos including personalized in-office and at-home trichology treatment recommendations. You may then choose to schedule your custom weekly 90-minute treatment and monitoring sessions at SalonB for either 4 weeks, 8 weeks or more.
TYPICAL SCALP SYMPTOMS THAT A TRICHOLOGIST EVALUATES:
Dry, Itchy, Oily, Flaky, Irritated Scalp
Dull, Dry, Brittle, Oily, Breaking, Shedding, Thinning Hair
What is Trichology?
Trichology, derived from the Greek word "tricho" meaning "hair," is the study of the anatomy, growth and diseases of the hair and scalp. A trichologist is a trained specialist in all matters relating to hair and scalp health. A trichology evaluation can address many conditions like itching, flaking, oily or dry scalp as well as hair breakage shedding hair, thinning hair, hair fall and hair loss. Trichologists often work closely with Hair Restoration Physicians who specialize in diagnosing scalp conditions, prescribing medical hair regrowth treatments and performing hair transplant surgery.Between the fields of cosmetology/hair styling and the medical specialty of Hair Restoration lies the paramedical field of Trichology. The goal of a beautiful, full, thick and youthful head of hair is accomplished most easily when both the scalp and hair is at its healthiest. Achieving "maximum performance" from each and every scalp follicle and the hair fiber each one creates often takes a team approach.
To read this article on the South Florida Health & Wellness website CLICK HERE
Trichology Evaluation appointments can be conveniently scheduled by calling SalonB at 561-465-7667
or online at www.BaumanMedical.com/SalonB