_________MULTI-THERAPY APPROACH_________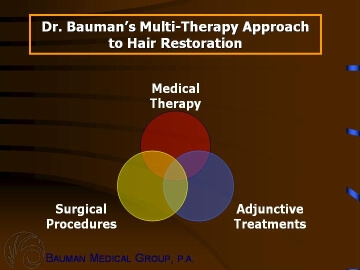 Medical Therapy
Minoxidil
Propecia(finasteride)
Surgical Therapy
(Ultra-Refined Follicular-
Unit Micrografting)
Hair Transplantation
Adjunctive Treatments
Nutritional Supplementation
Low Level Laser Therapy
Cosmetic Camouflage
Dr. Bauman's Hair Restoration Results…

Hair Transplant Results including male, female, eyelash, eyebrow, scalp and scar hair transplants from Bauman Medical Group – Hair Transplants and Hair Loss Treatments
GETTING STARTED
Getting started with you hair restoration regimen is simple. A preliminary evaluation of your hair loss status and factors that are affecting your hair loss can be done easily using our Virtual Consultation Request form and submitting several photos of your hair loss status.   Click below to submit a request for a consultation.