This post comes from a recent Newsletter from Dr. Bauman that you can subscribe to here. 
Hello, it's Dr. Bauman.
Forget E.T., the xenomorph, or Marvin the Martian.
As it turns out, you and I are the real alien lifeforms.
Believe it or not, more than half of your body is not human. In fact, scientists say human cells make up just 43% of your body's total cell count. The rest are "alien colonists."
These alien colonists — which include commensal microbes like bacteria, fungi, viruses, and their genes — live on and inside of you, and are collectively known as your microbiome.
In many ways, your microbiome is like "Mission Control" for your health, which isn't too surprising considering you have more microbes than human cells in your body!
And since yesterday was World Microbiome Day, I want to take a few moments to talk about your amazing microbiome and the surprising ways it affects your health.
Studies show your microbiome affects everything from your immune system, digestion, mood, weight, and even the look, feel, and health of your hair.
For example, a study published last year in the journal Biomedicines argues that poor microbiome health may play a contributing role in the development of alopecia, an autoimmune disorder that causes hair loss. (1)
A different study found that maintaining a healthy microbiome actually causes hair to spend more time in the growth phase. (2)
Unfortunately, the modern world can wreak havoc on your microbiome.
According to research published by the National Institutes of Health, your microbiome can be disrupted by pesticides on our foods, artificial sweeteners like sucralose, chronic stress, and polluted air.
The good news is, there's a lot you can do to support a healthy microbiome.
One of the easiest ways to support a healthier microbiome is to supplement with a high-quality probiotic.
The one I take daily is our BaumanMD Hair Probiotic Complex, aka The GOOD GUYS.
>> Go here to learn more and see what The GOOD GUYS can do for your hair health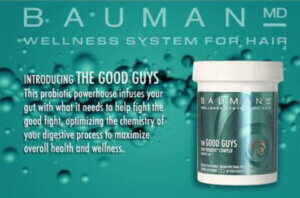 We call them The GOOD GUYS, because that's exactly what they are!
Every serving delivers 10 probiotic strains designed to give your gut microbiome what it needs to support healthy digestion, hormone balance, hair health, and overall wellness.
What makes The GOOD GUYS different from other probiotics?
First, we use a blend of ten different probiotic strains. Different strains provide different benefits like supporting improved digestion, stress relief, hair health, immunity, and so on.
By including ten different probiotic strains, you're getting a comprehensive hair and whole-body health solution in one easy-to-swallow capsule.
Second, we use research-identified strains. This is crucial. With a lot of probiotics, you don't know what strains are included — or if they're even effective.
But The GOOD GUYS Hair Probiotic Complex is different. We use research-identified strains.
Take our Lactobacillus acidophilus (DDS®-1), for example. This is one of the most well-studied probiotics strains for supporting healthy immunity, a key component of strong, healthy hair.
And we've included only research-identified strains. So you can feel confident in knowing this probiotic will deliver benefits.
Finally, every bottle of the GOOD GUYS contains a reliable, consistent number of Colony Forming Units, or CFUs.
That's important because the number of CFUs essentially determines the potency of a probiotic. The higher the CFU count, the more effective your gut, hair, and whole body health.
Many probiotics on the market don't have a reliable number of CFUs. But every bottle of The GOOD GUYS is guaranteed to contain at least 50 billion CFUs, ensuring you'll feel it working quickly.
BaumanMD GOOD GUYS Hair Probiotic Complex is one of the easiest ways I've seen to improve the health of your gut microbiome. And I'm honored to be able to offer it to all of our patients.
And like all Bauman MD supplements, The GOOD GUYS is backed by a 100% Satisfaction Guarantee.
So you can try it today at no risk.
Tap or click the link below to learn more about how this one-of-a-kind hair probiotic can help you:
>> Go here to learn more about GOOD GUYS Hair Probiotic Complex and try it for yourself.
Sincerely,
Alan J. Bauman, MD
Medical Director of Bauman Medical
Scientific References
1. Constantinou, Andria. Et al. "The Potential Relevance of the Microbiome to Hair Physiology and Regeneration: The Emerging Role of Metagenomics." Biomedicines 2021.
2. Bernard BA. Advances in Understanding Hair Growth. F1000Res. 2016;5:F1000 Faculty Rev-147. Published 2016 Feb 8. doi:10.12688/f1000research.7520.1
If you or someone you know has hair loss, hair thinning, baldness, or eyebrow / eyelash concerns, click to start either a long-distance virtual consultation OR an in-person, in-office consultation with Dr. Bauman. You can also Ask Dr. Bauman a Question or simply call Bauman Medical Group  at +1-561-394-0024.