This post comes from a recent Newsletter from Dr. Bauman that you can subscribe to here. 
Hi, it's Dr. Bauman.
If you want healthier, more beautiful hair and skin, collagen can help.
As you may know, collagen is the most abundant protein in your body and helps make up your tendons, joints, and skin.
In fact, collagen makes up a whopping 75 percent of your dermis, the middle layer of your skin.
Although your body produces collagen, you start making less of it as you get older. That's one reason why our skin begins sagging and showing wrinkles as we age.
Good news is, studies show that taking a collagen supplement can help improve skin health.
In one study, a group of older women supplemented with 3 to 10 grams of collagen daily for two months. At the end of this two month study period, the women who took collagen daily had noticeably smoother, plumper, younger-looking skin. (1)
Not only can collagen help your skin look more beautiful, it can improve the health and beauty of your hair, too.
Remember, collagen makes up 75 percent of your skin's dermis, the middle layer of your skin that contains the root of each individual hair.
We know that collagen supplements support the strength and elasticity of your dermis.
Because hair grows out of your dermis, collagen can help contribute to healthy roots and reduce hair loss and thinning.
When you consume collagen, your body breaks down this protein into amino acids, which are then used to create new proteins, like keratin.
Keratin is the main structural protein in hair fibers, and is also found in skin and nails.
Collagen can also help relieve joint pain.
A study of over 500 people with joint pain found that taking 10 grams of collagen daily for 6 months dramatically reduces joint stiffness and pain, while improving mobility at the same time. (2)
Finally, ongoing studies suggest collagen can both prevent bone loss while boosting muscle mass. (3, 4)
When you look at collagen's many health benefits, it's plain to see why everyone should consider adding it to their daily routine.
One way to get more collagen is to boil chicken, beef, or pork bones into broth.
Homemade bone broth is an excellent source of collagen. Problem is, it's time-consuming and messy to make.
A more convenient option is a high-quality collagen supplement added to your daily regimen.
Today, there are hundreds of collagen supplements on the market. But the one I use and recommend is Bauman Medical's The BUILDER.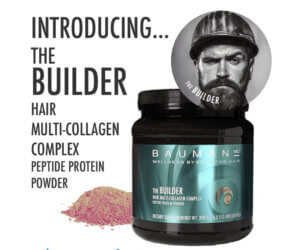 A single daily serving of The BUILDER fortifies your body with 12.5 grams of premium collagen.
And unlike many collagen supplements, The BUILDER contains not one but three different forms of collagen. This is important because different forms of collagen can support different aspects of your health.
The three forms of collagen in The BUILDER were chosen for their ability to support the overall health and beauty of your hair, skin elasticity, joint health, and bone health.
To take, simply mix a scoop of The BUILDER into eight ounces of water.
Or, you can add a scoop to your favorite smoothie, shake, tea, coffee, soup, or even yogurt!
It mixes well, is tasteless and odorless, and is perhaps the easiest way I know to get the collagen you need for healthier hair, skin, joints, and bones.
Plus, you can try The BUILDER today completely risk-free thanks to your 100% Satisfaction "No Hassle" Guarantee.
To get started, click here.
Sincerely,
Dr Alan Bauman, MD ABHRS, FISHHR
Diplomate, American Board of Hair Restoration Surgery
Fellow, International Society of Hair Restoration Surgery
(561) 394-0024 – Work
If you or someone you know has hair loss, hair thinning, baldness, or eyebrow / eyelash concerns, click to start either a long-distance virtual consultation OR an in-person, in-office consultation with Dr. Bauman. You can also Ask Dr. Bauman a Question or simply call Bauman Medical Group  at +1-561-394-0024.