Stem Cell-Derived Growth Factors + Cytokines for Hair Growth: AnteAGE-MD
by Alan J Bauman MD ABHRS
What are Growth Factors + Cytokines?
Growth Factors and Cytokines are the chemical messages and biosignals cells use in the body to communicate. For example, when your body's stem cells are orchestrating tissue regeneration and repair after an injury, they release growth factors and cytokines to tell other cells what to do and when to do it. Stem cells within the skin use hundreds of different growth factors to manage healing and to create nearly flawless regeneration naturally.
Research has also shown that these same growth factors are responsible for communication within the hair follicle, regulating the natural alternating phases of hair production and resting/degeneration, as each and every healthy hair follicle cycles on and off repeatedly over time. Stem cell therapy for hair regrowth typically involves the use of cells from the body and the chemical messages they release to affect hair follicle function.
How do Growth Factors and Cytokines affect hair growth?
The complicated cellular "language" of growth factors, cytokines, and other intracellular messages is an area of intense scientific research. Certain growth factors and cytokines act like a chemical "switch," telling the hair follicle to switch on and stay on, producing a longer, thicker, healthier hair. It is theorized that the positive benefits of treatments like PRP Platelet Rich Plasma and other types of stem cell therapy for hair growth can be traced to the actions of certain growth factors and cytokines at the cellular level. Research suggests that follicles which are weakened or disrupted by risk factors such as heredity, hormones, lifestyle, poor nutrition, stress, illness, medications, inflammation, poor scalp health, physical or chemical trauma, etc., certain growth factors and cytokines can help keep the follicle producing good quality hair.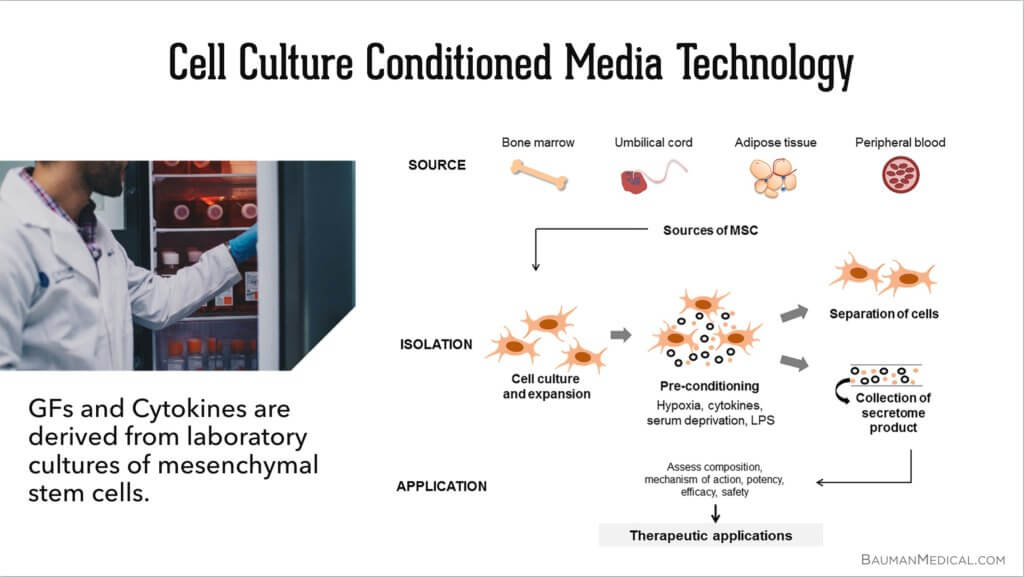 How can you receive the hair growth benefits of Stem Cell Therapy WITHOUT the cells?
New research on the ways stem cells communicate with their surroundings has focused on what the cells release into their environment to trigger tissue regeneration and repair. This cellular communication hinges upon tiny chemical signals called growth factors and cytokines which have a powerful effect on nearby cells and mini-organs like hair follicles. Understanding the "language" of growth factors and cytokines and their impact on the skin and the hair follicle is the product of many years of research from scientists and laboratories from around the globe and will likely continue for many years to come.  Today, patients can benefit from stem cell therapy without the invasiveness and risks of traditional stem cell therapy, which typically requires the surgical harvesting and processing of fat, bone marrow, etc., by utilizing AnteAGE MD growth factors and cytokines as a comfortable and quick in-office procedure or even in the comfort of their own home.

Where do AnteAGE MD Growth Factors + Cytokines Come From?
AnteAGE treatments for skin and hair are the result of decades of clinical research in stem cell biology, and specifically, the use of bone marrow-derived mesenchymal stem cells (MSCs) to enhance wound healing. In the laboratory, the scientists and researchers at AnteAGE utilize stem cells that have been ethically sourced from the bone marrow of young, healthy, pre-screened adult donors. These cells are meticulously cultured within a controlled environment that fosters the production of the specific biosignals that are known to positively affect hair follicle function and wound healing. Specialized techniques are used to influence bone marrow-derived mesenchymal stem cell cultures to produce conditioned media focused on hair growth–e.g., the Wnt-1a pathway–to which bioidentical growth factors and cytokines are added, each with proven efficacy in hair follicle stimulation. Stem Cell Conditioned Media (SCCM) is the liquid or gel used to support the growth of cells in a laboratory that contains growth factors, metabolites and extracellular matrix proteins secreted by the cultured cells.
AnteAGE stem cell growth factors and cytokines are carefully curated to contain the ideal ratio of beneficial growth factors and cytokines while avoiding those that may be pro-inflammatory or have detrimental effects. AnteAGE products are 100% cruelty, cell, paraben, and pathogen-free.
What does the research on Growth Factors + Cytokines tell us?
Research on stem cell-derived conditioned media has demonstrated a powerful effect on hair growth and hair follicle cycling. Clinical trials and other scientific studies have been ongoing to help understand what growth factors and cytokines are most beneficial for those suffering from hair loss, hair thinning and other conditions. Dr. Bauman is in the process of performing a clinical trial pilot study on AnteAGE Stem Cell-Derived Growth Factor + Cytokine treatments and has presented this scientific information at multiple medical conferences and has demonstrated the use of AnteAGE-MD Stem Cell-Derived Growth Factor + Cytokine treatment for hair regrowth recently at South Beach Symposium for Aesthetic Dermatology.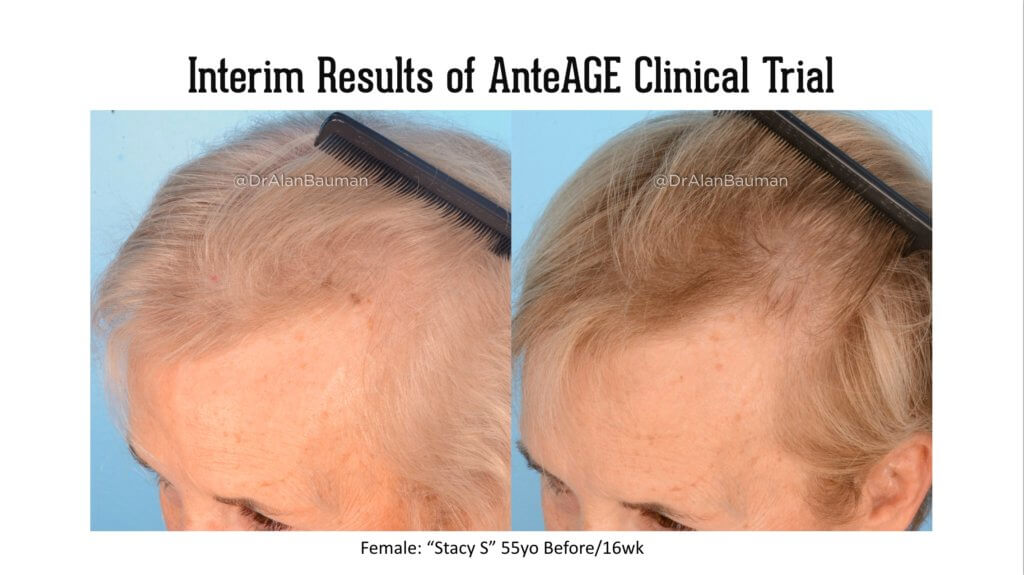 How do we use AnteAGE MD Stem Cell-Derived Growth Factors + Cytokines for hair growth at Bauman Medical?
At Bauman Medical we use AnteAGE growth factors and cytokines in these three ways:
As a stand-alone in-office treatment regimen in combination with microneedling.
In combination with Dr. Bauman's in-office lunchtime PRP/PDOgro™ hair growth treatments and,
As an at-home system.
To find out if you are a candidate for AnteAGE-MD Growth Factor + Cytokine treatments, please schedule a consultation with hair restoration physician, Dr. Alan J Bauman, MD, ABHRS.
If you or someone you know has hair loss, hair thinning, baldness, or eyebrow / eyelash concerns, click to start either a long-distance virtual consultation OR an in-person, in-office consultation with Dr. Bauman. You can also Ask Dr. Bauman a Question or simply call Bauman Medical Group  at +1-561-394-0024.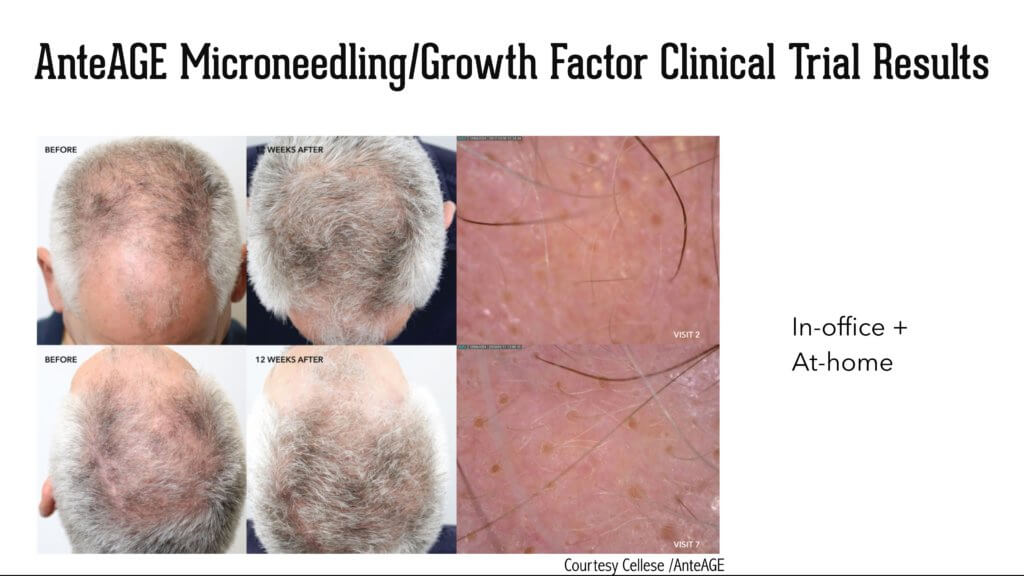 REFERENCES
Stenn KS, Paus R. Controls of hair follicle cycling. Physiol Rev. 2001;81(1):449–494. doi:10.1152/physrev.2001.81.1.449
Zhang H, Nan W, Wang S, Si H, Li G. Balance between fibroblast growth factor 10 and secreted frizzled-related protein-1 controls the development of hair follicle by competitively regulating β-catenin signaling. Biomed Pharmacother. 2018;103:1531–1537. doi:10.1016/j.biopha.2018.04.149
Clevers H, Loh KM, Nusse R. Stem cell signaling. An integral program for tissue renewal and regeneration: Wnt signaling and stem cell control. Science. 2014;346(6205):1248012. doi:10.1126/science.1248012
Wu P, Zhang Y, Xing Y, et al. The balance of Bmp6 and Wnt10b regulates the telogen-anagen transition of hair follicles [published correction appears in Cell Commun Signal. 2020 Jan 7;18(1):4]. Cell Commun Signal. 2019;17(1):16. Published 2019 Feb 21. doi:10.1186/s12964-019-0330-x
Won CH, Park GH, Wu X, et al. The Basic Mechanism of Hair Growth Stimulation by Adipose-derived Stem Cells and Their Secretory Factors. Curr Stem Cell Res Ther. 2017;12(7):535–543. doi:10.2174/1574888X12666170829161058
Fukuoka H, Narita K, Suga H. Hair Regeneration Therapy: Application of Adipose-Derived Stem Cells. Curr Stem Cell Res Ther. 2017;12(7):531–534. doi:10.2174/1574888X12666170522114307
Liu Y, Wang H, Wang J. Exosomes as a novel pathway for regulating development and diseases of the skin. Biomed Rep. 2018;8(3):207–214. doi:10.3892/br.2018.1054
Shin H, Won CH, Chung WK, Park BS. Up-to-date Clinical Trials of Hair Regeneration Using Conditioned Media of Adipose-Derived Stem Cells in Male and Female Pattern Hair Loss. Curr Stem Cell Res Ther. 2017;12(7):524–530. doi:10.2174/1574888X12666170504120244
Park BS, Kim WS, Choi JS, et al. Hair growth stimulated by conditioned medium of adipose-derived stem cells is enhanced by hypoxia: evidence of increased growth factor secretion. Biomed Res. 2010;31(1):27–34. doi:10.2220/biomedres.31.27
Shin H, Ryu HH, Kwon O, Park BS, Jo SJ. Clinical use of conditioned media of adipose tissue-derived stem cells in female pattern hair loss: a retrospective case series study. Int J Dermatol. 2015;54(6):730–735. doi:10.1111/ijd.12650
Ramdasi S, Tiwari SK. Human Mesenchymal Stem Cell-Derived Conditioned Media for Hair Regeneration Applications. J Stem Cells. 2016;11(4):201–211.
Sabapathy V, Sundaram B, V M S, Mankuzhy P, Kumar S. Human Wharton's Jelly Mesenchymal Stem Cells plasticity augments scar-free skin wound healing with hair growth. PLoS One. 2014;9(4):e93726. Published 2014 Apr 15. doi:10.1371/journal.pone.0093726
Won CH, Park GH, Wu X, et al. The Basic Mechanism of Hair Growth Stimulation by Adipose-derived Stem Cells and Their Secretory Factors. Curr Stem Cell Res Ther. 2017;12(7):535–543. doi:10.2174/1574888X12666170829161058
Xia Y, You XE, Chen H, Yan YJ, He YC, Ding SZ. Epidermal growth factor promotes mesenchymal stem cell-mediated wound healing and hair follicle regeneration. Int J Clin Exp Pathol. 2017;10(7):7390–7400. Published 2017 Jul 1.
Phinney DG, Pittenger MF. Concise Review: MSC-Derived Exosomes for Cell-Free Therapy [published correction appears in Stem Cells. 2017 Sep;35(9):2103]. Stem Cells. 2017;35(4):851–858. doi:10.1002/stem.2575
Clinical Trial Results of Growth Factor Microneedling Hair Growth Treatment, Cellese Regenerative Therapeutics, 2018. https://anteage-website-resources.s3.us-east-2.amazonaws.com/ Whitepapers/AnteAGE+%7C+Hair+Regrowth+-+Whitepaper.pdf