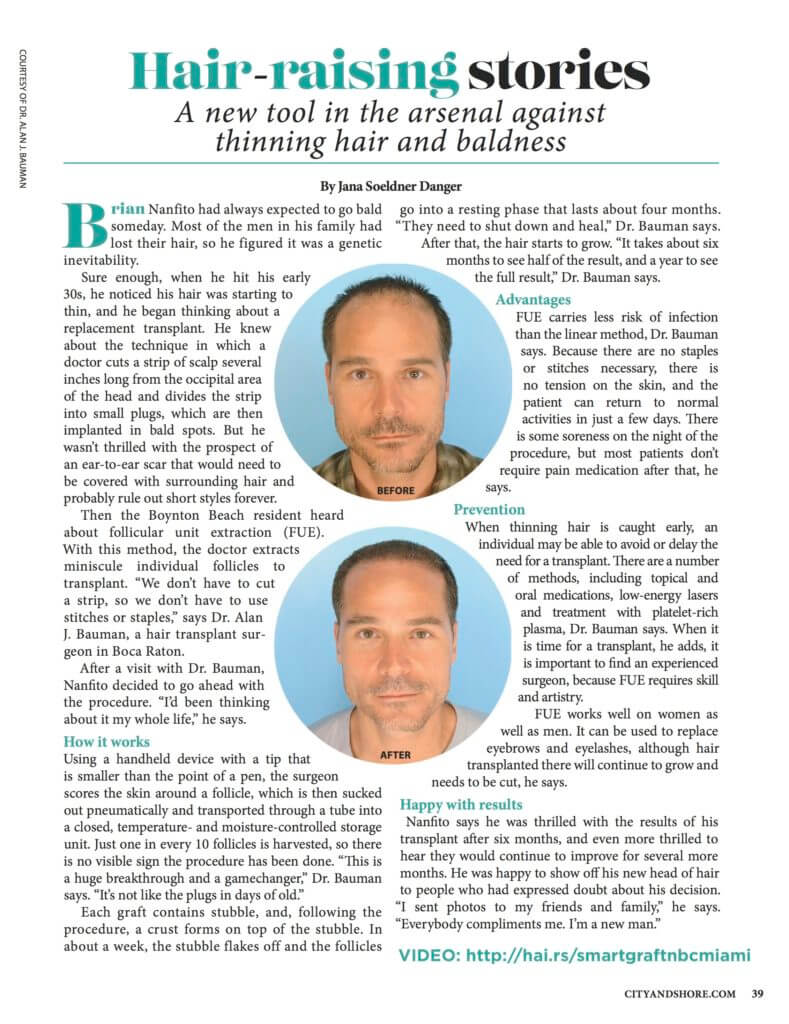 Hair-raising stories: 
SmartGraft! 
A new tool in the arsenal against thinning hair and baldness
[SmartGraft FUE with Dr. Alan Bauman, MD, ABHRS, FISHRS, IAHRS]
by Jana Soeldner Danger
July 8th, 2018 Sun-Sentinel, City & Shore, PRIME
Brian Nanfito had always expected to go bald someday. Most of the men in his family had lost their hair, so he figured it was a genetic inevitability.
Sure enough, when he hit his early 30s, he noticed his hair was starting to thin, and he began thinking about a replacement transplant. He knew about the technique in which a doctor cuts a strip of scalp several inches long from the occipital area of the head and divides the strip
into small plugs, which are then implanted in bald spots. But he wasn't thrilled with the prospect of an ear-to-ear scar that would need to be covered with surrounding hair and probably rule out short styles forever.
Then the Boynton Beach resident heard about follicular unit extraction (FUE).  With this method, the doctor extracts minuscule individual follicles to transplant. "We don't have to cut a strip, so we don't have to use stitches or staples," says Dr. Alan J. Bauman, a hair transplant surgeon in Boca Raton. After a visit with Dr. Bauman, Nanfito decided to go ahead with the procedure. "I'd been thinking about it my whole life," he says.
How SmartGraft works
Using a handheld device with a tip that is smaller than the point of a pen, the surgeon scores the skin around a follicle, which is then sucked out pneumatically and transported through a tube into a closed, temperature- and moisture-controlled storage unit. Just one in every 10 follicles is harvested, so there is no visible sign the procedure has been done. "This is a huge breakthrough and a game-changer," Dr. Bauman says. "It's not like the plugs in days of old."
Each graft contains stubble, and, following the procedure, a crust forms on top of the stubble. In about a week, the stubble flakes off and the follicles go into a resting phase that lasts about four months. "They need to shut down and heal," Dr. Bauman says. After that, the hair starts to grow. "It takes about six months to see half of the result, and a year to see the full result," Dr. Bauman says.
SmartGraft Advantages
FUE carries less risk of infection than the linear method, Dr. Bauman says. Because there are no staples or stitches necessary, there is no tension on the skin, and the patient can return to normal activities in just a few days. There is some soreness on the night of the procedure, but most patients don't require pain medication after that, he says.
Prevention
When thinning hair is caught early, an individual may be able to avoid or delay the need for a transplant. There are a number of methods, including topical and oral medications, low-energy lasers and treatment with platelet-rich plasma, Dr. Bauman says. When it is time for a transplant, he adds, it is important to find an experienced surgeon, because FUE requires skill and artistry. FUE works well on women as well as men. It can be used to replace eyebrows and eyelashes, although hair transplanted there will continue to grow and needs to be cut, he says.
Happy with SmartGraft results
Nanfito to says he was thrilled with the results of his transplant a er six months, and even more thrilled to hear they would continue to improve for several more months. He was happy to show off his new head of hair to people who had expressed doubt about his decision.
"I sent photos to my friends and family," he says. "Everybody compliments me. I'm a new man."
Watch a video about Brian's SmartGraft FUE hair transplant procedure with Dr. Alan Bauman at https://hai.rs/smartgraftnbcmiami
If you or someone you know has hair loss, hair thinning, baldness, or eyebrow / eyelash concerns, click to start either a long-distance virtual consultation OR an in-person, in-office consultation with Dr. Bauman. You can also Ask Dr. Bauman a Question or simply call Bauman Medical Group  at +1-561-394-0024.