Watch the INTACT Hair Shedding Challenge VIDEO by Dr. Bauman:
What is INTACT Hair Shedding Treatment?
INTACT is a topical treatment that helps anchor your hair more firmly in your scalp. How does it do this, you ask? INTACT contains an ingredient that activates the arrector pili muscles (yes, the same muscles that give you goosebumps) attached to each hair follicle, dramatically increasing the force required to remove the hair from the scalp. Doctor developed and clinically tested, INTACT is a breakthrough technology and is the first over the counter treatment that has been proven to decrease shedding and hair fall. Dr. Bauman and Bauman Medical are proud to be the first medical clinic in the world to offer this anti-shedding treatment to its patients!
How does INTACT help with Traction Alopecia?
Hair that's under tension or "traction" due to pulling like tight ponytails, up 'dos or braids can harm the hair follicle below the skin causing hair loss. Repeated pulling, braiding or weaving can strain the follicle over time resulting in weaker and weaker hair fiber production called traction alopecia. Hair loss due to traction alopecia can be permanent, so protecting your hair from thinning due to excessive tension (pulling, yanking, tugging, etc.) is important. The use of hair extensions, hair jewelry, cornrows, dreadlocks/locs are all common causes of traction alopecia.
How does INTACT help with Shedding During Styling?
Because INTACT helps anchor hair more firmly to the scalp and stop excessive hair loss during washing, brushing, blowouts, etc., you can use INTACT to minimize the fallout from hair follicles and literally keep more hair in your head and out of your brush.
Do you "freak out" when you see hair fall in your shower?
Not taking proper care of your scalp can put your hair follicles at risk due to inflammation. If you avoid washing your hair and taking good care of your scalp because you are worried about shedding and hair fall, try INTACT treatment 10 minutes before you shower to see less hair in the drain. NOTE: Dr. Bauman recommends a complete medical hair loss evaluation to determine the underlying causes of the hair shedding problem and if additional treatment(s) are indicated.
How quickly does INTACT work and how long does it last?
INTACT works within 10 minutes and lasts for hours. Keep in mind that while INTACT helps keep your hair anchored to your scalp more firmly, there may be many reasons for hair fall that require additional treatment(s), so a consultation with a certified, credentialed expert like Dr. Alan Bauman is recommended.
What is the INTACT Hair Shedding Challenge?
The INTACT Hair Shedding Challenge (video above) was performed by top hair restoration surgeon, Dr. Alan Bauman, MD, ABHRS, to determine how powerful the INTACT anti-shedding treatment could be for his patients. First, our subject Melissa combed out her non-treated side and collected all the long, shed hair. Then, she applied the INTACT treatment to the other side of the scalp and waited 10 minutes. Then, she combed out the INTACT-treated side and collected the hair. The comparison of the two sides showed that 26 long strands were collected on the non-treated side compared to only 5 long strands collected on the INTACT-treated side! AMAZING!
INTACT HAIR SHEDDING CHALLENGE:
Step 1: Comb/Brush Out the Non-Treated Side (Right Side).
Step 2: Apply INTACT to Left Side, Wait 10 minutes.
Step 3: Comb/Brush Out the INTACT-treated Side.
Step 4: COMPARE!!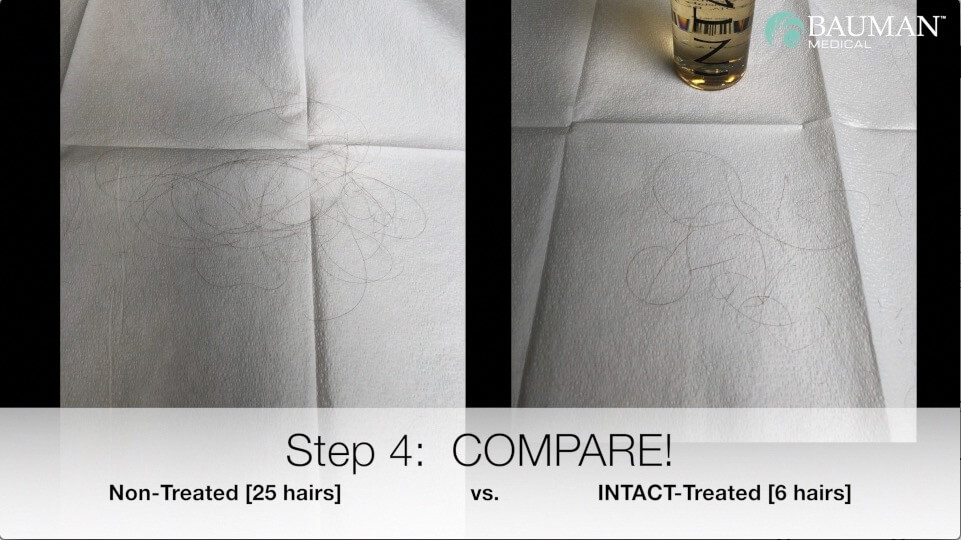 Will INTACT Work for Me?
INTACT works the very first time you use it.  INTACT Hair Shedding Treatment / Root Securing Complex is available as a treatment at Bauman Medical and is also available for purchase for at-home use in two sizes (4 Fl Oz Full Size and 2 Fl Oz Travel Size) at Bauman Medical in-person or online eStore or by calling 1-561-394-0024.
Where can I buy INTACT?
References:
Goren A, et. al.,

α

1 -AR agonist-induced piloerection protects against the development of traction alopecia. Dermatol Ther. 2016 May;29(3):160-3. doi: 10.1111/dth.12324. Epub 2015 Dec 17. 
If you or someone you know has hair loss, hair thinning, baldness, or eyebrow / eyelash concerns, click to start either a long-distance virtual consultation OR an in-person, in-office consultation with Dr. Bauman. You can also Ask Dr. Bauman a Question or simply call Bauman Medical Group  at +1-561-394-0024.