Dr. Alan Bauman's ORIGINAL…
HAIR RESTORATION VACATION

As featured on CNN, in USA TODAY and Florida Trend Magazine.
Relax and be pampered after your state-of-the-art hair restoration procedure in beautiful South Florida. World-renowned luxury accommodations and amenities await you here in Palm Beach, Florida. Whether you enjoy golf, tennis, relaxing spas or even world-class shopping, take advantage of our year-round tropical climate during your hair transplant or PRP Hair Growth treatment visit to Bauman Medical Group in Boca Raton.
For the convenience of our out-of-town patients, we have assembled a variety of travel and accommodations packages that can fit any style, time-frame and budget.
Hotel, Spa and Golf/Tennis Packages can include:
Boca Raton Resort and Club
The Ritz-Carlton
The Breakers, Palm Beach…and others
All packages can include:
Limo Transportation
Air travel (commercial or private jet)
Concierge Services
For more information, please complete our
online confidential questionnaire
or
call (561) 394-0024
toll free 1-877-BAUMAN-9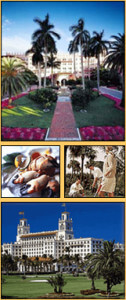 Dr. Alan Bauman helps patients worldwide in restoring their own living and growing hair–with nearly 50% of all of his patients coming in from out of town for evaluations, treatments and procedures.
What to Expect During a Hair Restoration Vacation:
A growing number of men and women are taking advantage of the many tools and treatments available to treat hair loss – and some are even making a Florida vacation out of it.
With a 'hair restoration vacation,' you are not only giving yourself a boost by restoring your own living and growing hair, but also treating yourself to a little pampering and relaxation. The idea might seem strange at first, but combining your hair transplant or PRP hair growth procedure with a relaxing vacation may be just what the doctor ordered.
Getting Started: Consultations and Preparations
The first step in the process is a preliminary evaluation of your hair loss status and a discussion about factors that are affecting your hair loss, which can be done easily in the office, or via phone or Skype. During the consultation, your goals and expectations regarding hair transplantation will be discussed and whether you are a candidate for a hair transplant procedure. Next, a personalized treatment plan is created that will give you the best chance at achieving optimal results. Details regarding the size and number of recommended hair transplant sessions as well as effective preventative treatment options will be provided.
For those patients interested in upgrading their hair transplant into a 'hair restoration vacation,' they are able to choose from a variety of pre-assembled or custom packages, which include various travel and accommodation options that can fit any individual style, time-frame and budget. Patients and their families are able to enjoy luxury accommodations and amenities while receiving state-of-the-art hair restoration procedures, and then able to return home completely healed and refreshed.
Choosing the Right Procedure
With today's advanced surgical techniques, hair transplants involve minimal recovery and offer undetectable, natural-looking results. FUE or "Follicular Unit Extraction" is the least invasive type of hair transplant. The less-invasive FUE method is appealing to patients looking for an alternative to the "strip" or "linear" harvest transplants, and the hairstyle-limiting telltale scarring they leave behind. Artistic use of the harvested follicles by an experienced surgeon delivers a restoration of your own living and growing hair that's never pluggy or unnatural.
The two most advanced techniques that may be used for hair follicle harvesting and transplantation are:
NeoGraft FUE: The FDA-approved NeoGraft FUE device is a tool used to extract individual follicular units and hair follicles from the donor area located at the back of the patient's scalp – which are then implanted into the bald areas. This means no scalpels, sutures, or staples for the patient in the donor area. It also replaces the older "strip harvest" method of hair transplantation, which removes a large strip from the back of the patient's scalp, resulting in a long linear scar.
ARTAS Robotic-Assisted FUE System: The FDA-cleared ARTAS robot is a state-of-the-art medical device that assists in hair transplant surgery by helping to safely and effectively extract intact hair follicles for transplantation using the FUE technique. The robot's sophisticated micron-level precision allows patients to benefit from an unprecedented level of safety, accuracy, efficiency and comfort during their hair transplant procedure. The innovative ARTAS robotic FUE system uses advanced digital imagery to "see," map and analyze the hair in natural groupings on the scalp for harvesting. The system features stereovision sensors to detect and analyze follicular units—calculating density, exit-angles, orientation and location and proceed with precision robotic harvesting based on algorithms programmed by the surgeon.
Choosing the Right Surgeon and Surgical Team
While certainly exciting, new technology like NeoGraft or ARTAS robotic-assisted FUE is only one "piece of the puzzle." The critical-to-quality step in hair transplantation is the artistic ability of the surgeon to recreate the natural angles, orientation and position of each individually transplanted hair. Errors in planning and artistic judgment can derail the best intentions of a surgeon through inefficient or wasteful use of the harvested follicles or, even worse, an unnatural looking result.
Recovery and Risks
One of the biggest benefits of FUE transplants is the shortened recovery period. Hair transplants are an outpatient procedure, and patients are able to return home as early as the next day. Because there is no major incision and no stitches or staples used, the recovery phase is quicker and more comfortable—allowing for workouts and most athletic activities to resume after just several days.
Despite the advances in comfort and safety, patients should be advised that as with any surgical procedure, hair transplants do come with risks, including complications like infections, scarring, poor density and unnatural looking results. The risks are greatly magnified when an unqualified doctor or inexperienced teams perform the transplant. Patients should always look for full-time hair transplant surgeons who are ABHRS-certified in hair restoration, recommended by the American www.baumanmedical.com/schedule-consultation or call 1-877-BAUMAN-9 or 561-394-0024
Hair Transplant Vacation in South Florida
Boca Raton – known to locals by its first name "Boca," has the best of what South Florida has to offer. Beaches, boating and golf courses, premier hotels & resorts like the world-famous Boca Raton Resort and Club, fine restaurants and art museums, jazz clubs and concerts at Mizner Park, glittery Town Center at Boca Raton shopping with over 200 upscale and elite specialty shops and countless family-owned boutiques around town. Located in the county of Palm Beach and in the heart of Florida's Atlantic Ocean Coast, Boca Raton is a destination location for international travelers from across the globe. There are over 17 airports within a 50 mile radius of Boca Raton.
Ft Lauderdale-Hollywood International Airport ~20mi
Palm Beach International Airport ~23mi
Miami International Airport ~47mi
Boca Raton Airport ~ 4mi [private and charter jets only]
"The idea was the brainchild of Boca hair doc, Alan J. Bauman M.D." –CNN 2002
"It's like a pit-stop to give you a 'spike of youth…' new oil, new gas, new hair, there you are!" –Dr. R. Fischer, hair restoration vacation patient from the UK
"A hair transplant procedure is 90% art. You need the right tools, but you also need an aesthetic eye." — Dr. Alan J. Bauman, MD, hair transplant surgeon & creator of the original Hair Restoration Vacation, as seen on CNN
If you or someone you know has hair loss, hair thinning, baldness, or eyebrow / eyelash concerns, click to start either a long-distance virtual consultation OR an in-person, in-office consultation with Dr. Bauman. You can also Ask Dr. Bauman a Question or simply call Bauman Medical Group  at +1-561-394-0024.