This post comes from a recent Newsletter from Dr. Bauman that you can subscribe to here. 
Hello, it's Dr. Bauman.
When it comes to having beautiful hair, a lot of people overlook scalp health.
But just as plants need rich soil to grow to their full potential…
Your hair will look and feel its best when your scalp is healthy. In fact, a healthy scalp is the necessary foundation for a full, thick head of hair.
Likewise, poor scalp health can cause your hair to be rough, dull, and brittle. What's more, research supports the fact that poor scalp health may also contribute to hair loss.(1)
Some of the more common symptoms of poor scalp include:
Dandruff or Flakes
Itchiness or Irritation
Dull hair
Hair breakage
Most men and women overlook these symptoms. Or, they reach for a bottle of anti-dandruff shampoo and call it a day.
But there's so much more you can do to promote a healthy scalp and thicker, healthier hair.
And that's why we created the salonB Trichology Lab.
Located inside Bauman Medical, salonB Trichology Lab is a therapeutic "spa experience" for your scalp and hair.
A relaxing visit to salonB gives you a science-based Trichology (scalp health) program designed to optimize the health of your scalp and improve the beauty of your hair.
If you experience dandruff, itchiness, flakiness, oiliness, irritation and other symptoms of poor scalp health, a visit to salonB can help.
But it's also for you if you don't have these symptoms.
Because improving your scalp health before you notice problems is how you can set yourself up for beautiful hair now and in the months and years ahead.
Another reason to book an appointment at salonB Trichology Lab:
You'll be treated to one of the most relaxing, refreshing experiences of your life.
To see why, please watch the video below.
In this video, Kimberly Jenkins, WTS, our Certified Trichologist and HairCoach, shows you what you can look forward to from a therapeutic scalp treatment or Scientific ScalpMakeover™.
Click here to watch the video: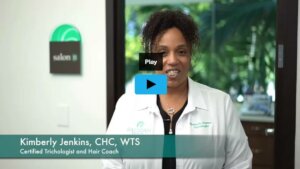 As you can see, this is a true "spa-aaah" experience for you, your scalp and hair!
And if you want to relax and unwind, while helping your scalp and hair at the same time, I invite you to book your "do-good, feel-good" appointment at salonB Trichology Lab today.
Please keep in mind:
Because this is a high-end, one-on-one service, spaces at salonB are limited. And they fill up quickly (often days or weeks in advance.)
To check our current openings and to book your appointment, I invite you to call us now at (561) 394-0024.
To Your Hair's (and scalp's) Health,
Alan J. Bauman, MD
Medical Director of Bauman Medical
P.S. Some of the most common questions I hear from patients during their hair loss consultation are "What kind of shampoo should I use?" and "How often should I shampoo my hair?" The short answer is that there's no one-size-fits-all approach, every scalp is different. But, the good news is that a visit to salonB Trichology Lab can help determine the right products and scalp hygiene habits for you. So, if you have these burning questions (or a burning scalp!) schedule your appointment with Kimberly today!
1. Polak-Witka, K, Rudnicka, L, Blume-Peytavi, U, Vogt, A. The role of the microbiome in scalp hair follicle biology and disease. Exp Dermatol. 2020; 29: 286– 294. https:// doi. org/10.1111/exd.13935
If you or someone you know has hair loss, hair thinning, baldness, or eyebrow / eyelash concerns, click to start either a long-distance virtual consultation OR an in-person, in-office consultation with Dr. Bauman. You can also Ask Dr. Bauman a Question or simply call Bauman Medical Group  at +1-561-394-0024.