What Can DNA Analysis Using TrichoTest Reveal About Your Hair Loss and Treatments?
Genetic DNA testing is a critical component of a new healthcare paradigm called Personalized Precision Medicine, which considers that each of us may respond differently to treatments based on our unique DNA and other factors. New research in the science of Pharmacogenomics or Pharmacogenetics uses genetic testing to help physicians prescribe medications specifically tailored to individual genetic variations found across patients. Genetic testing in hair loss helps patients identify effective treatments before starting on a path of "trial and error." This approach can help save time, money, frustration… and hair follicles!
When it comes to hair loss, one of the most exciting advances in DNA testing is a new tool called TrichoTest™.   Current patients of Bauman Medical can order their TrichoTest here from the Bauman e-store.
TrichoTest Featured on WPLG Miami Local10 News
What is TrichoTest™?
TrichoTest™ is a breakthrough genetic test that looks at three variations of 16 different SNPs (Single Nucleotide Polymorphisms, aka genetic variants), which can help predict what kind of therapies and treatments might work best for your hair loss.
For example, have you ever tried over-the-counter Rogaine or Minoxidil in the past and didn't see good results? TrichoTest might give us the answer as to why. It also may help guide us to a better alternative for you. Would a compounded off-label treatment work better than what you're currently using? TrichoTest metabolic pathway analysis can give us some clues.
Watch this short video where Dr. Alan J. Bauman explains how TrichoTest™ works and why it can help save you time, money, frustration, and follicles!
One of the questions hair loss patients ask most is: "Will this hair regrowth treatment work for me?"
TrichoTest™ can help answer that question.
And because TrichoTest™ is fast, easy, and 100% non-invasive, it's one of the best tools available to help you get the results you deserve as quickly as possible. Answer a few questions, perform a quick cheek swab, and we'll send it off to the lab; that's it!
If you'd like to explore how we can use TrichoTest™ to help develop a personalized precision treatment plan for you, contact us to learn more. Existing patients of Bauman Medical can order their TrichoTest directly from the Bauman e-store.
What is TrichoTest DNA Testing for Hair Loss and Alopecia?
Watch this brief video below on "What is TrichoTest" and how it works to reveal what treatments might work best for your hair loss situation.
What Hair Loss and Treatment Pathways Does TrichoTest™ Evaluate?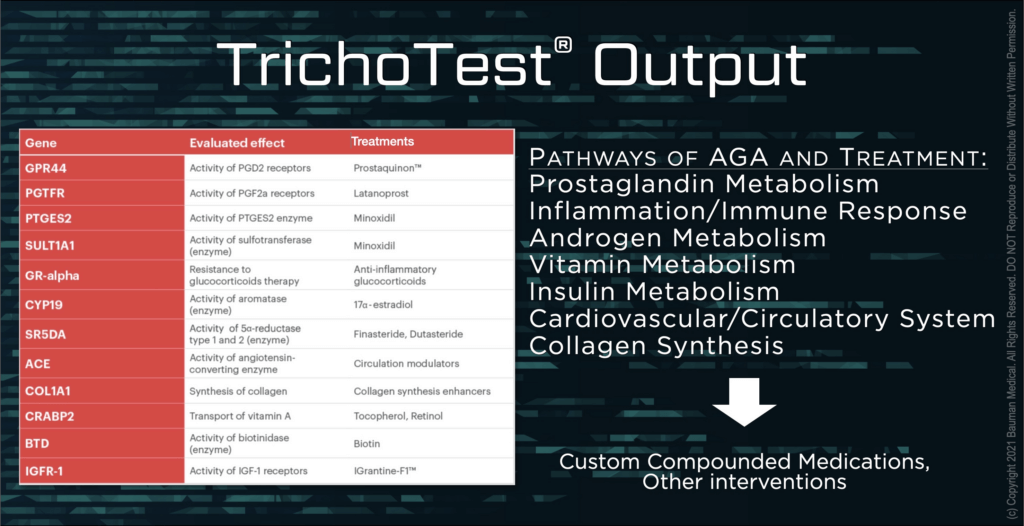 TrichoTest™ examines genetic variants related to the metabolic pathways of Androgenetic Alopecia, hair loss, hair growth, as well as various FDA-approved and off-label treatments. The "output" includes information on sulfotransferase activity, 5-alpha-reductase type 1 and type 2 activity, prostaglandin receptors, cardiovascular/blood circulation, collagen synthesis, biotin metabolism, and more. Interpreting your results from TrichoTest genetic hair loss testing and taking appropriate action requires consulting with a physician with knowledge and experience in Pharmacogenomics and Hair Loss, such as Dr. Alan J. Bauman, MD, ABHRS.  Dr. Bauman was one of the first physicians in North America to routinely recommend, perform, and interpret TrichoTest for his patients.
If you or someone you know has hair loss, hair thinning, baldness, or eyebrow / eyelash concerns, click to start either a long-distance virtual consultation OR an in-person, in-office consultation with Dr. Bauman. You can also Ask Dr. Bauman a Question or simply call Bauman Medical Group  at +1-561-394-0024.
#personalizedprecisionmedicine #hairloss #genetictesting #pharmacogenomics #pharmacogenetics #DNAtesting