This post comes from a recent Newsletter from Dr. Bauman that you can subscribe to here. 
Hello, Dr. Bauman here.
This past weekend was the official start of the NFL 2022 regular season.
Maybe you spent the weekend cheering on your favorite team; maybe not.
Either way, the kickoff of the football season got me thinking about something you can do to get better hair.
To explain, let's quickly talk about some of the greatest quarterback-receiver duos of all time.
When it comes to scoring touchdowns, an elite quarterback-receiver duo is essential. I'm talking about guys like Steve Young and Jerry Rice. Tom Brady and Rob Gronkowski. Patrick Mahomes and Travis Kelce.
Those quarterbacks and receivers paired perfectly.
Likewise, when it comes to growing healthier hair, certain nutrients — and supplements — go better together.
For example, our Bauman Medical A-LIST Hair Vitamin Complex and THE BUILDER Multi-Collagen Complex.
>> Go here to see how THE A-LIST and THE BUILDER can work together to improve the look, feel, and health of your scalp and hair (click for more)
Taken together, THE A-LIST and THE BUILDER are designed to support your scalp and hair health in uniquely powerful ways. Let me explain.
You know that your hair follicles, which produce your individual strands of hair, are rooted in your scalp. An important part of your scalp is your dermis, the middle layer of your skin.
Your dermis contains the root of each individual hair. And a whopping 75 percent of your dermis is made from the protein collagen.
Your body makes less collagen as you get older which is why supplementing is important.
Every serving of THE BUILDER (which mixes easily into any drink) fuels your body with 12.5 grams of collagen for a healthier scalp.
We know that collagen, like the 12.5 grams you get from THE BUILDER, supports the strength and elasticity of your dermis. (1)
Because hair grows out of your dermis, collagen can help contribute to healthy roots and reduce hair loss and thinning.
And that's where THE A-LIST takes the field.
While THE BUILDER is busy providing the collagen you need for a healthy scalp, THE A-LIST — our doctor-formulated hair vitamin complex — is giving your body the nutrients it needs to grow longer, stronger hair.
One of those nutrients is biotin, also known as vitamin B7.
Biotin is vital for thicker, healthier hair because it helps your body produce a protein called keratin. (2)
In a sense, keratin is the raw material your body uses to make hair. In fact, your hair is more than 90% keratin!
When your keratin is healthy, your hair is healthy, shiny, and strong too.
But when your keratin is compromised, it can lead to hair that's weak, frail, and falling out.
And like collagen, your body makes less keratin as you age. On top of that, things like stress, nutrition, and environmental factors can also compromise your keratin.
But supplementing with biotin can ensure your body is making the keratin you need for strong, healthy hair.
Every serving of THE A-LIST gives you 1,000 mcg of a premium for of biotin that's easy for your body to absorb.
In addition to biotin, THE A-LIST also includes:
N-acetylcysteine (NAC) — An amino acid that studies show can help promote hair growth.
Pantothenic Acid — This vitamin plays a role in maintaining both the health and color of your hair.
Zinc, Copper, and Manganese — Trace minerals that support healthy collagen formation and better wound healing.
Olive Fruit Extract — To help fight free radicals that can trigger inflammation and hair loss.
Plus 15 additional hair healthy nutrients!
>> Go here to see how THE A-LIST and THE BUILDER can work together to improve the look, feel, and health of your scalp and hair (click for more)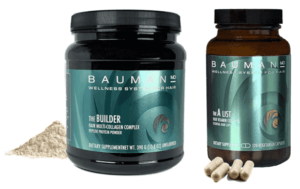 Learm More about the BaumanMD Brick & Mortar Duo
If you're looking for a great "set it and forget it" solution for better hair, give the duo of THE A-LIST and THE BUILDER a try.
With THE BUILDER, you'll be giving your body the collagen it needs to promote scalp health — the essential foundation for a healthy head of hair.
And every serving of THE A-LIST floods your body with targeted nutrients formulated to help your hair grow thicker, faster.
What's more, your order is backed by our 100% Satisfaction "No Hassle" Guarantee. So you can order now with complete confidence.
We'll even cover the shipping & handling for you on orders anywhere in the continental US.
Ready to get started?
To claim your supply of THE A-LIST and THE BUILDER now, tap or click the button below:
Sincerely,
Dr. Alan Bauman, MD, ABHRS, FISHRS
Diplomate, American Board of Hair Restoration Surgery
Fellow, International Society of Hair Restoration Surgery
intouch@baumanmedical.com
(561) 394-0024 – Work
Scientific References
1. Bolke L, Schlippe G, Gerß J, Voss W. A Collagen Supplement Improves Skin Hydration, Elasticity, Roughness, and Density: Results of a Randomized, Placebo-Controlled, Blind Study. Nutrients. 2019 Oct 17;11(10):2494.
2. Patel DP, et al. "A Review of the Use of Biotin for Hair Loss." Skin Appendage Disord. 2017 Aug;3(3):166-169.
If you or someone you know has hair loss, hair thinning, baldness, or eyebrow / eyelash concerns, click to start either a long-distance virtual consultation OR an in-person, in-office consultation with Dr. Bauman. You can also Ask Dr. Bauman a Question or simply call Bauman Medical Group  at +1-561-394-0024.