This post comes from a recent Newsletter from Dr. Bauman that you can subscribe to here. 
Hello, Dr. Bauman here.
As summer winds down, Major League Baseball amps up.
Now maybe you're not a big baseball fan. Or maybe you are. Either way, I think you'll agree: Major League Baseball — and especially postseason baseball — is full of heroes.
Take Chris Taylor of the LA Dodgers, for example.
Last year, Chris Taylor kept the Dodgers postseason hopes alive by smashing three home runs.
In Major League Baseball's 147 year history, three-home run games in the postseason are as rare as unicorns: they've only happened 12 other times.
When it comes to postseason baseball, Chris Taylor's 2021 postseason performance was heroic.
And when it comes to your hair, there's a "hero nutrient" that can help make thin, brittle hair thicker, stronger, and shinier.
In fact, a meta review of 18 different randomized clinical trials found that patients with poor hair health who supplemented with this hero nutrient showed significant clinical improvement.
What's more, this nutrient worked for 100% of the patients who took it as a supplement. (1) If you go back to our earlier baseball analogy, you could say this nutrient bats one thousand!
So what is this "hero nutrient" that helps make brittle, thinning hair noticeably thicker and healthier?
It's Biotin, also known as vitamin B7.
Biotin is vital for thicker, healthier hair because it helps your body produce keratin.
Keratin is a protein that acts like the building blocks of your hair, as well as your skin and nails. In fact, your hair is more than 90% keratin!
As you can imagine, when your keratin is healthy, your hair is healthy, shiny, and strong too.
But when your keratin is compromised, it can lead to hair that's weak, frail, and falling out.
Unfortunately, you make less keratin as you age. And things like stress, nutrition, and environmental factors can also compromise your keratin.
But here's good news:
Studies show biotin helps improve hair health and growth in people with thinning hair, in part, by improving their keratin infrastructure. (1)
Some of the top biotin-rich foods are eggs (specifically the yolks), peas, beans, and lentils, as well as sunflower seeds, sweet potatoes, and broccoli.
You can also consider taking a biotin supplement.
There's a dizzying number of Biotin supplements available today. But the one I take and recommend to patients is Bauman Medical's "The HERO" (formerly SuperBiotin).
>> Go here to learn more and to claim your own supply of The HERO, our premium biotin supplement.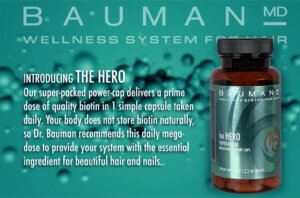 One daily capsule of The HERO infuses your body with 10,000 mcg of medical-grade biotin.
That's important because your body requires biotin to produce keratin to build thick, lustrous hair.
The HERO is available in both 30-day and 90-day supplies. (I personally recommend the 90-day supply to ensure you don't run out and take a step backwards with your results.)
Simply take a single easy-to-swallow capsule of The HERO once daily with food. That's it. When it comes to habits for healthier hair, it's hard to think of anything easier!
Then, the Biotin in The HERO will go to work improving the health and beauty of your hair.
Like you, I'm busy. So one of the things I love most about The HERO (which I take daily) is that it's so quick and easy to incorporate into my hectic lifestyle.
This is truly a "set it and forget it" solution.
We currently have The HERO in stock at the Bauman Medical eStore.
>> Go here to claim your supply of The HERO now.
What's more, your order is backed by our 100% Satisfaction "No Hassle" Guarantee. So you can order now with complete confidence.
We'll even cover the shipping & handling for you on orders anywhere in the continental US.
Adding biotin to your daily routine is a simple, effective way to support healthier, better looking hair now and in the months and years ahead.
To get started with your own supply of The HERO now, tap or click the button below:
Sincerely,
Alan J. Bauman, MD
Medical Director of Bauman Medical
Scientific References:
1. Patel DP, et al. "A Review of the Use of Biotin for Hair Loss." Skin Appendage Disord. 2017 Aug;3(3):166-169.
If you or someone you know has hair loss, hair thinning, baldness, or eyebrow / eyelash concerns, click to start either a long-distance virtual consultation OR an in-person, in-office consultation with Dr. Bauman. You can also Ask Dr. Bauman a Question or simply call Bauman Medical Group  at +1-561-394-0024.