Hair Restoration At Bauman Medical Group
At Bauman Medical Group, we specialize in treating men and women who are looking to enhance, maintain or restore their own living and growing hair.
In general, the vast majority of patients we treat are experiencing mild, moderate or severe hereditary hair loss (male or female pattern hair loss), which is the most common type of hair loss.    If you are experiencing thinning or receding hair, we encourage you to browse our website and learn about what you can do to address your hair loss concerns.   Dr. Bauman is available to help you by designing a results-oriented treatment program.
You can also email Dr. Bauman directly with your hair loss or hair restoration questions.Some Types of Hair Loss we treat at Bauman Medical Group:
Male Pattern Hair Loss Female Pattern Hair Loss Plastic Surgery-Related Hair Loss Scars Eyebrow Loss Eyelash Loss

HAIR LOSS
STARTING TO LOSE YOUR HAIR…?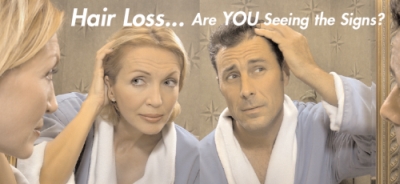 "Lately, I am noticing more scalp shining through…"
"I'm finding a lot of hair on my pillow…"
"I'm seeing my hairline recede slightly…"
"I'm seeing more hair than usual in the drain…"
For many of our patients—and, tens of millions of men and women—these signs are typically the first indicators of hair loss. It may surprise you to learn how frequently we also hear patients tell us, "I woke up one day with less hair" or "It just happened suddenly."
In many cases, patients may observe a slow, but progressive thinning or receding of the hairline. Initially, they want to believe that the loss is not significant. Then, seemingly "overnight," the amount of hair lost is too obvious to deny to oneself anymore. For others, initial changes in their hair volume and density are actually so gradual, that they may only be detectable with the help of a microscope. For these patients, their hair loss appears to be quite sudden because it does not become noticeable to the eye until the hair density dips below a definite threshold.   For other patients, it might have been a photo, video or a mirror that showed the results of a progressive hair loss that they didn't realize was occuring.
Understanding Your Hair Loss
Before we elaborate on the types and causes of hair loss, it is beneficial to review basic information about how hair grows.The hair follicle, which appears as a tiny opening in the skin, is the base from which each hair grows. Each hair's root resides within the follicle where it receives nourishment from the body's blood supply.
Hair Growth Cycles
Our hair grows in a three-stage cycle. The first stage of this cycle is active growth, known as the ANAGEN phase. The intermediate stage is the CATAGEN phase. And, the third stage is the resting TELOGEN phase. Each hair follicle continually undergoes and repeats the cycle of hair growth, independently. And, at any given point in time, most of the hair on your head, is in the active growing Anagen phase, which lasts on average from two to six years. While the active stage of hair growth is the longest in duration, the Catagen intermediate phase is the shortest, lasting approximately two to three weeks. Finally, it is during the resting third of the cycle, the Telogen phase when a new Anagen hair pushes out the hair currently in the follicle. This phase typically has a duration of three to four months. It is the Telogen hairs that you see when they come off into your brush or comb.
The Impact of Changing Hair Growth Cycles
When an average, healthy individual reaches physical maturity, at or around the end of adolescence, he or she will have between 100,000 to 150,000 hairs on the head. Under normal conditions, the average person will "lose" or shed approximately 100 Telogen hairs per day and grow 100 Telogen hairs per day. Baldness or hair thinning occurs as the normal growth stage slows. As most individuals get older, the percentage of hairs in the resting stage (Telogen phase) increases, while less hair remains in the active growth Anagen phase.
A Crash Course in the Role of Genetics and Hormones in Hair Loss
For many years, researchers told us that hair loss resulted from the genetics inherited from the mother's side of the family. Now, advances in medical science offer proof that "baldness" genes do not discriminate by the sex of the parent. In fact, the related genes are often passed down from both sides of the family tree. We also know that this inherited trait can appear to skip generations and even affect siblings differently.
What Causes Hair Loss? What Can Be Done?
What Causes Hair Loss? What can be done? Dr. Bauman was interviewed on NBC Miami to find out!