PATIENT PROFILES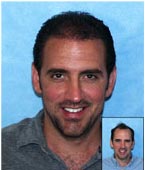 Patient Profile: G.D.Age: 32
Norwood Class: III Vertex
Background: Married, professional. Looking to project a more youthful appearance.
Expectations: Restore natural looking hairline and increase frontal density
Hair Characteristics: Brown, wavy, thick fiber thickness
Donor Quality: High density, no previous procedures
Surgical Plan: 1 session of approx. 2100 micrografts (1-2 hairs/graft used in the frontal hairline. 3-4 hairs/graft used for density.Medical Plan: Continue Propecia®(finasteride 1mg) to maintain existing hair.Photos taken 12 months after procedure
(90% of cosmetic result achieved at 12 months post surgery)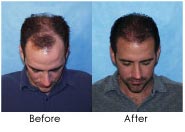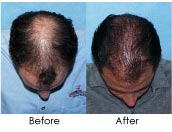 HOW TO EVALUATE BEFORE & AFTER PHOTOS
Here are some helpful guidelines for evaluating Before and After photographs of individuals who have undergone hair restoration:
For each photo, ask the name of the surgeon who performed the surgical procedure on the patient.
This is important because in some chains and group practices, you may be presented with pictures of patients who underwent a procedure with a doctor no longer affiliated with the practice.
Are the photos of patients with exposed hairlines or is the hair combed forward over the hairline?
If the hairline is not visible in the photo, you will not be able to determine if the physician uses the latest medical technology and surgical hair restoration procedures. In close-up Before and After photos of hairlines with the hair combed back, you will be able to determine if the doctor used follicular units, which provides the most natural appearing hairline.


READ MORE