This post comes from a recent Newsletter from Dr. Bauman that you can subscribe to here. 
Hello, it's Dr. Bauman.
In the history of sports, you have dominant teams.
And then you have the "Dream Team".
Assembled for the 1992 Summer Olympics in Barcelona, the Dream Team fielded a roster of all-time great basketball players like Michael Jordan, Magic Johnson, Larry Bird, Charles Barkley, and more.
They were unbeatable.
If you watched the Olympics in '92, you probably remember the Dream Team running circles around the competition.
Not only did the Dream Team finish 8-0 and take home the gold — they won their games by a ridiculous 43.8 points per game!
The United States handpicked the best basketball players for the Dream Team, and the results were gold medals and an enduring legacy.
Similarly, if you're formulating a winning hair health supplement, then you must use the best and most effective ingredients.
And that's exactly what we've done with our new A-List Hair Vitamin Complex.
You can learn more about it here.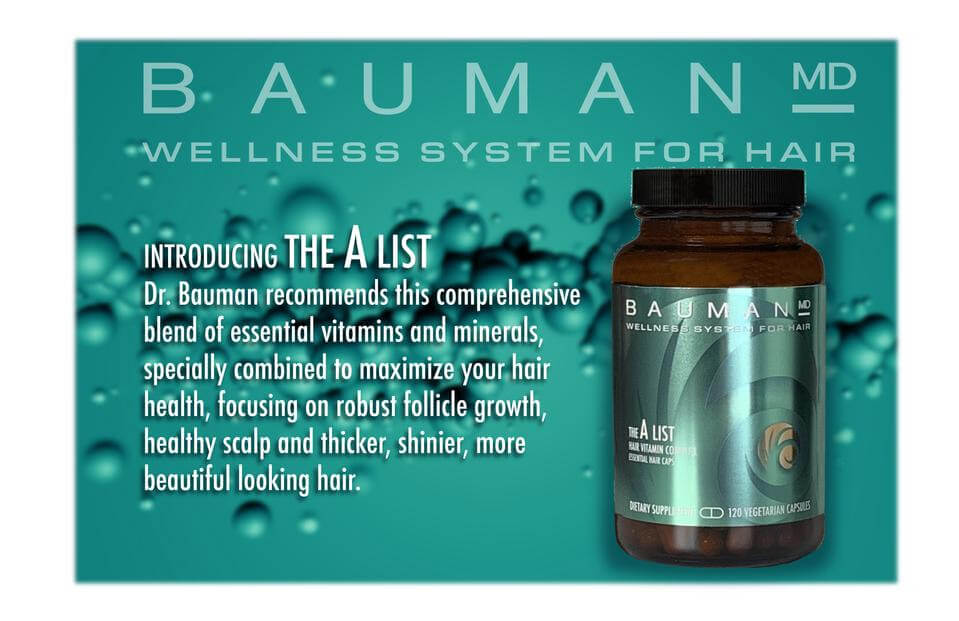 We call this premium multivitamin The A-List because it includes 20+ of the most important and influential vitamins, minerals, and nutrients to help promote healthier hair.
One of the "stars" of this powerful multivitamin is b.
L-Lysine is an essential amino acid that helps your body produce more keratin, the "building block" of healthy hair.
Additionally, L-Lysine supplementation has been shown to reverse hair loss symptoms like shedding and thinning.
As you may know, dyhydrotestosterone or DHT is a hormone that's extremely harmful to your hair.
DHT can shrink your hair follicles, causing your hair to become thinner and more brittle. DHT also shortens your hair's growth cycle, and makes your hair fall out faster. (1)
And while DHT is the #1 cause of male pattern baldness, it can cause hair loss in women, too.
So the fact that L-Lysine helps to fight the damage done by DHT, secures this essential amino acid's reputation as an A-List superstart for healthier, thicker hair.
In fact, studies show that not getting enough L-Lysine causes increased hair shedding and hair loss. (2)
Thing is, L-Lysine is an essential amino acid, meaning it's essential for your health, but your body can't make it on its own. You have to get L-Lysine from foods or supplements.
Some of the best food-based sources of L-Lysine include cod and sardines, red meat, and spirulina (a type of algae.)
But perhaps the easiest way to get the L-Lysine you need for optimal hair health is via supplementation. That's why I added 250 mg of high-quality L-Lysine to every serving of The A-List.
>> Go here to learn more about The A-List and save $10 off your 3-month supply!
In addition to L-Lysine, The A-List also includes:
Biotin — A vitamin that stimulates the production of keratin, a protein that acts as the building blocks of your hair.
N-acetylcysteine (NAC) — An amino acid that studies show can help promote hair growth.
Pantothenic Acid — This vitamin plays a role in maintaining both the health and color of your hair.
Olive Fruit Extract — To help fight free radicals that can trigger inflammation and hair loss.
Plus 18 additional hair healthy nutrients!
As you can see, The A-List is a comprehensive and robust formula. So much so, that it replaces our older Hair Vitamin Complex.
And just like the Dream Team was an unbeatable combination of basketball players, we've formulated The A-List with an unbeatable combination of hair health nutrients.
Your A-List nutrients will be working around the clock to help you grow stronger, healthier looking hair… support healthy levels of inflammation and promote scalp health… and improve your overall sense of well-being.
If you're already taking a multi, shouldn't you switch to one that helps build a healthier body and healthier hair?
And if you're not taking a multi yet, then trying The A-List is a great idea.
Not only is it specifically formulated for better hair…
It's also backed by our 100% Satisfaction 60-Day Money-Back Guarantee. So you can try it today at no risk.
Ready to get started?
Go here to learn more about the ingredients in The A-List Hair Health Multivitamin and what they can do for you!
Sincerely,
Alan J. Bauman, MD
Medical Director of Bauman Medical
If you're already a patient here at Bauman Medical, simply call us to schedule your appointment at +1-561-394-0024 or toll-free at 844-GET-HAIR. You can also Ask Dr. Bauman a Question.
For new patients, click to start either a long-distance phone consultation OR an in-person, in-office consultation with Dr. Bauman.
*EACH INDIVIDUAL'S TREATMENT AND/OR RESULTS MAY VARY
Scientific references
Marchetti PM, Barth JH. "Clinical biochemistry of dihydrotestosterone." Ann Clin Biochem. 2013 Mar;50(Pt 2):95-107.
DH Rushton. "Nutritional factors and hair loss." Clin Exp Dermatol. 2002 Jul;27(5):396-404.