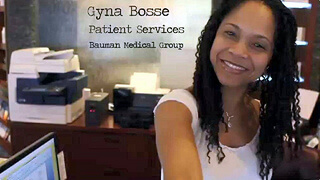 Bauman Medical Group is a private practice dedicated exclusively to the specialty of hair restoration. Every patient is assured the highest level of safety, personalized care and attention in a private spa-like setting.
We are committed to setting the standard in our profession with the holistic, results-oriented approach to hair restoration that Dr. Alan Bauman continues to pioneer and advocate.
We hear that a primary consideration which sets Bauman Medical Group apart from other clinics–and, enables each and every one of our patients to achieve an outstanding result–is the fact that Dr. Bauman meets with you and performs your hair transplant procedure personally. (We do not employ sales consultants or associate doctors).
Our skilled surgical team of hair transplant technicians has been together with Dr. Bauman from the beginning. We work as a unit and continually strive to improve our techniques and results day after day. We offer only the safest, most effective treatments for stopping hair loss and/or restoring your own living and growing hair.
OUR MISSION
At Bauman Medical Group, every patient has our unwavering commitment to:
Thoroughly understand your short and long-term hair restoration goals and establish realistic expectations.
Answer your questions in an honest, straightforward manner—according to the highest ethical and moral standards.
Provide the highest quality of medical care.
Ensure your comfort and well-being—before, during and following every visit.
Maintain polite, professional and clear communication at all times.
Uphold strict patient confidentiality and privacy.
Perform every procedure with integrity, diligence and total patient focus.
Pursue continuing education in the medical hair restoration profession.
Dr. Alan Bauman Ratings & Reviews
Awesome Patient Quote #304
Read more RealPatientRatings and Reviews on the About Us page.

Our staff takes pride in providing '5-star' quality in the field of hair transplant and hair loss treatments. –Dr. Alan J. Bauman
Dr. Alan J. Bauman, M.D.  PROFESSIONAL AFFILIATIONS
Dr. Bauman is a Diplomate of:
National Board of Medical Examiners
American Board of Hair Restoration Surgery
International Board of Hair Restoration Surgery
Dr. Bauman is a Fellow of:
International Society of Hair Restoration Surgery
Bauman Medical Group is also proud to be affiliated with the following esteemed organizations:
American Academy of Anti-Aging Medicine
International Alliance of Hair Restoration Surgeons
American Hair Loss Association
American Society for Laser Medicine and Surgery
North American Association for Laser Therapy
World Association for Laser Therapy
Real Patient Reviews!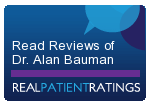 Read Dr. Alan Bauman's Reviews!