This post comes from a recent Newsletter from Dr. Bauman that you can subscribe to here. 
---
Hello, it's Dr. Bauman.
If you want a head of thicker, more luxurious, younger-looking hair, look at this picture: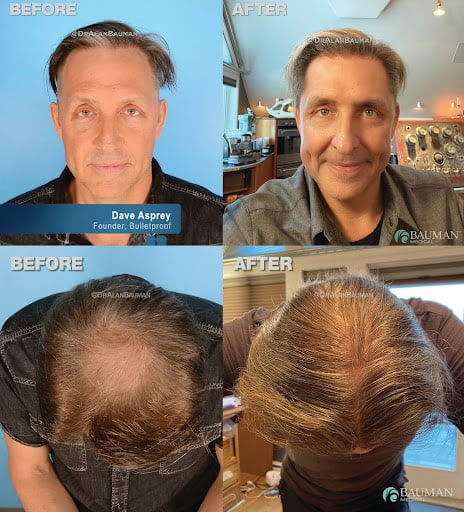 That's a picture of Dave Asprey, the "Father of Biohacking".
And as you can see, Dave's hair is aging backwards.
I'm honored that Dave turned to me and my team to help biohack his hair. (And Dave's results speak for themselves!)
Biohacking can transform your health.
With biohacking you make small, incremental changes in diet, lifestyle, and your environment that add up to big improvements over time.
People who practice biohacking aren't just looking for more years in their life…
They're looking for more life in their years.
It isn't just about looking and feeling great for someone your age…
It's about looking and feeling great for someone years younger than your chronological age.
I'm both a proponent and practitioner of biohacking.
Over the past few years, I've been invited to speak at some of the biggest biohacking conferences in the world.
And next month, October 20th — 22nd, I'll be taking the stage at the Biohacking Congress in beautiful Miami Beach, Florida.
At the Biohacking Congress I'll join 20+ other presenters to share the science and strategy of biohacking your way to better health.
I'll be giving a talk called "Biohacking Baldness: Increase Your HairSpan and Take Your Hair to the Next Level" on Saturday, October 21st.
And if you're in the Miami/South Florida area, I'd love to see you there.
Plus…
As a member of the Bauman Medical community, you've been authorized to receive an exclusive 60% off your ticket to the Biohacking Congress.
Use the promo code BaumanMedical at the link below to claim your 60% discount:
>> Save 60% off your Biohacking Congress ticket (click to claim your tickets now)
In addition to giving a presentation, my team and I will have a booth set up at the Biohacking Congress.
We'll be doing HairMetrix and HairChecks, as well as Transepidermal Delivery (TED) demos and treatments at our booth.
So this is a great opportunity to stop by, say hi, and take a step forward on your hair health journey.
If you're in the Miami metro area, I hope you'll join me at the Biohacking Conference this October 20th — 22nd.
You'll get to hear from some of the most forward-thinking health experts on the planet…
You'll discover strategies and products that can put you in the driver's seat with your health…
And you'll get to find new partners and clients, learn trends of the industry, and grow your professional network.
This year's Biohacking Congress is shaping up to be the best yet.
I hope to see you there!
Go here and save 60% off your ticket with the exclusive coupon code BaumanMedical (grab your tickets now!)
Sincerely,
Dr. Alan Bauman, MD, ABHRS, FISHRS
Diplomate, American Board of Hair Restoration Surgery
Fellow, International Society of Hair Restoration Surgery
(561) 394-0024 – Work
---
If you or someone you know has hair loss, hair thinning, baldness, or eyebrow / eyelash concerns, click to start either a long-distance virtual consultation OR an in-person, in-office consultation with Dr. Bauman. You can also Ask Dr. Bauman a Question or simply call Bauman Medical Group  at +1-561-394-0024.