FDA Approves First Systemic Treatment for Alopecia Areata

The oral JAK inhibitor drug Oliminant (baricitinib) was approved for severe adult autoimmune alopecia.
[Photo Credit: Dr. Bret King / baricitinib treatment for severe alopecia areata NEJM]
June 13, 2022
Alopecia Areata AA is an autoimmune-mediated hair loss condition that affects an estimated 1% of all Americans, or approximately 300,000 people, in varying severity that causes the immune system to attack hair follicles, causing hair to fall out. AA may first appear as a small smooth, round area of baldness on the scalp or beard, but may progress to patchy hair loss across the scalp, total hair loss across the scalp/eyelashes/eyebrows (Alopecia Totalis), or even the entire body (Alopecia Universalis).
Previously, alopecia areata has been treated with topical creams, corticosteroid injections, or regenerative treatments like PRP. Sudden and advanced forms of AA can be emotionally devastating to patients. There is a slight hereditary risk for AA, and the condition typically appears most often in childhood or adolescence, however, it can affect men and women of any age.
At Bauman Medical, we've been optimistically watching the progress of alopecia research (especially JAK inhibitors for alopecia) for many years.
JAK (Janus kinase or JAK-STAT signaling pathway) inhibitors have been previously approved for rheumatoid arthritis and, in some cases, as a treatment for COVID-19. Information on JAK inhibitors (Tofacitinib, Ruxolitinib) as a potential treatment for alopecia areata date back many years in studies from Columbia, Stanford, and Yale, but none have previously received the nod from the FDA and hence were not covered by insurance.
This approval is exciting news for alopecia areata patients because JAK inhibitors typically have a "list price" of thousands of dollars per month out-of-pocket. Oluminant (baricitinib) will cost $2500/mo without insurance. Insurance companies have a long history of denying coverage for alopecia patients because the condition was considered primarily cosmetic, however, one just needs to speak to an AA patient to learn just how devastating the condition is.
Unfortunately, many alopecia areata patients are concerned about the long list of potentially severe side effects from oral JAK inhibitor medications, and Boxed Warnings aka "black box warnings" described by the FDA as "serious heart-related events, cancer, blood clots and death," as well as unintended consequences and risks that still remain unknown at this time from long-term immune modulation therapy. This warning applies to the medications Xeljanz/tofacitinib, Oluminant/baricitinib, and Rinvoq/upadacitinib.
How Do We Treat Alopecia at Bauman Medical?
American Board of Hair Restoration diplomate Dr. Alan J Bauman MD has extensive successful experience treating alopecia areata in his patients by holistically addressing underlying triggers for autoimmune conditions such as lifestyle factors, including nutrition (removal of foods that trigger an immune response), adequate sleep, allergies, physical activity, gut and skin microbiome, stress management, nutritional supplementation including medical-grade herbs and nutraceuticals, photobiomodulation (low-level laser therapy) for fighting inflammation and stimulating hair regrowth, and regenerative medicine therapies for alopecia such as PRP platelet-rich plasma–which has been highly successful for small patches of alopecia areata in our hands, exosome therapy, and sonophoresis (ultrasonic transdermal delivery), and more.
For patients at hereditary risk for alopecia areata or other autoimmune hair loss conditions, these lifestyle factors minimize the chances of hair loss. Dr. Bauman and his medical team have found that in their patients, a healthy foundation makes it more likely that hair loss will be controlled without the use of medications, or with a lower dose of medications, reducing the risks of side effects and improving hair growth as well as their quality of life.
For severe alopecia areata, such as alopecia totalis and alopecia universalis, many Bauman patients have found that the medical-grade 3D-scanned / 3D-printed non-surgical hair replacement aka cranial prosthesis CNC or other systems have helped them tremendously when it comes to restoring their hair as well as their quality of life.
Oluminant (baricitinib) was previously approved for rheumatoid arthritis in 2018.
What Does the Research on Oluminant (baricitinib) for Alopecia Show?
Oluminant has been approved for alopecia treatment at 2mg or 4mg per day based on the results of two separate double-blind, randomized, placebo-controlled clinical trials.
In trial 1, 184 participants received 2mg of Olumiant, 281 received 5mg of the drug, and 189 received a placebo. The results showed that 22 percent of those receiving 2mg and 35 percent receiving 4mg achieved adequate scalp hair coverage compared to 5 percent receiving a placebo.
In trial 2, 156 participants received 2mg, 234 received 4mg, and 156 received a placebo. The results were similar to the first trial – 17 percent of those receiving 2mg and 32 percent of those receiving 4mg achieved adequate scalp coverage compared to 3 percent of those taking a placebo
What Are the Risks of Treatment with a JAK Inhibitor?
Common side effects with JAK inhibitors include:
Upper respiratory tract infections
Headache
Acne
Elevated cholesterol
Increase in creatinine phosphokinase
Fatigue
Urinary tract infection
Elevation of liver enzymes
Folliculitis
Lower respiratory infections
Nausea
Genital yeast infections
Anemia
Abdominal pain
Shingles
Weight gain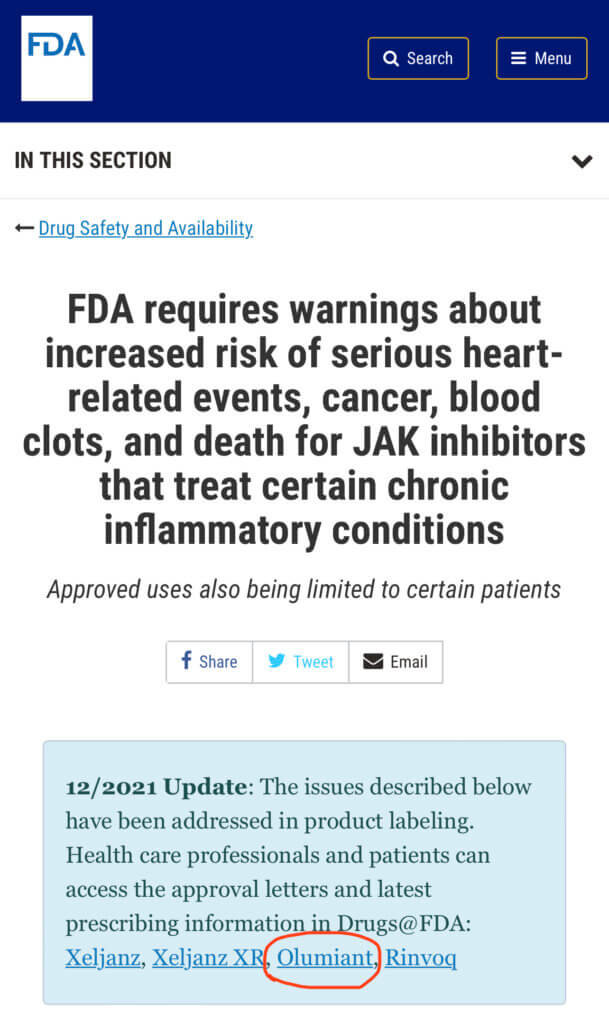 Rare Side Effects with JAK inhibitors include:
Heart Attack
Stroke
Cancer
Blood Clots
Death
[see FDA info on Boxed Warning aka "Black Box Warning" for JAK inhibitors from 12/2021 and updates from 2/2021 and 9/2021 ]
If you or someone you know has hair loss, hair thinning, baldness, or eyebrow / eyelash concerns, click to start either a long-distance virtual consultation OR an in-person, in-office consultation with Dr. Bauman. You can also Ask Dr. Bauman a Question or simply call Bauman Medical Group  at +1-561-394-0024.