: 11
Alopecia Areata Awareness Month: New Treatment Utilizes 3D-Printing Technology Top hair loss expert and new treatment pioneer, Dr. Alan J. Bauman, discusses how new hair and scalp cranial prosthetic hair replacements made with 3D-printing are offering new hope to alopecia sufferers. Boca Raton, Florida – September...
More
Hair Loss – BeckyinBoca w/ DrAlanBauman" >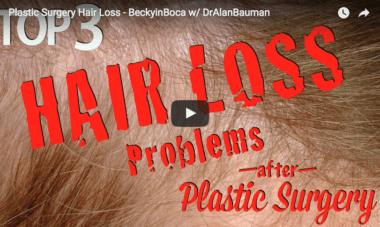 Hair Loss – BeckyinBoca w/ DrAlanBauman" ckass="loading">
VIDEO: Does Plastic Surgery Cause Hair Loss Problems After Plastic and Cosmetic Surgery are discussed in this BeckyinBoca segment with renowned Hair Restoration Physician from Boca Raton FL, Dr. Alan J. Bauman, M.D.  #facelift #browlift #cosmetic #plastic...
View
2014 - Photos of Dr Bauman with Celebrity Sytlist Martino Cartier. If you or someone you know has hair loss or eyebrow or eyelash concerns, long-distance/phone and in-office/in-person consultations with Dr. Bauman are available. Call toll-free 844-GET-HAIR or +1-561-394-0024
View
Dr. Bauman Discusses Beard, Transgender Hair Transplants and Other Trends with Howard Stern Boca Raton, Florida - Dr. Alan Bauman appeared on SiriusXM Radio's Howard Stern Show to discuss rise in beard transplants. Recent news of the increase in beard transplants has captivated...
More
January 2014 - Doctor Bauman with Doctor Oz in Palm Beach. If you or someone you know has hair loss or eyebrow or eyelash concerns, long-distance/phone and in-office/in-person consultations with Dr. Bauman are available. Call toll-free 844-GET-HAIR or +1-561-394-0024
View
November 2012 - Photo of Dr. Bauman with Donald Trump at Mar-a-Lago. If you or someone you know has hair loss or eyebrow or eyelash concerns, long-distance/phone and in-office/in-person consultations with Dr. Bauman are available. Call toll-free 844-GET-HAIR or +1-561-394-0024
View