This post comes from a recent Newsletter from Dr. Bauman that you can subscribe to here. 
---
Hello, it's Dr. Bauman.
If you're like most people, you've had experiences where a certain smell triggers a flood of memories.
Maybe the smell of freshly cut grass takes you back to carefree summer vacations as a kid.
Maybe a particular perfume or cologne triggers special memories of your partner or spouse… or… the one that got away.
But here's something that might surprise you:
New research shows that smells don't just trigger memories — they can trigger hair growth, too!
See, it's not just your nose that has a sense of smell. Your hair follicles do too.
The reason why is because hair follicles, like your nose, have olfactory receptors.
As you may know, what we call "smell" is really an intersection between molecules known as odorants and these olfactory receptors, which send signals to the brain when activated.
And when the OR2AT4 olfactory receptors in your hair follicles "sniff" a specific scent, it can help prevent hair loss and promote hair growth.
I'll tell you the exact scent in just a second.
First, look at these studies:
In one study, researchers took samples of human scalp skin (donated by patients undergoing face-lift operations) and treated them with an application of this scent. (1)
When the OR2AT4 olfactory receptors interacted with this scent something amazing happened: they started churning out a key hair growth-promoting factor called IGF1!
That's a big deal because IGF1 stimulates the growing phase of hair cells, while also helping them live longer.
In a recent clinical trial, a group of women dealing with hair loss were asked to apply a lotion infused with this scent to their scalps.
At the end of the study period, these women had less hair shedding, more hair volume, and new hair growth! (2)
So what is this scent that can stimulate new hair growth?
It's an engineered form of sandalwood called Sandalore®.
And I've been so impressed by the research on Sandalore® (not to mention by how amazing it smells!) that I decided to make it a key ingredient in my Bauman MD BOOST Olfactory DHT-Control Shampoo & Conditioner.
Go here to learn more and to grab your own supply of BOOST (click to shop)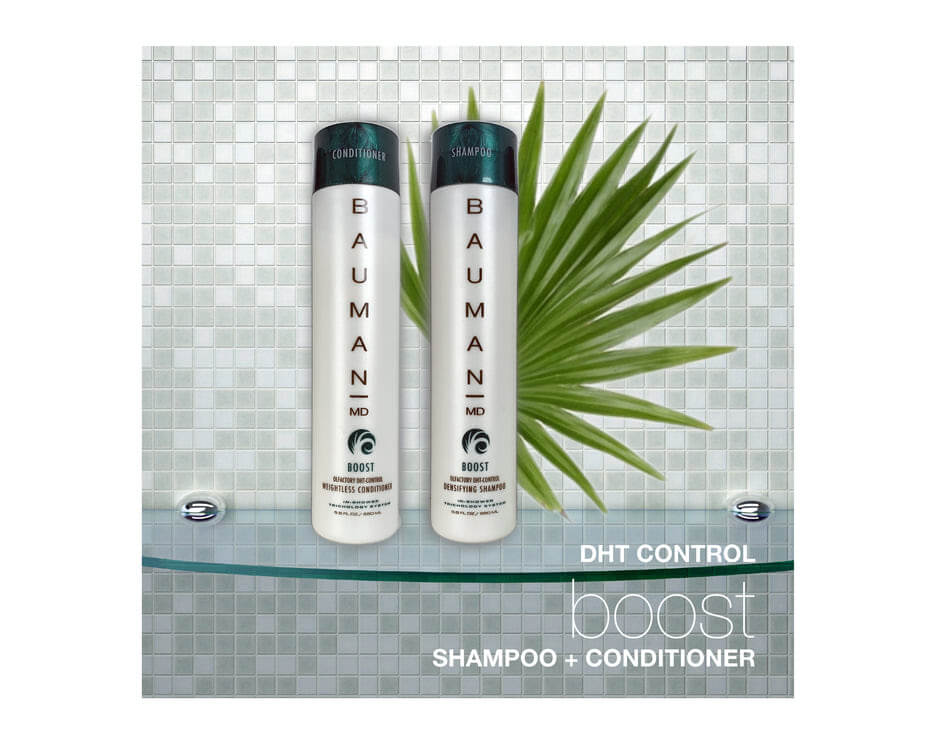 BOOST Shampoo & Conditioner is a doctor-formulated "In-Shower Trichology System" designed to cleanse your hair, pamper your scalp, and promote a thicker, healthier head of hair.
In addition to Sandalore®, this powerful formula includes key bioactive ingredients like:
Apiscalp®, a natural extract of Apium graveolens (celery) seeds designed to reduce dryness, dandruff, and itching.
Procapil®, a patented blend of three natural bioactive substances: oleanolic acid to reduce levels of hair loss-causing DHT, apigenin–a natural vasodilator, and Biotinyl-GHK–a vitamin-bearing peptide.
Procapil® helps keep your follicles nourished and healthy, which in turn makes your hair thicker and stronger.
It helps optimize how your body uses biotin, a nutrient that acts like the "building block" of healthy hair.
And studies show Procapil® even supports hair anti-aging by stimulating follicle cell metabolism, which can slow down hair loss. (3)
On top of that, BOOST Shampoo & Conditioner also includes saw palmetto and green tea extract (to further protect against DHT).
As well as caffeine to stimulate hair growth and protect against stress-induced loss. (4)
Studies show the average person spends more than 60 hours per year in the shower.
Since you're already spending that much time showering, why not turn that time into an easy way to give yourself healthier hair?
We currently have BOOST Shampoo & Conditioner in stock and your order is backed by our 100% Satisfaction 90-Day Money-Back Guarantee.
So you can try it today without risk.
Go ahead and try doctor-formulated BOOST Shampoo & Conditioner in the comfort of your own home.
Use it as directed for the next three months and you'll be delighted with the look and feel of your hair. That's my promise to you.
But if you're disappointed for any reason (or for none at all) simply let us know within 90 days for a prompt and courteous refund.
Fair enough?
Sincerely,
Dr. Alan Bauman, MD, ABHRS, FISHRS
Diplomate, American Board of Hair Restoration Surgery
Fellow, International Society of Hair Restoration Surgery
(561) 394-0024 – Work
---
If you or someone you know has hair loss, hair thinning, baldness, or eyebrow / eyelash concerns, click to start either a long-distance virtual consultation OR an in-person, in-office consultation with Dr. Bauman. You can also Ask Dr. Bauman a Question or simply call Bauman Medical Group  at +1-561-394-0024.