Forbes Features Hair Transplant Specialist Dr. Alan Bauman among 10 CEOs Transforming Healthcare in America
Forbes article input from Dr. Bauman included among healthcare leaders from Cleveland Clinic, AARP, Universal Health Services and Boston Children's Hospital
This press release features multimedia. View the full release here: https://www.businesswire.com/news/home/20180130006251/en/
Dr. Bauman is the leader in hair restoration—a healthcare segment that impacts upwards of 80 million Americans and has direct correlations to physical and mental well-being. He has led the industry as a pioneer in technologies including robotic-assisted hair transplant surgery and runs the largest, most comprehensive treatment center in America where his Bauman Medical team has treated over 20,000 patients. Dr. Bauman is credited for bringing hair restoration to mainstream America.
"Specifically, Bauman Medical is helping transform healthcare in America through the blending of game-changing technology with experience and artistry. Through the use of robotic technologies and advanced medicine, that includes such procedures as stem cell therapies and PRP, we are operating in the hair restoration and hair transplant sectors on a platform similar to the most advanced medical practices being conducted anywhere in the country," said Dr. Bauman. "We are transforming healthcare by consistently offering our patients the most innovative, effective and comprehensive options they could find coupled with the most highly trained, customer-focused experience they could want. Everyone who walks in our door is special and we tailor our efforts to their specific needs whether they are with us for a basic scalp assessment or treatment up to and through our 'Hair Like a Boss' concierge Hair Restoration Experience Program℠ that caters to a patient's every need."
Bauman Medical is leading its sector's transformation of healthcare by advancing the science and art in the field of hair restoration and hair transplantation. Through the integration of advanced procedures and technologies the team has helped pioneer and champion such minimally invasive techniques as minimally-invasive FUE hair transplantation, PRP Platelet Rich Plasma for hair growth using the EnrichedPRP system from MasterPharm (NY) and Emcyte (FL), 3D-printed Italian medical grade hair replacement prosthesis from Cesare Ragazzi Laboratories (Bologna), the Viviscal Hair Growth Program from Church & Dwight (NYSE:CHD) and many others.
Dr. Bauman and the others featured in the Forbes article were recently recognized for their leadership in The CEO Forum magazine. The CEO Forum is a bi-monthly publication written and delivered in hardcopy to the top 10,000 CEOs in America and digitally to a broader community of 9,800 CEOs. At its core is driving and expressing through its participating CEOs the timeless principles that define personal leadership success and demonstrating business model success. Founded by Robert Reiss who as CEO of the publication and Host of a weekly radio show broadcast on twenty-five AM radio stations with over 600,000 weekly listeners, the property has become a highly useful and informative tool for CEOs and c-suite members, and was cited in 2016 as the #1 podcast for CEOs in America. www.ceoforum.ceo
About Bauman Medical
Bauman Medical was founded in 1997 with a single mission… to improve the physical appearance and in doing so the mental health of its patients through optimum hair health and hair restoration. Dr. Alan J. Bauman, MD, ABHRS, is among a very selected group of physicians worldwide to earn Board Certification from the prestigious American Board of Hair Restoration Surgery (ABHRS) and accepted by the International Alliance of Hair Restoration Surgeons (IAHRS). He has achieved Fellow status with the esteemed International Society of Hair Restoration Surgery (FISHRS). Under the doctor's leadership, Bauman Medical delivers exceptional and consistent results. In total, Bauman Medical has treated over 20,000 hair loss patients while conducting more than 8,000 surgical procedures since its inception. Through his 501(c)(3) non-profit Bauman Philanthropic Foundation, Dr. Bauman and his team provide pro-bono hair restoration, surgical hair transplant and medical treatment to patients in need. Dr. Bauman was recently voted North America's #1 Top Hair Restoration Surgeon by Aesthetic Everything. Dr. Bauman is a frequent guest expert and faculty member at many major international medical conferences. In addition to teaching and consulting worldwide, he personally sees patients and performs procedures at Bauman Medical Hair Transplant and Hair Loss Treatment Center — an 11,000 sq. ft. stand-alone medical facility located in downtown Boca Raton, one of the largest facilities of its kind in the country.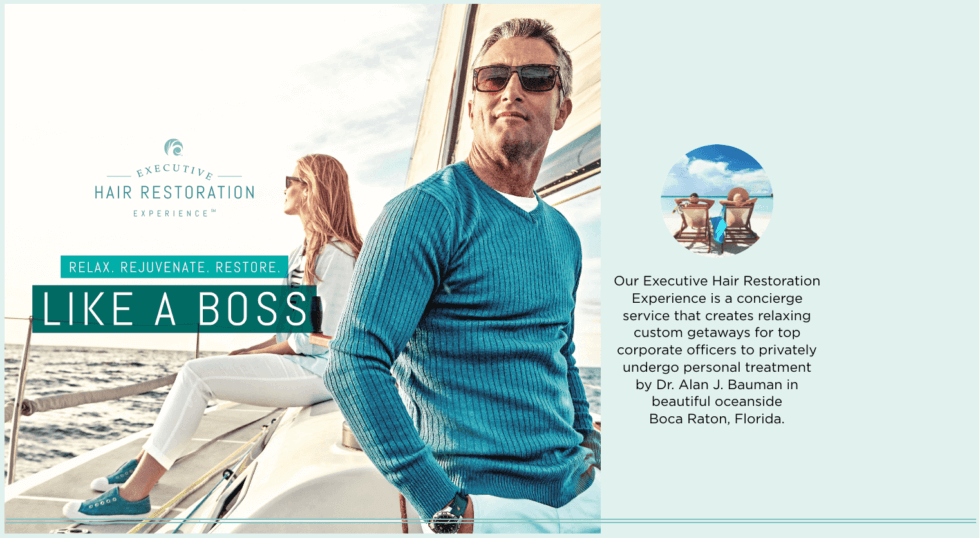 To view the Bauman Medical Executive Hair Restoration Experience, please visit, https://www.hairlikeaboss.com
To take a 3-D Video Tour of the Bauman Medical facility and its surroundings, please visit, https://vimeo.com/252345887.
For all media inquiries about Bauman Medical and to speak with Dr. Bauman, please contact Shep Doniger at BDCG at 561-637-5750 or sdoniger@bdcginc.com.
View source version on businesswire.com: https://www.businesswire.com/news/home/20180130006251/en/