This post comes from a recent Newsletter from Dr. Bauman that you can subscribe to here.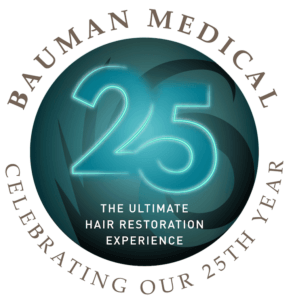 ---
Hello, it's Dr. Bauman.
I've got exciting news:
After being sold out for months, we've just received a shipment of our hair-health-boosting BaumanMD Shampoos and Conditioners!
But it gets even better…
Because for the first time ever, we now offer two uniquely powerful shampoos and conditioners:
BaumanMD Boost (which replaces our legacy DHT-control shampoo and conditioner) and BaumanMD Soothe both give you an easy, effective way to care for your scalp and hair.
Go here to learn more and claim your own supply (click to shop)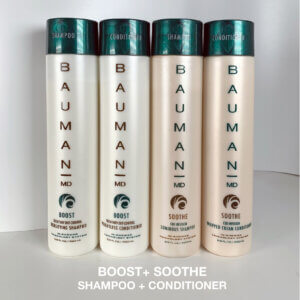 I've developed these unique shampoos and conditioners as an In-Shower Trichology System designed to protect, restore, and regrow your hair by reducing DHT levels, soothing inflammation, nourishing follicles, and more.
The more you dig into these ingredients, the more science you'll find.
I've also spent a great deal of time making sure these products truly perform–generous lather, lightweight conditioning, and leaving your hair looking and feeling thicker, fuller and healthier.
You can use BaumanMD Boost by itself, BaumanMD Soothe by itself, or alternate the two formulations (which is what I do.)
Let me explain how these two shampoos and conditioners are unique, so you can decide which one is right for you.
What makes BaumanMD Boost unique?
For starters, our new Boost line has added DHT-control ingredients compared to the previous Bauman MD DHT-Control.
These additional ingredients include:
Apiscalp®, a patented ingredient from celery seed designed to reduce dryness, dandruff, and itching.
Sandalore®, a molecular compound that prolongs the anagen phase, the active phase of the hair growth cycle.
Procapil®, a patented blend of three natural bioactive substances: oleanolic acid to reduce levels of hair loss-causing DHT, apigenin–a natural vasodilator, and Biotinyl-GHK–a vitamin-bearing peptide.
Procapil® helps keep your follicles nourished and healthy, which in turn makes your hair thicker and stronger.
It helps optimize how your body uses biotin, a nutrient that acts like the "building block" of healthy hair.
And studies show Procapil® even supports hair anti-aging by stimulating follicle cell metabolism, which can slow down hair loss. (1)
On top of that, Boost also includes saw palmetto and green tea extract (to further protect against DHT) and caffeine to stimulate hair growth and protect against stress-induced loss. (2)
Boost is designed for daily use and is perfect for anyone with thinning hair.
If you were using BaumanMD DHT-Control Shampoo and Conditioner before, then you're going to love our new BaumanMD Boost.
What makes BaumanMD Soothe unique?
Our brand new Soothe shampoo and conditioner is CBD-infused, which helps moisturize the scalp while soothing inflammation, irritation, and sensitivity. (3)
Soothe also includes Procapil® which, as I previously mentioned, is a patented blend specifically formulated to reduce levels of hair loss-causing hormone DHT, enhance circulation, and deliver Biotin (vitamin H) directly to the follicle.
In addition, Soothe includes:
Ceramides, lipids that act like a "sealant" to keep moisture inside the hair fibers
A soothing, moisturizing, antimicrobial blend of 12 essential oils including tea tree, lavender, lemon grass, bergamot, and more.
Soothe is great for daily use and is recommended for anyone with a dry, itchy scalp or dandruff.
Both BaumanMD Boost and Soothe Shampoos and Conditioners are sulfate-free, color-safe, and include no parabens or artificial fragrances.
Both are perfect for daily use.
And both are backed by our 100% Satisfaction 90-Day Money-Back Guarantee:
Try one (or both) of these doctor-formulated shampoos and conditioners in the comfort of your own home.
Use them as directed for the next three months and you'll be delighted with the look and feel of your hair. That's my promise to you.
But if you're disappointed for any reason (or for none at all) simply let us know within 90 days for a prompt and courteous refund.
Ready to get started?
>> Go here to learn more about Bauman MD Boost & Soothe Shampoos and Conditioners (click to shop)
Sincerely,
Alan J. Bauman, MD
Medical Director of Bauman Medical
Scientific references
https://www.baumanmedical.com/wp- content/uploads/2022/03/For_enhanced_anchorage_of_the_hair_Matrikin e_and_Phytoregulators_Procapil-Sederma.pdf
Fischer TW, et. al. Differential effects of caffeine on hair shaft elongation, matrix and outer root sheath keratinocyte proliferation, and transforming growth factor-β2/insulin-like growth factor-1-mediated regulation of the hair cycle in male and female human hair follicles in vitro. Br J Dermatol. 2014 Nov;171(5):1031-43.
Oláh A, et. al. Differential effectiveness of selected non-psychotropic phytocannabinoids on human sebocyte functions implicates their introduction in dry/seborrhoeic skin and acne treatment. Exp Dermatol. 2016 Sep;25(9):701-7.
If you or someone you know has hair loss, hair thinning, baldness, or eyebrow / eyelash concerns, click to start either a long-distance virtual consultation OR an in-person, in-office consultation with Dr. Bauman. You can also Ask Dr. Bauman a Question or simply call Bauman Medical Group  at +1-561-394-0024.