This post comes from a recent Newsletter from Dr. Bauman that you can subscribe to here. 
Hello, it's Dr. Bauman.
Today's email is somewhat unusual because I'll be talking about how to remove hair permanently.
That's unusual because for the past 25 years Bauman Medical has been helping people restore and regrow their hair — not remove it!
But recently, more and more of my patients — both men and women — have asked about effective, pain-free hair removal.
Maybe you can relate.
Maybe you have unwanted hair growing in the "wrong spots". Maybe you've tried tweezing, plucking, or waxing but the results were disappointing (and painful!).
Maybe you've got a vacation coming up, or you're planning to spend time at the beach or pool this summer, and you don't want to feel stressed or self-conscious about unwanted hair.
If that's you, if you're interested in quick, comfortable hair removal, then I'd like to introduce you to Cary Reichbach.
Cary is a U.S. Army Veteran and patient here at Bauman Medical for both hair regrowth therapies and hair removal.
Here's what Cary has to say about hair removal at Bauman Medical:
"I decided to do the laser hair removal treatment because the Bauman Medical protocols for hair growth work so well that I began to grow thicker, healthier hair not only on my head but on other parts of my body as well. Shaving wasn't practical as it grew back so quickly.
"I had heard from friends that laser hair removal was painful and needed topical anesthesia to be applied prior to the procedure. My treatment at Bauman Medical required no anesthesia and was virtually pain-free. Afterward, my skin was smooth and silky with no hair growth after just two sessions.
"I would definitely recommend this for anyone who is experiencing hair growth in places where they want smooth, bare, unblemished and hairless skin, permanently."
One reason hair removal treatments at Bauman Medical are so effective is because we use the most powerful multi-purpose laser on the market, known as Clarity by Lutronic.
The Clarity laser employs a unique, state-of-the-art system that provides real-time feedback during the treatment.
This feedback allows us to customize your treatment, providing quick, comfortable, and very effective hair removal.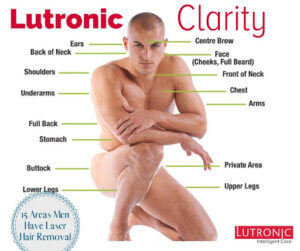 If you've got some problem hair and you're tired of tweezing, shaving, waxing, messy creams, or just "living with it", then I invite you to call 561-394-0024 to book a hair removal treatment at Bauman Medical.
We're booking appointments now and our Certified Medical Aesthetician, Blanca Marquez, is waiting to serve you.
And as you've seen in this email, hair removal is popular with both women and men.
Some of the most popular spots for hair removal for women include the upper lip, cheeks, bikini, legs, underarms, arms, and stomach. For men, common spots include the back, chest, neck, and ears.
The Clarity laser can remove unwanted hair from virtually anywhere on your body, including vellus hair — the fine "peach fuzz" that some women experience on their face.
You don't have to live with unwanted hair.
If you'd like to get rid of some unwanted hair for an upcoming vacation, cruise, beach trip, pool day, or just to pamper yourself, I invite you to book your pain-free laser hair removal treatment now.
To learn more, or to book your appointment now, please give us a call at 561-394-0024.
Sincerely,
Alan J. Bauman, MD
Medical Director of Bauman Medical
If you or someone you know has hair loss, hair thinning, baldness, or eyebrow / eyelash concerns, click to start either a long-distance virtual consultation OR an in-person, in-office consultation with Dr. Bauman. You can also Ask Dr. Bauman a Question or simply call Bauman Medical Group  at +1-561-394-0024.