This post comes from a recent Newsletter from Dr. Bauman that you can subscribe to here. 
---
Hello, it's Dr. Bauman.
The holidays are almost here.
And while this can be a fun and festive season, it can also be stressful.
In fact, the American Psychological Association found that nearly 40% of people say their stress increases during the holidays.
All of us feel at least some stress some of the time.
But when you're chronically stressed (or when your stress levels surge because of the holidays or other external factors) it can disrupt your sleep, sap your energy, increase your risk for illness, and it's awful for your hair health.
That's because prolonged stress can force your hair follicles into a resting phase (known as telogen).
Not long after that, these stressed out hairs can suddenly fall out when you're washing or combing. (1)
And that's not all.
Recently, a fascinating Harvard study shed even more light on how stress contributes to hair loss.
In this study, researchers subjected mice to prolonged stress over many weeks.
What's interesting is not only did this stress shift the mice into telogen, forcing their hair follicles into a resting phase… they also lost the ability to regrow new hair.
Why? Scientists believe that stress also affects the dermal papilla, a cluster of cells at the base of the hair follicle that acts like a "seed" for new hair.
In other words, stress is terrible for the look, feel, and health of your hair.
If you're shedding more hair than you'd like, and you've been under stress, it's likely the two are linked.
Fortunately, there's plenty you can do to reduce stress, which can help you feel great and improve the health of your hair, too.
Perhaps the best stress-buster out there is getting regular exercise.
Exercise reduces stress hormones and stimulates production of endorphins ("feel-good" hormones), helping you feel calm and relaxed.
Even as little as 15 minutes of aerobic exercise — such as a jog or brisk walk — can reduce stress.
Studies have shown that just spending some time in nature is a great stress reducer.
You can also relax and recharge through meditation, acupuncture, yoga, prayer, or taking an afternoon for "me time".
Thing is, you may already be exercising and practicing other relaxation techniques but you're still feeling stressed.
Or, you may be looking for additional tools to help keep your stress in check as we race towards the hectic holiday season.
In that case, you may want to consider supplementing with ashwagandha.
As you may know, ashwagandha is a generally safe adaptogenic herb that's been used for centuries to help people cope with stress in a healthy way.
Modern studies confirm what ancient healers have known for centuries: ashwagandha works wonders to help address the negative effects of too much stress.
In a recent clinical trial, scientists gathered a group of adults with a history of chronic stress.
Half of these participants were given 1200mg of ashwagandha for 60 days; the other half were given a placebo.
At the end of the study, the scientists were stunned by the results.
The folks taking a placebo were just as stressed out as ever.
But the men and women taking ashwagandha reported feeling significantly less stress and anxiety.
What's more, blood tests revealed that these men and women also had dramatically lower levels of cortisol (the "stress hormone") coursing in their veins than the people who only took a placebo. (2)
Those are amazing results.
I've been a fan of ashwagandha for years.
So much so, that I wanted to be able to offer my patients a premium-grade ashwagandha supplement.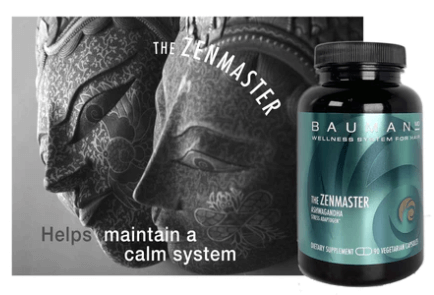 A single two capsule daily serving of The ZENMASTER gives you 1200mg of organic ashwagandha.
That's the same science-backed dosage used in the study I mentioned earlier in this email.
So you can feel confident you're getting a real dosage that's been shown to deliver real results.
On top of that, The ZENMASTER also includes 10mg of BioPerine®.
BioPerine® is an all-natural extract of black pepper fruit that helps your body absorb ashwagandha.
In fact, studies show that BioPerine® can enhance your body's ability to absorb herbal supplements by nearly ten-fold!
As a result, your body absorbs more of the premium-grade organic ashwagandha in The ZENMASTER and you start feeling it working even faster.
The ZENMASTER is formulated to provide systemic stress relief.
But another way stress can impact your hair is by triggering scalp inflammation.
For that, I recommend our BaumanMD SOOTHE Shampoo & Conditioner.
SOOTHE Shampoo & Conditioner is CBD-infused which, in addition to promoting hair regrowth, can also help moisturize the scalp while soothing inflammation, irritation, and sensitivity.
So SOOTHE is ideal for people with dry, itchy scalp, dandruff, or other symptoms of scalp inflammation.
Right now, people are using this CBD-infused shampoo and conditioner to help their scalp and improve the look, feel, and health of their hair.
Like Deborah H. who says, "I'm on my second bottle of SOOTHE Shampoo and Conditioner. I feel that my hair is getting better. By better…I mean feels thicker and looks fuller."
If you tend to feel tense and stressed around the holidays, you're not alone.
And you don't have to let that stress disrupt your hair.
As a doctor, I urge you to exercise to help manage and reduce stress.
As well as practicing self-care that makes sense for you.
And when you're ready, go ahead and try our ZENMASTER: Ashwagandha Stress Adaptogen or SOOTHE Shampoo and Conditioner.
And like all Bauman Medical supplements, they're backed by our 100% Satisfaction Money-Back Guarantee.
So you can try them without risk.
Sincerely,
Dr. Alan Bauman, MD, ABHRS, FISHRS
Diplomate, American Board of Hair Restoration Surgery
Fellow, International Society of Hair Restoration Surgery
(561) 394-0024 – Work
---
If you or someone you know has hair loss, hair thinning, baldness, or eyebrow / eyelash concerns, click to start either a long-distance virtual consultation OR an in-person, in-office consultation with Dr. Bauman. You can also Ask Dr. Bauman a Question or simply call Bauman Medical Group  at +1-561-394-0024.