Help Us Help You During Alopecia Awareness Month
---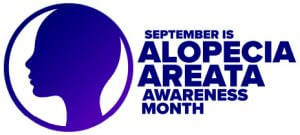 As I scanned an article the other day in a business magazine about retail theft, I saw the term "loss prevention." Loss prevention is what stores employ to try to minimize the loss of merchandise people haven't paid for.
It struck me that although I'm a hair restoration expert, I'm also a loss prevention expert. My focus, however, is helping minimize my patients' hair loss. And just like retailers, I employ every state-of-the-art tool and technology available to do it—just different ones.
Alopecia
There are many causes of hair loss, known in the medical community as "alopecia." Alopecia is nothing more than a fancy medical term for hair loss, and there are many types.
Because September is Alopecia Awareness Month, I want to tell you about one type of alopecia in particular, androgenetic alopecia. It's the most common type of hair loss, accounting for almost 95 percent of hair loss cases. You may have heard of it. It's known colloquially as male (and female) pattern baldness.
Male and female pattern baldness are lumped together because both are caused by a hereditary sensitivity to DHT (dihydrotestosterone), a derivative of the male hormone testosterone. In people with a genetic predisposition to it, DHT causes hair follicles to shrink over time and eventually stop producing new hairs, whereas for others DHT is harmless.
They're unlumped, however, in terms of how the hair loss expresses itself. (I'm not sure "unlumped" is a real word, but if it's not, it should be).
Androgenetic alopecia in most men starts as a receding at the temples/hairline or decreased coverage in the back or crown of the head and proceeds towards the top of the scalp, often leading to partial or complete baldness, save for a fringe around the head. Androgenetic alopecia in women typically first causes diffuse thinning in the frontal half of the scalp and can later on cause some recession in the temples.
And speaking of women, here's an eye-opening fact: About 40% of individuals with androgenetic alopecia are women. Surprised?
If you've noticed some thinning and are concerned about it getting worse, we have a number of tools for evaluating, slowing, stopping, or even reversing your hair loss. Here are a few of my favorites:
Diagnostics
TrichoTest™: An innovative tool that tests your unique DNA to identify which hair loss treatments are most likely to provide the best results for you. The process involves a simple cheek swab taken in our clinic or at home to obtain a sample of your DNA, and some details about your lifestyle. A computer then analyzes the genetic characteristics of your metabolism contributing to your particular hair loss situation. An algorithm identifies the treatment options likely to be the most beneficial to you, saving time and improving results.
HairMetrix: Uses artificial intelligence to take a snapshot of your scalp without trimming any hair and applies an algorithm to get a readout of your precise hair quantity and quality (and other metrics) in specific areas over time. No "educated guess" required. This information helps us make diagnosis and treatment decisions, and to monitor better than ever before how well you're responding to your treatment. HairMetrix is our most-powerful hair density measurement tool.
HairCheck: Another quick, painless, non-invasive way to measure and track the amount and quality of hair growing on your scalp. It also can measure the percentage of hair breakage you're experiencing, a common cause of hair loss and hair thinning. If you're on a hair growth or anti-breakage treatment, HairCheck measurements can scientifically verify any changes.
Regenerative Options
Low-level laser therapy (also known as red light therapy or photobiomodulation): The medical grade Bauman TURBO LaserCap® is FDA-cleared for hair growth. It's portable, hands-free, cordless, rechargeable, and fast, requiring only five minutes of treatment per day for improved hair growth at home. It's also drug- and chemical-free with no risk of side effects.
Proper and consistent use of medical-grade low-level laser therapy has been scientifically proven to improve hair quality, strength, and thickness, as well as promote hair regrowth. (Hint: Stay away from clunky helmets and weak consumer versions seen on Amazon, etc. as they are underpowered and not very portable.)
PRP (Platelet-Rich Plasma): A comfortable in-office procedure that takes about an hour with no recovery time, downtime, or significant risk. Derived from a small blood sample, platelets and plasma are separated from other components of the blood, concentrated, then painlessly applied into the scalp under local anesthesia where weak or at-risk hair follicles exist. When performed using the appropriate number and concentration of platelets and proper application techniques, you can expect hair growth improvements that last a year or more from a single treatment.
PDOgro™: Researched and developed right here at Bauman Medical, we were the first hair restoration clinic in the U.S. to use PDO threads to enhance hair growth. PDO, or polydioxanone, is a synthetic absorbable FDA-cleared material. Used for decades in surgery, and more recently in aesthetic procedures to reverse the appearance of skin aging, PDO threads placed into the scalp have been shown to stimulate hair regrowth. Typically performed in combination with PRP in a no-downtime "lunch-break" procedure, the threads are comfortably applied into the scalp. They dissolve and are absorbed over time, safely stimulating collagen production, new blood vessel formation, and a release of powerful rejuvenating growth factors.
The PDOgro™ procedure may help prevent or reduce the need for future hair transplantation by stopping, slowing, or reversing hair loss.
Hair Transplantation
In some cases, hair loss is so advanced that a hair transplant is the only way to achieve lasting hair regrowth in areas like a receded hairline, thinning crown, or other areas where hair follicles are severely depleted or gone. Luckily, Bauman Medical's minimally invasive FUE (Follicular Unit Extraction) procedures are effective, comfortable, and 100% natural-looking due to major innovations in techniques and technology.
Get in touch
Ready to stop losin' it and put loss prevention on top of your to-do list before the situation worsens? You have to take the first step. Give us a call at 561-220-3480 or point your mobile camera at the QR code below to schedule your private one-on-one in-person or virtual consultation.
Did you know that a common post-COVID condition is hair loss? Lately we've seen many patients with COVID hair loss due to the recent spike in cases, both male and female. Many are surprised to learn that COVID might be the root cause of their shedding hair.
If you've had COVID and are experiencing hair loss, don't just wait and hope that your hair grows back someday. (The faster the problem is addressed, the better the results). We have two therapies that are particularly useful in stimulating and reinvigorating hair follicles impacted by COVID.
BaumanMD's The BODYGUARD™
The BODYGUARD™ is part of our superb line of BaumanMD nutritional supplements geared toward hair and scalp health. This unique blend of herbs and mushrooms supports a healthy immune system, important in addressing ailing hair follicles, and defends against environmental toxins. Scientific research confirms the benefits of the formula's immune-enhancing herbs, together with the fungi, which include Asian mushrooms.
TED
TED (TransEpidermal Delivery) is a needle-free, pain-free method of infusing your scalp with a specialized topical hair growth serum packed with peptides and growth factors.
We apply the serum on the scalp and The TED device gently enhances the penetration of the serum into the scalp by temporarily increasing scalp permeability. At the same time, increased blood flow optimizes scalp health and stimulates hair follicles to produce thicker, stronger, healthier hair. TED is clinically proven to start minimizing hair shedding and improve hair growth and scalp health soon after your first treatment. Treatment takes only 20-25 minutes.
This dynamic duo approach has helped dozens of our patients with post-COVID hair loss re-grow the hair they are used to, and we can probably help you, too. Now that you know, contact us to learn more.
Dr. Bauman
With over 25 years of specialization in hair restoration, he offers an impressive array of state-of-the-art technologies, including proprietary hair restoration procedures, low-level laser light therapy, customized hair growth medications, supplements, and other modalities that produce excellent results. Thanks to his many tools, you may not even need a transplant!
Dr. Bauman's "Hair Hospital," housed in a dedicated 12,000-square-foot building, is recognized as one of the premier hair restoration practices in the country.
As one of approximately 250 physicians worldwide to achieve board certification from the American Board of Hair Restoration Surgery (ABHRS), Dr. Bauman has treated over 33,000 patients. He's also a pioneer in numerous technologies in the field of hair restoration, both for diagnostics and treatment.
In recognition of his expertise, Dr. Bauman was voted "#1 Top Hair Restoration Surgeon" in North America by Aesthetic Everything for the 7th consecutive year, "Top Hair Restoration Surgeon of the Decade", and received the 2022 "Lifetime Achievement Award in Hair Restoration."
Forbes magazine recognized him as one of "10 CEOs Transforming Healthcare in America" for bringing restorative hair treatment into the mainstream and pioneering robotic technologies.
Dr. Bauman is a sought-after guest expert at international scientific meetings and live surgery workshops, and a frequent expert source on national news and educational shows.
Hair Restoration for Men and Women
---
If you or someone you know has hair loss, hair thinning, baldness, or eyebrow / eyelash concerns, click to start either a long-distance virtual consultation OR an in-person, in-office consultation with Dr. Bauman. You can also Ask Dr. Bauman a Question or simply call Bauman Medical Group at +1-561-394-0024.