This post comes from a recent Newsletter from Dr. Bauman that you can subscribe to here. 
Hi, it's Dr. Bauman.
In the past couple of years, you've probably heard a lot about CBD.
CBD (cannabidiol) is a non-addictive, non-euphoric chemical found in the Cannabis sativa plant, also known as cannabis or hemp.
Because we have CBD receptors throughout our bodies (in the brain, organs, skin, connective tissues, glands, and immune cells), CBD shows promise for treating a wide range of health conditions.
CBD is commonly used to help treat anxiety and neurological disorders, improve heart health, reduce inflammation, and relieve pain.
Recent studies suggest CBD-enriched topical treatments can be helpful for many common inflammatory skin–and scalp–conditions. (1)
And new research shows CBD can help regrow hair, too.
In a 2021 study, scientists recruited a group of women and men with thinning hair. First, the scientists did a hair count of each study participant. Then, they sent each person home with a box of CBD oil.
For six months, these men and women applied CBD oil to their scalp and hair. When they returned at the end of this six month study for their new hair count, the scientists were stunned.
After applying CBD oil, the women and men in this study showed an average of 93.5% increased hair growth! (2)
One reason scientists believe CBD is so helpful for hair growth is because hair follicles have CBD receptors. And these CBD receptors may help prolong the growth phase (anagen) of the hair cycle.
I'm excited and impressed by the research on how CBD can help promote hair growth.
And that's one of the reasons I've included high-quality CBD oil as a key ingredient in my new BaumanMD SOOTHE Shampoo & Conditioner.
>> Go here to learn more and to get your own supply of BaumanMD SOOTHE Shampoo & Conditioner (click to shop).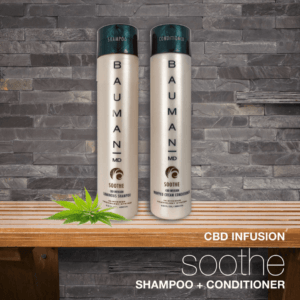 SOOTHE Shampoo & Conditioner is CBD-infused which, in addition to promoting hair regrowth, can also help moisturize the scalp while soothing inflammation, irritation, and sensitivity.
As such, SOOTHE is ideal for people with dry, itchy scalp or dandruff.
SOOTHE also includes Procapil®, a patented all-natural blend specifically formulated to reduce levels of hair loss-causing hormone DHT, enhance circulation, and deliver Biotin (vitamin H) directly to the follicle.
In addition, SOOTHE includes:
Ceramides, lipids that act like a "sealant" to keep moisture inside the hair fibers
A soothing, moisturizing, antimicrobial blend of 12 essential oils including tea tree, lavender, lemon grass, bergamot, and more.
We've included a lot of great ingredients in SOOTHE Shampoo & Conditioner while leaving out all the junk:
SOOTHE is sulfate-free, color-safe, and includes no parabens or artificial fragrances. It's perfect for daily use.
Best of all, you can try SOOTHE today with complete confidence because it's backed by our 100% Satisfaction 90-Day Money-Back Guarantee:
Try SOOTHE Shampoo & Conditioner in the comfort of your own home.
Use this doctor-formulated shampoo and conditioner as directed for the next three months and you'll be delighted with the look and feel of your hair. That's my promise to you.
But if you're disappointed for any reason (or for none at all) simply let us know within 90 days for a prompt and courteous refund.
Ready to get started?
>> Go here to learn more and to get your own supply of BaumanMD SOOTHE Shampoo & Conditioner (click to shop)
Sincerely,
Alan J. Bauman, MD
Medical Director of Bauman Medical
Scientific References
1. Palmieri B, Laurino C, Vadalà M. A therapeutic effect of cbd-enriched ointment in inflammatory skin diseases and cutaneous scars. Clin Ter. 2019 Mar-Apr; 170(2):e93-e99.
2. Smith GL, Satino J. Case Study of Hair Regrowth with Topical Cannabidiol (CBD). Hair Transplant Forum International Jul 2021, 31(4)140-142. DOI: 10.33589/31.4.140
If you or someone you know has hair loss, hair thinning, baldness, or eyebrow / eyelash concerns, click to start either a long-distance virtual consultation OR an in-person, in-office consultation with Dr. Bauman. You can also Ask Dr. Bauman a Question or simply call Bauman Medical Group  at +1-561-394-0024.