Hair Loss & Hair Restoration Industry Expert Dr. Alan Bauman, MD Featured in MODERN SALON Magazine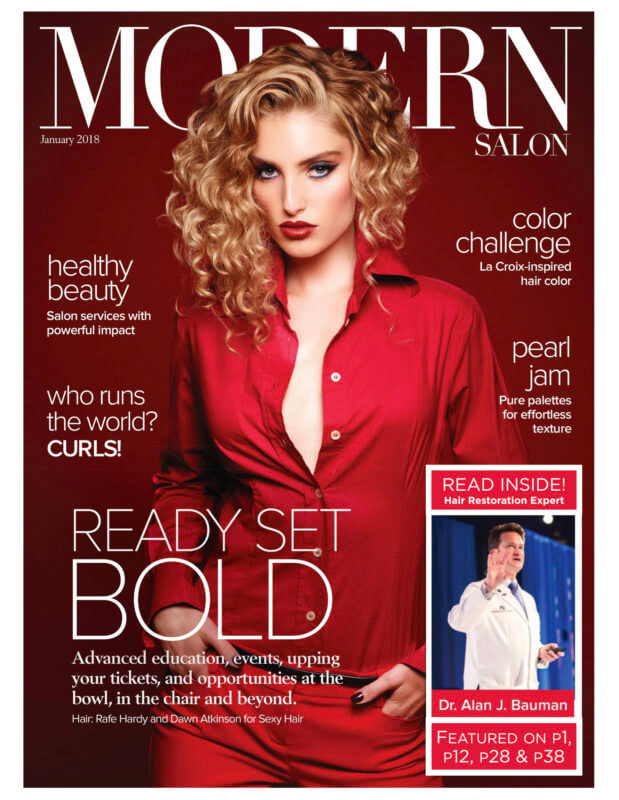 Dr. Alan Bauman Ranked in Beauty Buzz Index by Modern Salon
Modern Salon is the industry's most trusted publication trends and education in the beauty industry and Dr. Bauman has been recognized for his role in bridging the educational gap between the beauty and medical worlds. This issue of Modern Salon features Hair Restoration Physician Dr. Alan J. Bauman MD, ABHRS, FISHRS, IAHRS and his Hair Loss Education Programs (HairCoach™) for hairstylists and the beauty industry.  He has been selected as the first hair-surgeon Industry Partner by Intercoiffure Canada-America and has provided keynote presentations year after year at Modern Salon's HAIR+Summit events educating hairdressers, "What to Say and What to Do" when it comes to hair loss. Frank Gambuzza, President of ICA, says "Dr. Bauman has already demonstrated his value as a reliable, indispensable expert for our members and other industry partners… we're honored to have such a respected expert…"
Read all of the articles and excerpts below!

If you or someone you know has hair loss or eyebrow or eyelash concerns, click to start either a long-distance phone consultation OR an in-person, in-office consultation with Dr. Bauman. You can also Ask Dr. Bauman a Question or simply call Bauman Medical Group toll-free 844-GET-HAIR or +1-561-394-0024
For more information on Hair Loss Education and business opportunities in the beauty and medical fields, please visit Dr. Bauman's HairCoach website.