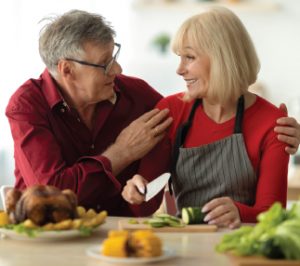 Each year, when November rolls around, we're reminded by TV shows and movies, advertisements, and messages in our houses of worship and within our own families that there's always something to be grateful for.
As a physician, I feel a great deal of gratitude for the astounding medical advances that have given us longer, healthier lives over the past 75 years, starting with the widespread use of antibiotics during World War II. Many diseases which were often fatal, especially to children, are practically unheard of anymore due to vaccines. Smallpox was one of the most devastating diseases known to humanity and was deemed eradicated in 1977.
While hair loss is certainly not life-threatening, scientific research aimed at understanding and addressing it has kept pace with our modern-day advances in healthcare. I'm happy to say that Bauman Medical has been part of this. We call much of what we do 'state-of-the-art" because it truly is, thanks to my interest in staying on the leading edge of science.
Here are several of our advanced services that I adopted early or had a hand in creating:
Comfortable, Minimally-Invasive,
No-Linear-Scar FUE Hair Transplantation
I helped pioneer FUE hair transplantation back in 2002 when I designed the "Bauman MINDEX," or MINimal DEpth Follicular Unit EXtractor, the first commercially available tool to help FUE surgeons. The FUE (follicular unit extraction) process meticulously moves as little as one hair follicle at a time using robotics or with the aid of mechanical instruments. We harvest hair follicles directly from the scalp, replacing the older, invasive method of "strip harvesting." This technique eliminates that telltale linear scar that no one has ever been grateful for.
(Hair transplantation requires an anesthetic, so for those who are super-sensitive, we now offer a high-tech, computerized syringe to deliver it very slowly. This advanced syringe, with its robotic plunger, is controlled by a microprocessor fitted with the smallest needle there is. Once the local anesthetic is in place, your entire scalp is numb and allows us to work imperceptibly. You feel no needle stick and no anesthesia going in.)
TED
TED (TransEpidermal Delivery) is one of the most exciting innovations in hair restoration that we've seen in years, and we adopted its use as soon as the studies convinced me it was safe and effective.
It's especially ideal for people who've avoided getting medical treatment for their thinning hair because they're averse to surgery or having their blood drawn for traditional regenerative procedures. TED is needle-free, pain-free, requires no anesthesia of any kind, and is highly effective.
Your skin (including your scalp) is designed to keep out moisture and other substances we might come into contact with in our environment. This is generally good for our health but not ideal if we're trying to get beneficial substances past this barrier to treat certain conditions.
First, we apply a specialized topical hair growth serum on your scalp in the treatment zone.
We then employ a high-tech device that looks like a small massage tool. The TED handpiece is moved slowly over the scalp, emitting safe ultrasonic sound waves and air pressure. (This process is known as sonophoresis.)
The 20-25-minute process gently enhances the penetration of the serum into the scalp by temporarily increasing scalp permeability. At the same time, increased blood flow optimizes scalp health and stimulates hair follicles to produce thicker, stronger, healthier hair. This FDA-cleared Class 1 medical device is clinically proven to start minimizing shedding and improving hair growth and scalp health within minutes.
PDOgro™
Bauman Medical was the first hair restoration clinic in the U.S. to use PDO threads to enhance hair growth.
PDO, or polydioxanone, is a synthetic absorbable FDA-cleared material. Used for decades in surgery and, more recently, in aesthetic procedures to reverse the appearance of skin aging, PDO threads placed into the scalp stimulate hair regrowth. Hidden under the skin, the threads dissolve and are absorbed over time, promoting collagen production and new blood vessel formation and triggering a release of powerful hair-rejuvenating growth factors.
The PDOgro™ procedure may help prevent or reduce the need for future hair transplantation by stopping, slowing, or reversing hair loss.
Low-level laser therapy (also known as red light therapy or photobiomodulation)
The medical grade Bauman TURBO LaserCap® is FDA-cleared for hair growth. This low-level laser device is portable, hands-free, cordless, rechargeable, and fast, requiring only five minutes of treatment per day for improved hair growth at home. It's also drug- and chemical-free with no risk of side effects.
Proper and consistent use of medical-grade low-level laser therapy has been scientifically proven to improve hair quality, strength, and thickness, as well as promote hair regrowth. (Hint: Stay away from clunky helmets and weak consumer versions seen online, as they are almost certainly underpowered, and many aren't very portable.)
I co-developed the Bauman TURBO LaserCap, along with Mike Rabin, MD, the inventor of the original LaserCap technology, and the renowned Michael Hamblin, PhD, from the Wellman Center for Photomedicine and Harvard-MIT Division of Health Science and Technology.
Interested in learning more about which state-of-the-art options you'll be grateful we have that can help you out with your particular hair loss situation? It's easy
to do.
Give us a call at 561-220-3480 or point your camera at the QR code below to schedule your private one-on-one in-person or virtual consultation.
How Gratitude Has Helped Me Thrive
As someone deeply involved in health, wellness, and "do it yourself biology," I'm always on the lookout for various ways to improve physical and mental well-being, but I have one favorite: "Vitamin G" (*the G stands for gratitude). It's free. It only requires a bit of time and reflection, and the benefits are immense – you simply can't overdose on gratitude.
I try to begin every day by taking a moment to think of things I'm grateful for. This invaluable mindset has allowed me to thrive in a fast-paced work environment. My passion and enthusiasm for what I do enable me to give my undivided attention to my patients, be present for my family, and reinforce my optimistic outlook.
A defining moment in my career was when a colleague a few years ago pointed out that I always thanked my team at the end of every meeting they participated in on behalf of the practice. It came quite naturally to me because I know that their support is instrumental in accomplishing our mission of changing lives through hair restoration.
Feeling gratitude for my patients, my staff, my family, my home, my health, and my career, which helps people feel better about themselves, is not just a personal practice but an essential ethic that has helped me thrive in ways I would not have without it.
Bauman Medical
Hair Restoration for Men and Women
www.BaumanMedical.com
561-220-3480
---
If you or someone you know has hair loss, hair thinning, baldness, or eyebrow / eyelash concerns, click to start either a long-distance virtual consultation OR an in-person, in-office consultation with Dr. Bauman. You can also Ask Dr. Bauman a Question or simply call Bauman Medical Group  at +1-561-394-0024.