Hair Transplant Recovery, Wound Healing, Scabbing, and Scarring
Dr. Alan J. Bauman, a surgically-trained M.D., is proud to offer a variety of treatments and procedures to enhance wound healing after your hair transplant procedure.
Because healing time is equal to 'cosmetic downtime,' many patients want to heal faster and more comfortably, enabling them to return to their regular routine more quickly. Wound-healing starts with the "trauma" of your hair transplant, so less invasive NeoGraft FUE and ARTAS Robotic-Assisted FUE procedures will heal faster and more comfortably than old-style traditional 'linear' or strip-harvest surgery. Some of the regimens that may be used in conjunction with your hair transplant at Bauman Medical are:
> Hyperbaric Oxygen Therapy – HBOT
> BaumanMD Healing Mist
> BaumanMD Post-Procedure Full-Spectrum Hemp CBD-Infused Moisturizer
> Topical or Injected PRP Platelet Rich Plasma
> Nutritional Supplementation – including Nutrafol Supplements & HairBiotic
> Low-Level Laser Therapy – e.g., TURBO LaserCap
> Acell or BioD Extracellular Matrix
Please note that some treatments may be automatically included with your procedure and others require additional time and cost.
Q: How long does hair transplant crusting last?
A: Hair Transplant scabs or crusts last about a week.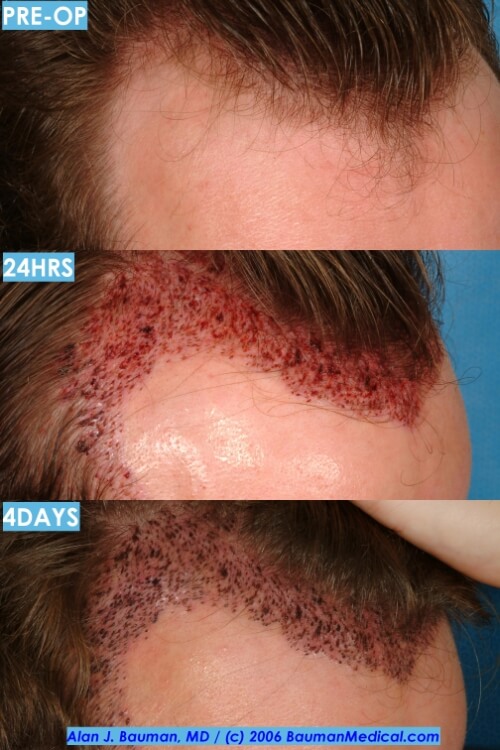 ABOVE: Hair transplant grafts are relatively stable within four days and the crusts flake off in about a week.
PRP Platelet Rich Plasma and Hair Transplants
Can PRP Enhance Healing After Hair Transplantation?
Today, more and more doctors performing hair transplantation are using PRP to help wounds heal faster and reduce cosmetic downtime from a hair transplant procedure. PRP is used to accelerate the body's recovery mechanisms and create an optimal environment for wound healing to occur comfortably and quickly. Studies show wounds need three elements to heal naturally and quickly:
Moisture
Nutrients
Cellular Growth Factors and Proteins
Once your hair transplant procedure has been completed, Dr. Alan Bauman and his surgical team will apply PRP immediately after transplantation to stimulate the natural healing process. PRP contains an ingredient obtained directly from your blood, called "platelets." PRP – platelet-rich plasma – helps keep the wound moist like a biologic bandage and delivers the body's own growth factors and nutrients.  PRP contains activated platelets and promotes natural healing without side effects or risks*. Platelets are crucial to the healing of wounds. In order for a wound to heal naturally, it must have the growth factors provided by platelets. PRP harnesses each person's own natural healing processes, delivering the growth factors and nutrients that help cells grow and new tissue to form. PRP can restore the balance in the wound environment to help hair transplants heal naturally with less redness, less crusting, and less swelling.
Dr. Alan J. Bauman and every member of his hair transplant team successfully completed the Cytomedix™ AutoloGel System Certification Training on the AutoloGel System for Surgical Hair Restoration as of August 24, 2011. Dr. Bauman was one of the first hair transplant surgeons in the world to have his entire surgical team certified to offer AutoloGel PRP wound healing. AutoloGel PRP reduces scalp scabbing, swelling and redness.
A study by RJ Reese, shows that patients receiving AutoloGel PRP after hair transplant had improved healing compared to those who did not receive AutoloGel.
All PRP's are not alike. Only one is FDA-cleared for wound care: AutoloGel PRP. Because the term PRP can be applied to any platelet rich plasma product, it may be misleading. PRP products can vary according to their production process and the end results can be vastly different. There is only one PRP available that is cleared by the U.S. Food and Drug Administration (FDA) for wound care: AutoloGel PRP. Dr. Alan J. Bauman and the surgical team at Bauman Medical Group is proud to offer the only FDA-approved PRP regimen with every single hair transplant procedure performed.
References
Reese RJ, A single-blinded, randomized controlled study of the use of autologous platelet rich plasma (PRP) as a medium to reduce scalp hair transplant adverse events. Hair Transplant Forum Int'l, March/April 2008:pp 51-52.
https://www.autologel.com
https://www.cytomedix.com
https://www.prphairrestoration.com
Can Low-Level Laser Therapy Affect Wound Healing?
Laser Therapy and Wound Healing
The physiological effects have been studied extensively by one of the world's most eminent biologists and editor of Gray's Anatomy, Prof. Mary Dyson.
The effects of low level or low-intensity laser therapy (LLLT or LILT) on the three overlapping phases of wound healing, i.e. inflammation, proliferation, and remodeling, are such that acute injuries heal more rapidly and that healing can be induced in chronic lesions such as venous ulcers/ pressure sores and diabetic ulcers. The duration of acute inflammation can be reduced by LLLT, the proliferative phase of repair, during which granulation tissue is formed, beginning earlier. The rate of wound contraction can be altered and angiogenesis increased.
Healing involves the interaction and activity of many different cell types. Research has been carried out on the effects of LLLT on keratinocytes, mast cells, macrophages, and fibroblasts. Keratinocyte and fibroblast proliferation can be stimulated directly and also indirectly through growth factors released from irradiated macrophages.
The effect on keratinocytes is particularly marked when the cells are maintained in adverse conditions similar to those produced by injury. The mast cell content of both intact and injured skin increases following irradiation, but only in injured skin is mast cell degranulation increased. This suggests that the sensitivity of mast cells to stimuli such as light is increased in injured tissues. Some of the materials released when mast cells degranulate can initiate the inflammatory response of the skin to injury, whereas others stimulate later processes such as angiogenesis. Work on cells involved in the repair, namely endothelial cells, pericytes, and lymphocytes is in progress.
What Laser is Best for Healing/Hair Growth After Hair Transplant?
Dr. Bauman recommends using ONLY professional / medical-grade at-home low-level laser light therapy devices like the TURBO LaserCap because of their quality, power, coverage, convenience, portability, and included extended warranty coverage.  The award-winning Bauman TURBO LaserCap has the fastest treatment time, most coverage (treats the donor zone for healing as well as the hairline/temple-points/temples/mid-scalp/vertex areas), most portability (it's collapsible), is Made in the USA, and is backed by a lifetime manufacturer's warranty.
References
Steinlechner C, Dyson M: The effect of low-level laser therapy on the proliferation of keratinocytes. Low-Level Laser Therapy. 1993; 5 (2): 65.
Steinlechner C, Dyson M: The effect of low-level laser therapy on the proliferation of keratinocytes. Low-Level Laser Therapy; 1993; 5(2): 65.
Dyson M, Young S: Effect of Laser Therapy on Wound Contraction and Cellularity in Mice. Lasers in Medical Science. 1986; 1: 125.
Dyson M: Cellular and subcellular aspects of low-level laser therapy. Progress in low-level laser therapy. Eds. T. Ohshiro and R.G. Calderhead, John Wiley & Sons, England. 1991, p. 221
Bolton P A, Young S R, Dyson M: Macrophage responsiveness to light therapy. A dose-response study. Low-Level Laser Therapy. 1990; 2: 101-106.
Bolton P A, Dyson M, Young S R: The effect of polarised light on the release of growth factors from the U-937 macrophage-like cell line. Low-Level Laser Therapy. 1992; 4: 33- 42.
Cheetham M J, Young R S, Dyson M. Histological effects of 820 nm laser irradiation on the healthy growth plate of the rat. Low-Level Laser Therapy 1992; 2: 59.
Bolton P, Young S, Dyson M. The direct effect of 860 nm light on cell proliferation and on succinic dehydrogenase activity of human fibroblasts in vitro. Low-Level Laser Therapy. 1995; 7: 55-60.
el Sayed S O, Dyson M. Effect of laser pulse repetition rate and pulse duration on mast cell number and degranulation. Laser in Surgery and Medicine. 1996; 19 (4): 433-437.
Nicolopoulos N, Dyson M et al. The use of laser surgery in the subtotal meniscectomy and the effect of low-level laser therapy on the healing potential of rabbit meniscus: an experimental study. Lasers Med Sci. 1996; 11 (2): 109-115.
Steinlechner C, Dyson M: The effect of low-level laser therapy on the proliferation of keratinocytes. Low-Level Laser Therapy. 1993; 5 (2): 65.
Wound Healing After No-Linear-Scar FUE Hair Transplant by Dr. Alan Bauman
If you or someone you know has hair loss, hair thinning, baldness, or eyebrow / eyelash concerns, click to start either a long-distance virtual consultation OR an in-person, in-office consultation with Dr. Bauman. You can also Ask Dr. Bauman a Question or simply call Bauman Medical Group toll-free 844-GET-HAIR or +1-561-394-0024.