At Bauman Medical we treat "Male Pattern Hair Loss"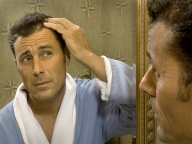 For men, male pattern baldness is the most common form of hair loss.
It is characterized by thinning hair beginning at the temples and the crown of the head.
Over time, the hair at the temples continues to recede, leaving a central patch of hair at the front of the hairline and a growing bald spot at the crown. Eventually, as the hair loss in these areas widens, the baldness at the front and crown meet to form one large bald spot.  Depending on the rate of progression of the hair loss, all that remains is a 'border' of hair around the side and back of the head.   Male pattern hair loss is a concern for many men because as the hairline recedes, the face takes on a more aged appearance.    Hair loss is seen by many as an unwanted sign of 'premature' aging.
Male Pattern Hair Loss is "Chronic" and "Progressive:"
It is well documented that men who are prone to male pattern hair loss will continue to lose more hair if the condition is not treated.



In men, it has been determined that Dihydrotestosterone (DHT), a breakdown product of the male hormone Testosterone, is the 'trigger' that causes the progressive miniaturization of hair follicles.   If you are genetically susceptible to male pattern hair loss, DHT works to progressively miniaturize follicles (which then grow a shorter, thinner, less pigmented hair) until they finally die.    Certain prescription medications, like Propecia, work to prevent and reverse the miniaturization of hair follicles by blocking the conversion of Testosterone into DHT.    Propecia is considered the 'cornerstone' of medical therapy because it is safe and effective for the treatment of male pattern hair loss.    Rigorous scientific data reveals that if a man takes Propecia for five years, he has a 90% chance of looking the same or better than he did when he started the medication.    The same studies showed that 75% of men with untreated male pattern hair loss looked "much worse" at the end of the same five years.
Treatment of male pattern hair loss should always include a long term 'hair loss prevention' therapy, like Propecia.
Propecia Before and After Photos
Dr. Bauman's "Multi-Therapy" approach to male pattern hair loss


READ MORE



HAIR LOSS ANATOMY: The "Temporal Point"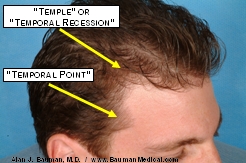 The "Temporal Point," located between the temporal recession and the sideburn, is an often overlooked area when it comes to hair restoration.   Dr. Bauman believes that appropriate temporal point restoration should be addressed in nearly EVERY hair transplant procedure.   Whether it be to simply reinforce the area or reconstruct it completely, there is a significant improvement in the overall aesthetics of the procedure when this area is addressed appropriately.   The shape and density of the temporal point should be 'in balance' with the frontal hairline.   The temporal point is an extremely difficult area to design and transplant effectively.  It requires specific combination of artistry, skill and instrumentation in order to ensure a completely natural result.For an example of 'temporal point reconstruction,' follow the READ MORE link below.



READ MORE



Hair Restoration Options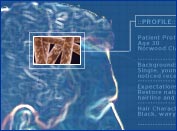 Once you understand the cause of your hair loss, you need to determine the best way to stop losing more hair, enhance the hair you have and restore the hair you've lost.   For the most patients, this means using a combination, or 'multi-therapy,' approach: non-invasive treatments to protect the hair you have and hair transplantation to restore the hair you've lost.    Some patients might accomplish their goals using ONLY non-invasive treatmets.At Bauman Medical Group, you can meet with Dr. Bauman for a personal consultation and medical evaluation or discuss your situation via email.  Then, Dr. Bauman reviews his findings and develops a hair restoration plan suited to your medical needs and personal goals.To begin your personal hair restoration evaluation with Dr. Bauman, start with a virtual consultation via email.  To schedule an in-person consultation, call 1-561-394-0024 or 1-877-BAUMAN-9 (toll-free) Monday-Friday/9am-5pm ET.Follow the READ MORE link below to learn more about Dr. Bauman's Multi-Therapy approach.



READ MORE




What You Can Do Now…



The sooner we treat your hair thinning and loss, the more hair we can save. When you are ready to put an end to your hair loss—and get back what's been lost—be sure to consult with Dr. Alan Bauman. To schedule your personal appointment, call:1-877-BAUMAN-9 (toll free) or Email Dr. Bauman.




ABC NEWS "Special Assignment: HAIR RESTORATION" Hair Loss Myths, Misconceptions and an "Anchorman" Hair Transplant…

When WPBF25 Palm Beach news anchor, Jim Abath, was given hisVIDEO: Jim's Hair Transplant Procedure (hour-by-hour and results)
Photos: Jim's Before & After Photos
Watch the final 'reveal' of Jim's Hair Transplant Procedure and a full recap of his experience, along with several other patients on this video…



READ MORE